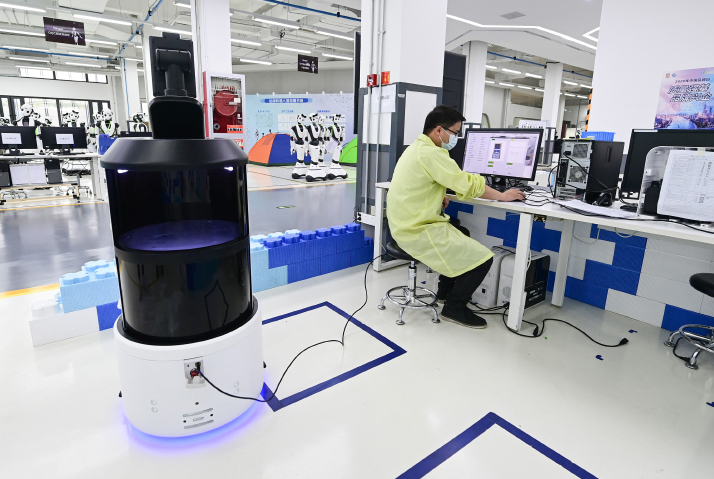 After exploring the Chinese market for decades, U.S. tech firm Intel is now active in the nation's new infrastructure development. Starting from 2018, the company has been cooperating with China Unicom, one of the country's three major telecom operators, on 5G and Internet of Things projects. It also established a smart city center in Nanjing, Jiangsu Province, in 2020, and introduced online platforms for enhancing efficiency, data security and remote management of enterprises in March this year.
Like Intel, many enterprises in China have sensed new opportunities brought by the country's new infrastructure drive. While traditional infrastructure like roads and bridges help improve transportation, new infrastructure facilitates the transmission of data and enhances operation of existing facilities. 5G networks, extra-high voltage power grids, inter-city rail transit, new-energy vehicle charging stations, big data centers, artificial intelligence (AI) and the industrial Internet all fall into this category.
The Chinese Government is channeling increasing investment into new infrastructure, as it aims to boost the development of the digital economy as a way to spur economic growth. Enterprises, especially large state-owned ones, are plunging head first into the sector to ride the tide.
Yue Xiangyu, a researcher with the Institute for the Development of Chinese Economic Thought at Shanghai University of Finance and Economics, told China City News that new infrastructure development will boost weak areas of the economy and improve people's lives. The rising commodity prices are also beginning to reveal the advantages of investing in projects of new infrastructure, he said.
"New infrastructure is open to investment from both public and private sectors, and there's great potential for hi-tech private firms and foreign-funded enterprises to be involved," Chen Baoming, a researcher with the Science and Technology Talent Center of the Ministry of Science and Technology, told Beijing Review.
The high ground
According to a press conference of the Ministry of Industry and Information Technology (MIIT) in February, over 150 industrial Internet platforms had provided services for more than 1.6 million enterprises, and more than 2,000 5G Plus industrial Internet projects were under construction across China. New technologies such as smart mining, smart transportation and telemedicine are also emerging.
China had built over 1.6 million 5G base stations as of May, and plans to add another 600,000 this year, the MIIT said.
China Mobile, another telecom giant in China, has been expanding its 5G base stations and data centers in recent years, launching more than 8,000 5G commercialization projects. It has cooperated with the government of Shanxi Province, a major coal-producing region, in renovating a coal mine, enabling 5G-based automated inspection and operation. The smart solutions have reduced the need for labor, improved security, and enhanced efficiency.
China Academy of Information and Communications Technology, a government think tank, projected that the total value-added output driven by the commercial use of 5G in China will amount to 24.8 trillion yuan ($3.7 trillion) between 2020 to 2025. The commercialization of the new-generation wireless technology began in the country in 2019.
Green and low-carbon projects are another focus of new infrastructure development. As China gears up to achieve energy transition, traditional industries such as power and steel are working hard to deliver their share of contribution. Power companies are exploring the adoption of 5G and big data to improve efficiency, and establish more clean energy facilities using wind power and photovoltaic technologies. The increasing popularity of new-energy vehicles has also driven the construction of charging stations.
The new infrastructure boom is backed by government funds. More than 20 provinces, autonomous regions and municipalities have unveiled plans for the construction of 5G networks, industrial Internet facilities and data centers this year. Zhejiang Province has pledged to invest around 440 billion yuan ($65.6 billion) in over 900 major projects in related fields. Guizhou Province plans to build 25,000 5G base stations this year and to establish itself as a national computing hub.
State-owned enterprises (SOEs) are playing a noteworthy role in this wave of spending. In 2021, over 700 subsidiaries of nearly 70 centrally administered SOEs invested a total of 400 billion yuan ($59.6 billion) in new infrastructure projects. Between 2021 and 2025, they are expected to participate in more than 1,300 such projects worth over 10 trillion yuan ($1.49 trillion), according to the State-Owned Assets Supervision and Administration Commission of the State Council.
More participants
The new infrastructure drive has also attracted a growing number of private and foreign-funded enterprises, which serve as smart solution providers.
Chinese tech company Huawei has developed cooling facilities that take advantage of natural winds to cut carbon emissions in data centers. Its AI technology for automated temperature adjustment also proves effective to save energy. Companies such as China Mobile have also adopted the cooling systems. According to Huawei estimates, one China Mobile data center would save over 400,000 cubic meters of water and cut 27,000 tons of carbon emissions over a decade by using its cooling solutions.
Operating for three decades in the Chinese market, German software company SAP has provided digital solutions for over 10,000 local enterprises. In 2020, it launched an innovation park in Shandong Province for providing digital services. The company has also cooperated with dairy product manufacturing giant Mengniu Group, allowing the latter to develop a platform for tracing its milk production resources and managing farms.
"Smart infrastructure will allow enterprises to obtain information quickly, and respond to market changes. SAP is working on empowering Chinese companies toward this kind of transformation," Huang Chenhong, President of SAP Greater China, said at an online forum on July 5.
Homegrown players are also reaching out to other countries. Chinese online retail platform JD.com has launched automated warehouses in the United States and Germany, providing platforms for Chinese brands to go global and ensuring cross-border transportation through its logistics and supply chain network are backed by big data.
China has earned itself the worldwide reputation of building traditional infrastructure fast. It is also seeking to improve the global presence of its new infrastructure.
A report from business consultancy KPMG earlier this year said new infrastructure facilities feature lower costs, lower risks and shorter delivery periods compared with transportation and energy projects, which appeal to investors.
As digital connectivity has become increasingly important during the pandemic, the Digital Silk Road program, part of the Belt and Road Initiative, will narrow the digital gap between participating countries. The initiative aims to build a trade and infrastructure network connecting Asia with Europe and Africa along the ancient Silk Road routes.
Chinese enterprises see great opportunities created by the 5G network, cross-border e-commerce centers and data centers in other Belt and Road partners, according to the report.
Barriers to overcome
For enterprises that aim not only at smart transformation but also to enter the new infrastructure market, the door is still not wide open. "The market access barriers are high for private enterprises to participate in new infrastructure investment. As standards are not yet clarified, glass ceilings such as requirements on companies' assets have made many private enterprises ineligible," Liu Wei, President of AI service provider PCITECH, told China Economic Weekly.
The government needs to place all players on a level playing field to channel private investment into new infrastructure projects, Liu said.
The participation of a wider range of enterprises is conducive to the sustainable development of new infrastructure projects, according to Chen. He calls for accelerating the development of models for government-business cooperation in order to boost the industries the projects are in.