L'Oréal China celebrated its 25th anniversary and opened "Beauty Moves – L'Oréal China 25th Anniversary Exhibition" at the Shanghai Exhibition Center on Dec. 16.

L'Oréal executives toast to celebrate the company's 25th anniversary in China at a ceremony held in Shanghai, Dec. 16, 2022. [Photo courtesy of L'Oréal China]

In addition to the exhibition, L'Oréal China is staging a series of events to celebrate its significant milestone, and kick off the next part of its 25-year journey in China, the company announced on Dec. 16.
L'Oréal China has joined hands with the Shanghai Bureau of China Media Group to co-produce and release a 10-part documentary series, "Seize the Beauty," telling the story of modern beauty in China.
It has also launched "L'Oréal for Women," a women-empowerment program that plans to donate funds and supplies worth at least 50 million yuan ($7.1 million) to the China Women's Development Foundation from 2023 to 2027, providing more diverse forms of support and assistance.
"Since being founded a quarter of a century ago, L'Oréal China has had a truly extraordinary journey. Over this time, we have witnessed a huge increase in the desire for beauty in China, which has inspired us to provide Chinese consumers with ever more innovative, diverse and personalized offerings," said Nicolas Hieronimus, CEO of L'Oréal Group, speaking remotely at the celebration event on Dec. 16.
"More recently, China is fast becoming a trendsetter for Asia and beyond, and a home of game-changing innovation," noted Hieronimus.
Looking forward, Hieronimus added that China will play an instrumental role in the East Asia beauty sector, bringing consumer-led innovations and trends to the global market.
"For 25 years, we have been dedicated to one thing: 'Creating the Beauty in China.' At this special anniversary, we hope to explore these answers with you through this exhibition and discover what beauty truly is," said Fabrice Megarbane, president of L'Oréal North Asia and CEO of L'Oréal China.
"Luckily and gratefully, we were not alone during our past 25 years in China. Now, when we look into the future, the 25th anniversary is just a new start for our next beauty journey with China," noted Megarbane.
"When entering the Chinese mainland market in 1997, L'Oréal set up its Chinese headquarters here, and over the past 25 years, L'Oréal has been firmly rooted in our district to co-grow and co-develop with Jing'an," said Yu Yong, secretary of the Communist Party of China (CPC) Jing'an District Committee of Shanghai, at the event.
"In 2021, L'Oréal China was upgraded to be the group's North Asia Headquarters, overseeing three key Asian markets: China, Japan and South Korea. That upgrade allows us to better gather growth momentum and interact with global markets, thus positively contributing to the industrial development, technological innovation and status improvement of Jing'an and even Shanghai," added Yu.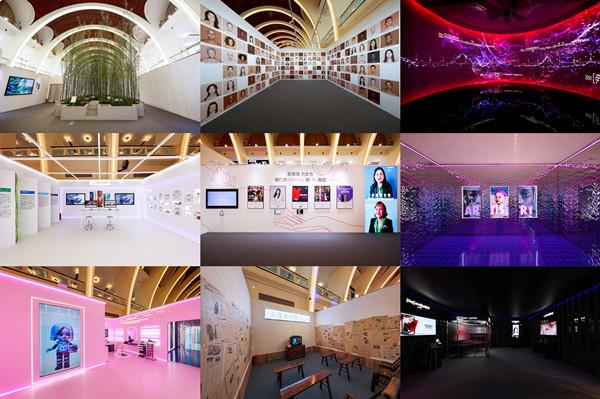 A L'Oréal exhibition is held at the Shanghai Exhibition Center in Shanghai from Dec. 17-24, 2022. [Combination photo courtesy of L'Oréal China]

Lasting for a week from Dec. 17 to 24, L'Oréal China's 25th-anniversary exhibition themed "Beauty Moves" includes five chapters: "Beauty Is Diverse and Inclusive," "Beauty Is Innovative," "Beauty Empowers Women," "Beauty Is Sustainable," and "Beauty Evolution." It gathers works by renowned Chinese and international artists, including Xu Bing, Angélica Dass, Zheng Bo, Web3 Creator Team Black Void and Liu Jiayu. L'Oréal will also host several beauty forums during the exhibition.