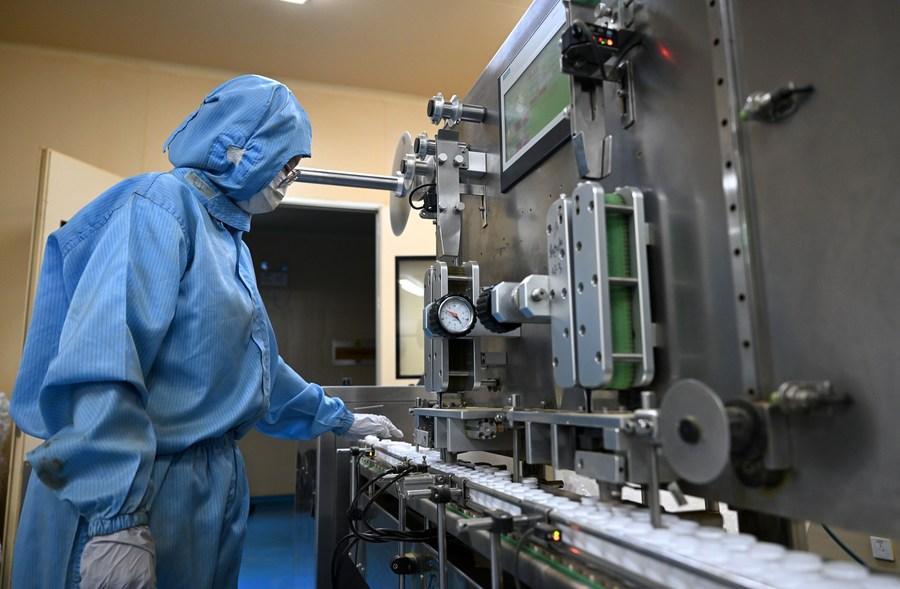 A worker works at a pharmaceutical company in north China's Tianjin, Dec. 24, 2022. [Photo/Xinhua]
China is going all out to ensure production of key medical supplies in urgent need, including fever reducing medicines such as ibuprofen and paracetamol, after the country optimized its COVID-19 response, the Ministry of Industry and Information Technology said on Thursday.
Wang Jiangping, vice-minister of industry and information technology, said the combined domestic daily production capacity and production volume of ibuprofen and paracetamol now stand at 202 million tablets and 190 million tablets, respectively.
The daily production capacity and production volume of the two drugs are now four times higher compared with levels seen in early December, Wang said.
Since Dec 1, a total of 2.49 billion tablets of the two medicines have been produced and 2.41 billion tablets have been supplied to the market. Major production provinces include Shandong, Hubei and Shanxi, Wang added.
The ministry and relevant departments have established emergency collaboration mechanisms with local authorities to help pharmaceutical enterprises expand capacity and ensure supply of key medicines for COVID-19 control.
Wang said relevant companies and key supporting firms have all been incorporated on a "white list "to get support and achieve cooperation in production factors.
"The companies are working 24 hours a day to ramp up production. On the whole, China's pharmaceutical industry has a solid foundation, complete industrial chain, and sufficient production capacity, which can meet the nation's demand for medicines," Wang added.
According to the ministry, with the joint efforts of all parties, the production capacity of all kinds of medical supplies including antigen detection reagents has been continuously released, and output has been rapidly increased.
"We will also beef up efforts to ensure more targeted and reasonable medicine distribution," Wang said.
Priority will be given to the distribution of medical supplies to key places such as medical institutions and nursing homes. Meanwhile, major online pharmacies have been guided to improve online drug-purchasing platforms, according to the ministry.
Multiple measures have also been rolled out by local authorities across the country to boost output of medical supplies, including ensuring supply of raw materials and energy, establishing new production lines and promoting technological upgrading in order to help enterprises run at full capacity.
Hubei Biocause Heilen Pharmaceutical Co Ltd said all its production lines for ibuprofen have reached maximum possible output, with the daily output of raw materials for ibuprofen hitting 10 to 13 metric tons.
There are 12 drug manufacturers in Northeast China's Shenyang making 40 kinds of antiviral, antibiotic, fever-reducing, and cough-relieving medicines, said Liu Yaoguo, an official with the Shenyang municipal development and reform commission. "All of them have been operating at full steam."
At Hebei Dongfeng Pharmaceutical Co Ltd, production lines are also running at full capacity to produce analgesics and other over-the-counter medicines treating COVID-19 symptoms. Among them, the daily production capacity of ibuprofen stands at 1.5 million tablets, which can meet the daily consumption needs of 300,000 people.