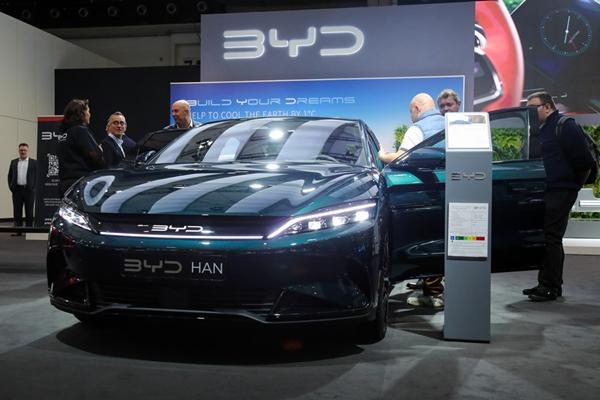 As the auto industry worldwide transitions towards electromobility and the number of Chinese-made "new energy vehicles" sold globally is on a steady increase, more and more carmakers and dealers across Europe consider the competition from Chinese manufacturers an opportunity rather than a threat.
After a two-year hiatus, the Brussels Auto Show made a spectacular return on Jan. 14. The 100th edition of this prestigious trade event welcomes visitors until Jan. 22. On display are the cutting-edge electric vehicles and e-mobility technologies of the world's major carmakers.
The 55-odd exhibitors include Chinese brands, such as BYD, SERES, BAIC or MG. They display fully electric vehicles as well as hybrid, gasoline and CNG (compressed natural gas) cars.
China's leading electric vehicle (EV) maker BYD brought three models to the show: the ATTO 3, the HAN and the TANG, but the company's representatives told Xinhua that other models are also scheduled to be brought to Europe soon.
BYD is already present in Norway, Sweden, Denmark, the Netherlands and Belgium, and this year it will also launch in Germany, France, Spain, Italy, Portugal and the United Kingdom.
Since 2015, China's EV products have dominated the global market. In 2022, the Asian country exported almost 680,000 "new energy vehicles," a 120 percent increase year-on-year.
China's breakthrough in Europe's EV market has won praise from many and criticism from some, with the latter arguing that it presents a threat to Europe's established automotive giants.
However, many exhibitors asked by Xinhua at the Brussels Auto Show disagreed with this assertion.
"We are in favor of a free market, we welcome competition, be it from China or the United States," Jeroen Lissens, head of corporate communications at BMW Group Belux, said. Without competition, the automobile industry would not be as innovative as it is today, he added.
German high-end carmaker BMW displays its lineup of "new energy cars," including the fully-electric iX3 manufactured at the company's plant in Shenyang, northeastern China.
"China is our biggest market. We are the only foreign carmaker in China having a joint venture with a share of 75 percent. We manufacture cars there," Lissens said.
Volkswagen and the brands it owns also display their vision of the future of e-mobility. The German auto giant's show was organized by D'Ieteren, the Brussels-based automobile distribution company.
Jean-Marc Ponteville, D'Ieteren's communications director, told Xinhua that the automobile market in Europe is highly competitive, which clearly benefits customers.
"Competition is good, it moves the market forward," he said. It obliges carmakers to continue to invest in technology and innovation, he said.
"The vehicle industry is by default multinational. Each car is assembled from parts made in different countries, so no car is made in a single country only," Ponteville said.
The world's automotive industry is highly internationalized, whether in Europe, the United States, Japan or China. Chinese carmakers employ foreign designers, engineers and technologies, and their supply chains are also multinational.
SERES, an EV maker based in southwest China's Chongqing, officially launched its three-model SERES 5 e-SUVs (sports utility vehicles) at the Brussels Auto Show. John Zhang, founder and chief executive officer (CEO) of SERES Global, said he appreciated the global cooperation during the five years of development and testing of the new SUVs.
"It doesn't necessarily mean that there is a conflict when the cars come to Europe. SERES is a Chinese brand, but we use a lot of foreign technologies. Our cars are equipped with Bosch cameras, Bosch chips and Pirelli tires, all of which are European products," Zhang told Xinhua.
"Today, when we released the new cars, we invited business representatives from the supply chain to attend, including Bosch, industrial robot maker FANUC, tire supplier Pirelli, and many others. Our suppliers welcome us very much. So, this is a win-win situation," he said.
"Our secret is the Blade Battery, a fantastic technology," Mike Belinfante, senior public relations at BYD Europe, said. "We offer a platform to other companies in the U.S. or Japan who want to use our technology."
"We all want to cooperate. Those who go it alone are bound to lose out. It's our common interest to share our technologies and our experiences," Belinfante said.