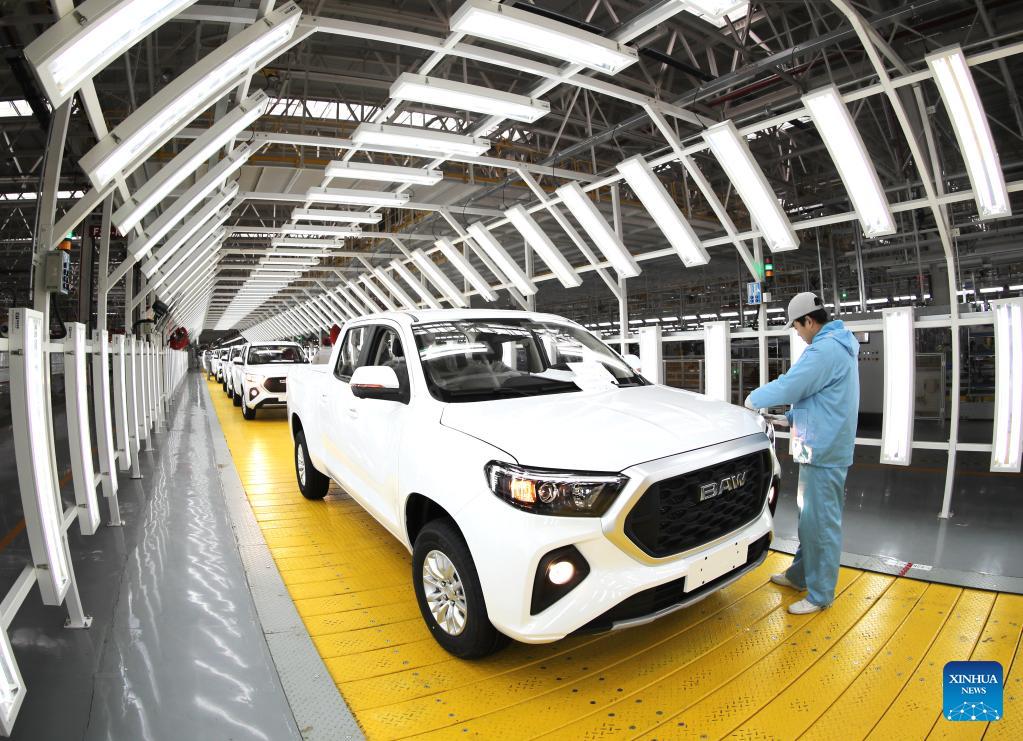 A worker inspects a vehicle before it rolls off the production line at an automobile manufacturing factory in Qingdao, east China's Shandong Province, Jan. 14, 2023. [Photo/Xinhua]
China's economy posted steady growth in 2022 despite pressures including epidemic resurgences and a complicated external environment, with its gross domestic product (GDP) reaching a new level.
The economy grew 3 percent year on year to a record high of 121.0207 trillion yuan (about 18 trillion U.S. dollars) in 2022, data from the National Bureau of Statistics (NBS) showed Tuesday.
This marks a new and higher level in terms of economic aggregate, after the Chinese economy topped the thresholds of 100 trillion yuan and 110 trillion yuan in 2020 and 2021, respectively -- maintaining its position well as the world's second-largest economy, Kang Yi, head of the NBS, told a press conference.
But this is "still a small step forward," Kang said. The country needs to more than double the current per capita GDP of about 12,700 U.S. dollars to reach its goal that its per capita GDP will be on par with that of mid-level developed countries in 2035.
Compared with major economies across the world, however, the 3-percent growth rate is relatively fast, he said, attributing the economy's rebound from stronger-than-expected shocks to the timely support of pro-growth policies.
Overcoming challenges
When asked to comment on the overall performance of the Chinese economy in 2022, Dominik Peschel, head of the Economics Unit of the Asian Development Bank Resident Mission in China, noted several headwinds the country had to deal with, including COVID-19, a property market downturn and softening export growth.

To stabilize economic growth, the Chinese government mobilized additional funds for infrastructure investment and gradually loosened monetary policy. Infrastructure investment supported economic growth, as did solid growth in manufacturing investment. As a result, industry grew faster than services, while household consumption was weak, he noted.
In breakdown, China's industrial output went up 3.6 percent year on year in 2022, while fixed-asset investment rose 5.1 percent year on year.
Retail sales contracted 0.2 percent year on year in 2022. A total of 12.06 million new urban jobs were created last year, exceeding the annual target of 11 million.
The Chinese people became more affluent in 2022, with per capita disposable income reaching 36,883 yuan, up 5 percent year on year in nominal terms.
China's consumer prices posted a mild growth of 2 percent in 2022, in sharp contrast to the global spike.
So far, China has built the world's largest and most technologically advanced network infrastructure, and the industrial Internet has been widely integrated into 45 national economic categories.
Zhang Yansheng, chief researcher at the China Center for International Economic Exchanges, said that innovation has been a bright spot in China's economy in recent years, despite headwinds due to COVID-19. New energy and digital industries have helped stabilize overall economic development.
"The national economy continued to develop despite downward pressure, economic output reached a higher level, employment levels and prices were generally stable, people's lives were continuously improved, new achievements were secured in high-quality development, while overall economic and social development was stable and healthy," said Kang.
Hopes ahead
When asked about China's economic outlook in 2023, Kang said the economy is bound to recover as the fundamentals of the Chinese economy -- its strong resilience, enormous potential, great vitality and long-term sustainability -- remained unchanged.

Citing a solid material foundation, vast market potential, strengthened new drivers of growth, the release of dividends of reform and opening-up, as well as rich experience in macro regulation, Kang said the Chinese economy is certain to see an overall improvement this year.
Given the country's optimized epidemic response, Kang believed that consumption will revive this year. Final consumption contributed 32.8 percent to the GDP expansion in 2022.
As for the property industry, Kang said it will have less drag on the economy in 2023 than in 2022.
There is still room for China's property sector to grow, as the country's urbanization rate reached 65.22 percent in 2022 -- still much lower than the 80 percent found in developed countries, he said, while also pledging measures to support the demand of urban residents for home ownership and improved housing conditions.
However, Kang also warned of possible risks in 2023, as the foundation of domestic economic recovery is not yet solid, while the domestic triple pressures of demand contraction, supply shock and weakening expectations, are still concerns.
China will make economic stability its top priority and pursue progress, while ensuring stability this year, he said.
"Shoring up confidence is crucial for economic recovery. In 2023, the worsening global economic situation needs China's steady growth as a stabilizer," Zhang Yansheng noted.