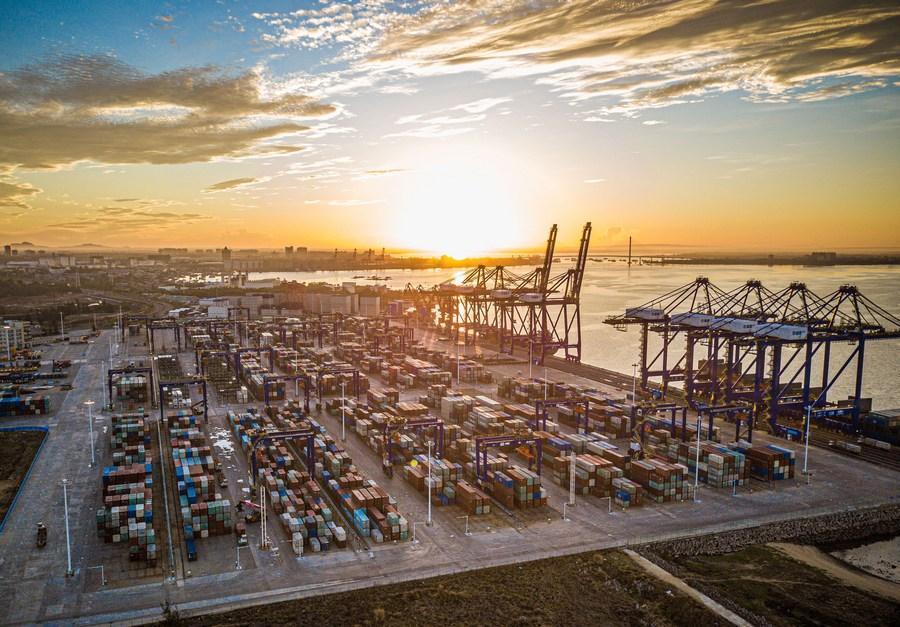 Aerial photo taken on May 26, 2021 shows the Yangpu international container port at Yangpu economic development zone in South China's Hainan province. [Photo/Xinhua]
Braving the headwinds of protectionism and unilateralism, China has been consistently committed to promoting shared development through its opening-up drive, reinforcing its status as a magnet for foreign investors.
Latest data highlighted China's continued attractiveness as the global economy slipped into the doldrums. In 2022, foreign direct investment (FDI) in the Chinese mainland, in actual use, expanded 8 percent year on year to 189.13 billion U.S. dollars.
The high-tech manufacturing industry proved particularly appealing, as FDI inflow into this sector jumped by 28.3 percent compared with 2021.
What is behind the strong attractiveness of China's market? Analysts said that aside from the country's super-sized market, increasingly affluent people and robust economic performance, a significant factor is the country's continuous commitment to promoting high-quality opening-up.
At the World Economic Forum (WEF) Annual Meeting 2023 held in Davos, Switzerland, Chinese Vice Premier Liu He in his speech reiterated China's stance of adhering to an all-round opening-up.
"China's national reality indicates that opening up to the world is a must, and the country must open up wider and make it work better," Liu said.
With opening-up a defining feature of the Chinese economy, the Chinese government has taken a slew of actions to strengthen the institutional guarantees for its high-level opening-up, including the enforcement of the Foreign Investment Law.
In 2022, China fully implemented the shortened negative list for foreign investment, expanded the encouraged investment catalog, and added more cities to the pilot program of opening the service sector.
Thanks to continuous efforts in optimizing the business environment, China has remained a strategic priority market for overseas enterprises. According to a report by the country's top trade-facilitating body, over 90 percent of the surveyed foreign firms were satisfied with their access to business premises and taxation in the Chinese market in the fourth quarter of 2022, while 9.78 percent of the respondents had expanded investment in China during the period.
China has now become a major trading partner for more than 140 countries and regions, with its total goods trade up 7.7 percent year on year in 2022, topping the world for six consecutive years.
Apart from boosting trade and investment by opening its market wider, China has also been actively sharing its development opportunities with the rest of the world.
The Belt and Road Initiative (BRI), for instance, which was proposed by China in 2013, has played a crucial role in boosting economic connections across the globe.
Thanks to this initiative, people around the world now have easier access to clean water and modern transportation. A critical component of the BRI, the Mombasa-Nairobi Standard Gauge Railway, built by China, is projected to contribute 2 to 3 percent to Kenya's GDP.
The China-Laos Railway, another landmark project of high-quality Belt and Road cooperation, has handled over 9 million passenger trips and 12 million tonnes of cargo since its launch in December 2021.
In less than a decade since its launch, 151 countries and 32 international organizations have signed BRI cooperation documents with China.
Amid the gloomy global investment sentiment, China's trade with Belt and Road countries climbed 19.4 percent year on year, accounting for 32.9 percent of its total foreign trade in 2022, according to the General Administration of Customs.
In the near future, the appeal of the world's second-largest economy is expected to be further boosted, as scholars and analysts pinned high hopes on China's fast rebound from the pandemic shock, expecting it to give a glimmer of hope to the bleak global economic outlook.
The latest survey report released at the WEF projected a darkening prospect for the global economy this year. Two-thirds of chief economists from private and public sectors expect a global recession in 2023.
However, many attendees took a positive view when it came to China, believing that the country's pro-growth measures, including the optimization of its COVID-19 response, will lead to more robust and prosperous growth, and contribute to the recovery of the global economy.
Bob Moritz, global chairman of PricewaterhouseCoopers, said at the WEF that he is bullish on China's economic outlook, given its strong consumer base, technological advancement and top exporter's position.
"China has always been very impressive in dealing with challenges. I'm quite optimistic on the outcome," Saudi Minister of Industry and Mineral Resources Bandar Alkhorayef told Xinhua, adding that China is expected to play an essential role in helping to boost global economic growth.