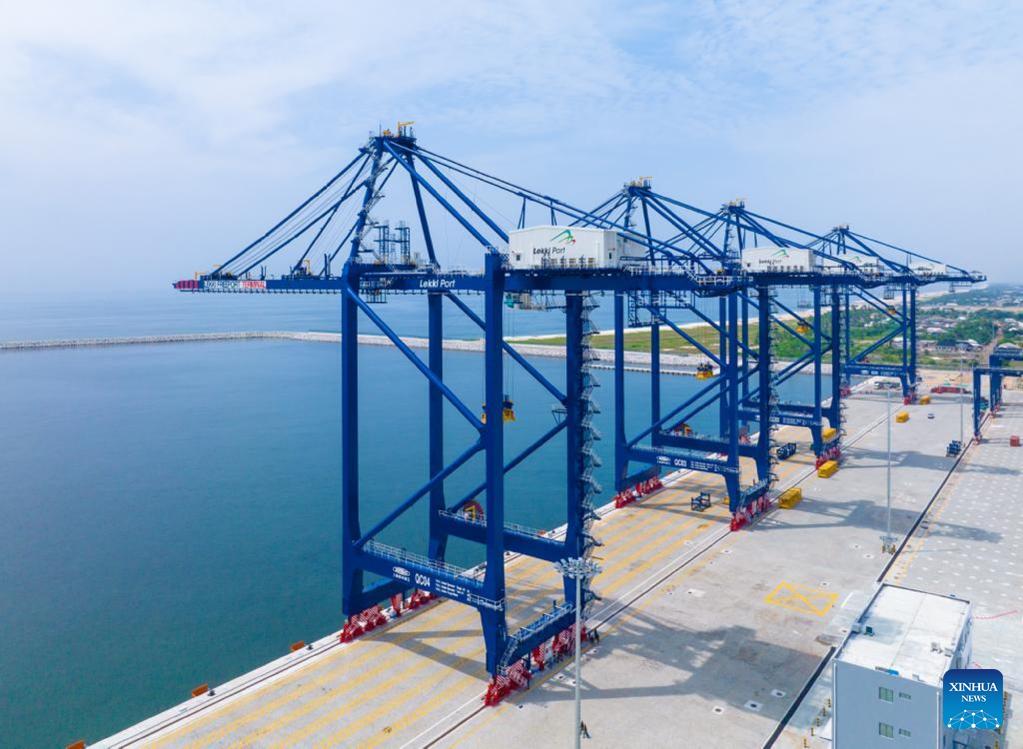 This photo taken on Jan. 23, 2023 shows facilities at the Lekki deep seaport in Lagos, Nigeria. The commission ceremony for commercial operations of the Chinese-built Lekki deep seaport is held here on Monday. [Photo/Xinhua]

Nigerian President Muhammadu Buhari on Monday inaugurated the iconic Lekki deep seaport in the southwestern state of Lagos for operation, noting that the new maritime facility opens a new vista of economic development for the African country.
Constructed by the China Harbor Engineering Company Ltd., the Lekki Deep Sea Port is the first deep seaport in Nigeria, and one of the biggest in West Africa.
At a banquet held by the Lagos state government on Monday night, Buhari said the completion of the project was driven by his vision to "bequeath a legacy of poverty elimination through the provision of job-creating infrastructure."
Emphasizing there are now limitless opportunities for the country's exports, especially agro-allied products in the international marketplace, growth of local jobs, and increase in foreign exchange inflow, the Nigerian leader said he "placed all matters related to the operationalization of Lekki deep seaport on top priority."
With an investment in excess of 1 billion U.S. dollars, the deep seaport is a commercial project of cooperation between China, France and Nigeria. The construction of the port commenced in June 2020 and was completed in October 2022. It is designed to handle 1.2 million standard containers annually.
Equipped with state-of-the-art technology, such as biometric scanners and facial recognition systems, the port is expected to also improve security and efficiency, and streamline the clearance of cargo.
Chinese Ambassador to Nigeria Cui Jianchun said the landmark gateway project is a fitting example of a good business model, taking advantage of the wisdom and strength of all parties from China, Europe and Africa.
Cui pledged that China would promote "the business model" to pursue a win-win outcome, particularly for the growth, development and progress of Nigeria.
"It is estimated that the overall economic benefits will reach more than 360 billion dollars (within the 45-year licensed operation period), becoming a new engine of economic development that will empower the whole country," the Chinese envoy said.
Aside from unlocking the country's economic potential, the new port will also create thousands of direct and indirect jobs in Nigeria as it begins operation, Babajide Sanwo-Olu, governor of Lagos State, said at the ceremony.
"Something fresh has been birthed in this country, and it is going to generate thousands of direct and indirect jobs," he said.