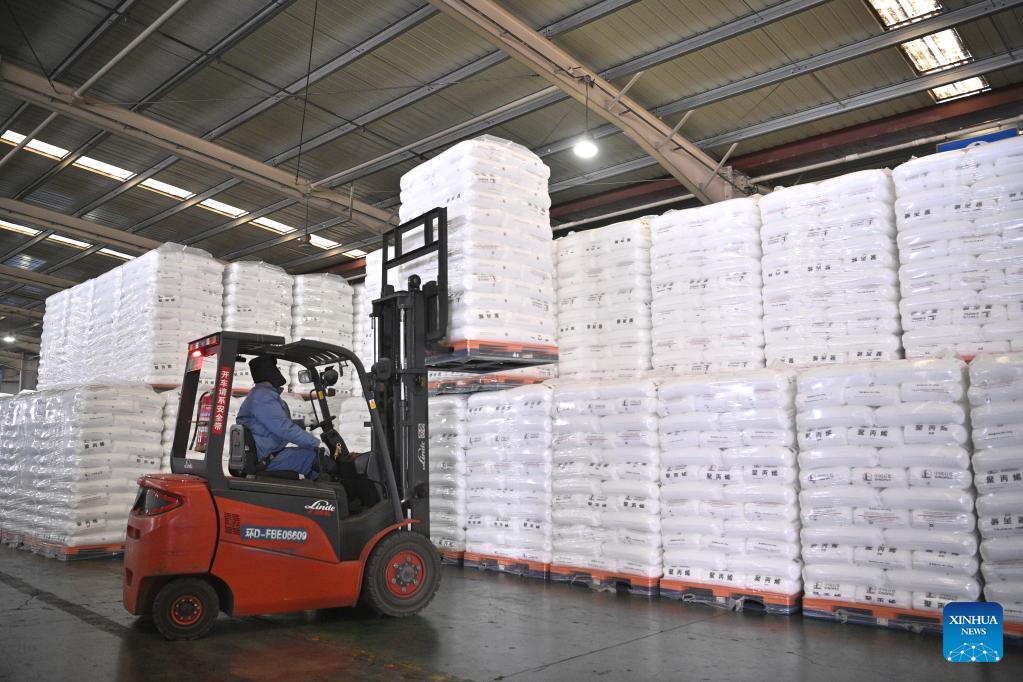 A staff member works at a warehouse in Qingdao, east China's Shandong Province, Jan. 28, 2023. [Photo/Xinhua]

The International Monetary Fund (IMF) on Monday projected China's economy will grow by 5.2 percent in 2023, 0.8 percentage point higher than October 2022 forecast.
"Growth in China is projected to rise to 5.2 percent in 2023, reflecting rapidly improving mobility," the IMF said in the newly released update to its World Economic Outlook report.
Global growth is projected to fall from an estimated 3.4 percent in 2022 to 2.9 percent in 2023, then rise to 3.1 percent in 2024, the IMF said, noting that the historical average growth rate between 2000 and 2019 is 3.8 percent.
The IMF said the rise in central bank rates to fight inflation and Russia-Ukraine conflict continue to weigh on economic activity.
Global inflation is expected to fall from 8.8 percent in 2022 to 6.6 percent in 2023 and 4.3 percent in 2024, still above pre-pandemic (2017-2019) levels of about 3.5 percent, according to the update.
The IMF said the rapid spread of COVID-19 in China dampened growth in 2022, but the recent reopening has paved the way for a faster-than-expected recovery.
"Growth is expected to pick up in China with the full reopening in 2023," it said.
The update also said the balance of risks remains tilted to the downside, but adverse risks to global growth have moderated since the October 2022 report.
In most economies, amid the cost-of-living crisis, the priority remains "achieving sustained disinflation," the IMF said, noting that with tighter monetary conditions and lower growth potentially affecting financial and debt stability, it is necessary to deploy macro-prudential tools and strengthen debt restructuring frameworks.