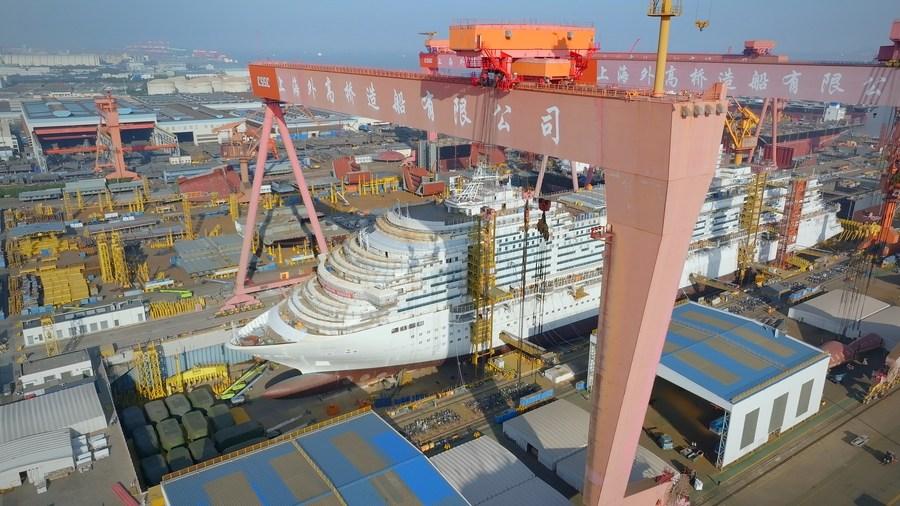 This photo taken on Dec. 20, 2022 show a huge cruise liner at Shanghai Waigaoqiao Shipbuilding Corp. shipyard in east China's Shanghai. (Xinhua)
China's shipbuilders have kicked off the new year on a busy note, as they are handling new orders.

One such company is the Shanghai Waigaoqiao Shipbuilding Co., Ltd. (SWS), which received an order from overseas in the first month of the year.
The order has been placed by the Italian company Grimaldi Euromed for the building of five car carriers, each with a loading capacity of 9,000 cars.
Despite a gloomy global market, China has wrapped up 2022 with an eye-catching performance in the shipbuilding sector. The country retained the largest share of the global market for the 13th straight year, with six companies ranking among the world's top 10 shipbuilding enterprises.
China has not only maintained its leadership position but also made strategic moves to capture the high-end market over the past few years, driving growth across various sectors along the industrial chain.
GROWING CLOUT IN HIGH-END MARKET
In the shipbuilding industry, 2022 was a golden year for liquefied natural gas (LNG) tankers, with their global demand surging to an unprecedented level. Seizing the opportunity, China's ship companies have made breakthroughs in building LNG ships and emerged as a frontrunner in high-end ship manufacturing.
The country's largest shipbuilder China State Shipbuilding Corporation, for instance, received 49 LNG carrier orders in 2022, with the combined contract value topping 10 billion U.S. dollars.
These vessels made up 30 percent of the global LNG orders, up from less than 7 percent in 2021, hitting a record high.
Chinese companies have embraced the explosive LNG ship market with solid moves, achieving impressive progress and gradually narrowing the gaps with their oversea counterparts, said Song Wei, chief engineer at Hudong-Zhonghua Shipbuilding (Group) Co., Ltd.
Substantial headway has also been made in the production of large cruise ship, which is one of the most complex vessels to design and build. In August, China started the construction of its second domestically-built large cruise ship, with work on the first one underway as scheduled.
Navigating challenges in the global market, China has cemented its leading status in the production of several types of ships and is now well positioned to pursue high-quality development, said Li Yanqing, secretary-general of the China Association of the National Shipbuilding Industry.
Official data showed that China's shipbuilders have topped globally in three major indicators last year, contributing 47.3 percent of global output, receiving 55.2 percent of new orders, and obtaining 49 percent of holding orders.
RIPPLES ALONG INDUSTRIAL CHAIN
On Jan. 27, a huge cargo ship transporting 3,968 new made-in-China vehicles departed from Shanghai. The vessel, en route to Türkiye and Italy, will sail along the first customized shipping line opened by the COSCO Shipping Car Carriers Co., Ltd.
The launch of such large car carriers has facilitated China's auto exports, which has also empowered shipping logistics enterprises to expand their transportation market.
Besides serving trade and logistics, the shipbuilding industry is also promoting the development of upstream and downstream sectors and elevating the overall supply chain management capacity.
"The shipbuilding sector is highly internationalized, with a long industrial chain, intensive technologies and broad driving effects. It is currently in a critical stage of transformation and upgrading," said Li Yanqing.
Taking the home-built large cruise ship as an example, Li said that producing the "behemoth," composed of as many as 25 million parts, could help accelerate the R&D and construction of materials, parts and equipment systems.
The process will also involve a number of firms along the industrial chain, thus promoting the coordinated development of related sectors at home, Li added.
To produce large cruise ships, SWS has established strategic cooperation with 101 suppliers around the world in the entire production process, said Zhou Qi, deputy general manager of the company.
According to Zhou, the company has set up a large-scale cruise innovation center to promote the development of sectors along the industrial chain, attracting over 40 enterprises already.
Li said he hopes for more technological advances in the shipbuilding sector in the future, as the marine industry has been featured several times in the country's heavyweight documents like the 14th five-Year plan (2021-2025).
China has pledged to put innovation at the center of its modernization drive, and identified self-reliance and strength in science and technology as a strategic underpinning for national development, which is set to bring "great opportunities" for technological innovation from shipbuilding-related companies, Li added.