China's new yuan loans jumped more than expected in January, hitting a monthly record high as the country stepped up lending to support its rapidly recovering economy.
Chinese banks extended 4.9 trillion yuan (about 721.82 billion U.S. dollars) in new yuan-denominated loans in January, up 922.7 billion yuan from the same period last year, a report released by the People's Bank of China (PBOC) showed on Friday.
Off to flying start
"The figure has beaten expectations," said Dong Ximiao, chief researcher at Merchants Union Consumer Finance Company Limited, noting that new yuan loans in January in previous years usually stood between 2 trillion and 4 trillion yuan.
"We see an overall improvement of the country's macro-economy, a faster recovery of business confidence and expectations, and strengthened financing needs," Dong said.
Data from the National Bureau of Statistics shows the purchasing managers' index for China's manufacturing and non-manufacturing sectors came in at 50.1 and 54.4, respectively, in January. Both figures indicate an expansion in economic activities.
Chinese banks tend to front-load loans early in the year, which has also contributed to the strong start in credit supply.
The massive loan extension was mainly driven by an uptick in corporate borrowing. Businesses borrowed 4.68 trillion yuan in new loans in January. New medium and long-term lending provided to companies stood at 3.5 trillion yuan, according to the central bank.
Behind this substantial increase is continuous policy support for infrastructure and manufacturing investment, and the scale of the credit supply from commercial banks to housing enterprises has also expanded, analysts say.
For example, China's Bank of Communications has strengthened its efforts to serve the real economy. In January, corporate yuan loans increased by more than 230 billion yuan, or 5.5 percent, from the beginning of the year, and both the increment and growth rate hit three-year highs.
Loans in key areas saw accelerated year-on-year growth, including those in the medium and long-term manufacturing and green credit industries, as well as those in strategic emerging industries.
The diminished impact of COVID-19 on economic activities, strong consumption during the Spring Festival holiday and the rapid rebound in consumer demand are conducive to the growth of household loans, which rose 257.2 billion yuan last month.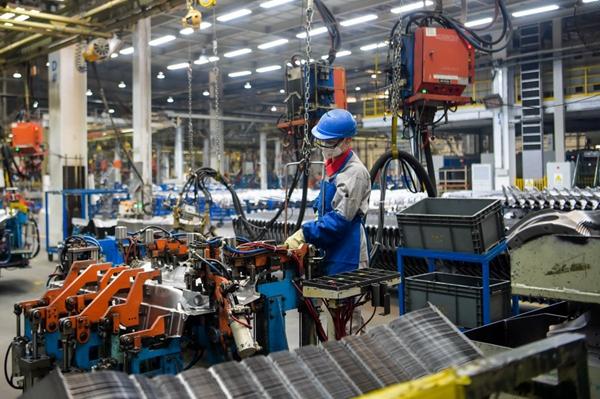 A staff member works at a factory of Chinese automaker Chery Holding Group Co., Ltd. in Erdos, north China's Inner Mongolia Autonomous Region, Feb. 9, 2023. (Xinhua/Li Zhipeng)
Strong support for economy
Since January, the PBOC and other financial regulators have repeatedly stressed the need to maintain credit support for the real economy.
At the end of 2022, China's central bank cut the reserve requirement ratio for eligible financial institutions by 0.25 percentage points to keep liquidity reasonably ample and lower comprehensive financing costs.
In the past two months, the central bank has continued to increase the funds in the medium-term lending facility, to keep the medium and long-term liquidity of the banking system abundant.
In January, the central bank injected a total of 997.1 billion yuan of net cash into the market.
The M2, a broad measure of money supply that covers cash in circulation and all deposits, increased 12.6 percent year on year to 273.81 trillion yuan at the end of last month.
Newly added social financing, a measurement of funds that individuals and non-financial firms receive from the financial system, came in at 5.98 trillion yuan last month.
As measures have been rolled out to stabilize growth, local governments and companies will step up investments and consumption expectations may gradually recover, said Wen Bin, chief economist with China Minsheng Bank, adding that the country is expected to maintain its prudent monetary environment in the next stage to consolidate the stable and positive trend of the economy early in 2023.
Eyeing the growth prospects, international institutions have improved their predictions for China's economic growth in 2023. The International Monetary Fund has raised its forecast for China's economic growth this year to 5.2 percent, up from a previous prediction of 4.4 percent.
Investment banks, including Morgan Stanley and Goldman Sachs, have also made upward revisions of their growth forecasts for the world's second-largest economy.
It was noted at the Central Economic Work Conference that China's prudent monetary policy should be targeted and effective, and an overall improvement is expected in the country's economic performance in 2023.
Looking forward, China's monetary policy is expected to become more targeted and effective in serving the real economy, with structural monetary policy tools playing a greater role to channel funds to key areas and weak links, Dong said, adding that it is also expected to make continuous efforts to provide long-term, stable and low-cost funds for financial institutions.