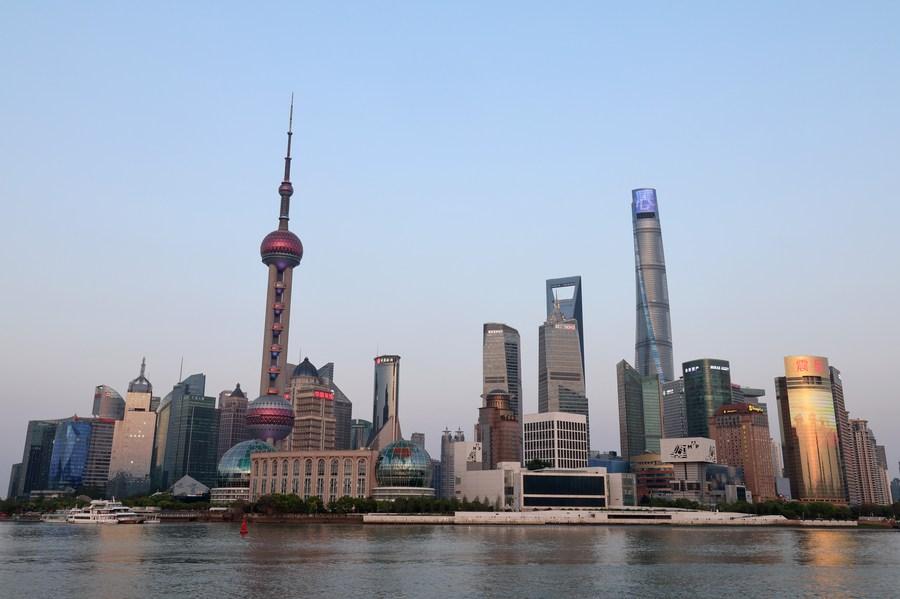 Photo taken on April 11, 2022 shows a view of Pudong New Area in east China's Shanghai. [Photo/Xinhua]

Senior executives of multinational corporations based in Shanghai share an optimistic view of the world's second-largest economy and believe the China market will play a greater role in their global business.
Global healthcare technology company Medtronic continues to be optimistic toward the China market, and believes that China will become the world's largest medical care market in the years to come, said Alex Gu, senior vice-president of Medtronic and president of Medtronic China.
Since opening its first office in Shanghai in 1989, the enterprise has formed a complete local value chain including research and development, production, sales, training, and after-sales service as well as investment for more than three decades, which laid a solid foundation for the corporation's long-term development in the country, Gu said.
In the meantime, Medtronic has made a slew of strategic investments in the past few years, including the completion of its second innovation center in Chengdu of Sichuan province in 2021, making China the only country to house two Medtronic innovation sites.
"A series of investments and localized collaboration represent Medtronic's long-term commitment and confidence towards the China market, as Medtronic deeply believes that the future of medical technology is in China," said Gu.
Being the witness, participant and beneficiary of China's reform and opening-up, Johnson & Johnson also believes the Chinese economy's high-quality development will bring about great opportunities for multinational corporations, said Song Weiqun, global senior vice-president and China chairman of Johnson & Johnson.
"Johnson & Johnson is full of confidence toward China's economic outlook, as well as the bright prospects of its market," said Song.
According to Song, such strong confidence is based on China's strong economic growth, great market potential and resilient economy.
China remained the biggest market for Porsche worldwide in 2022, the eighth consecutive year for retaining this position, said Michael Kirsch, president & CEO of Porsche China.
"We have been participating in China's reform and opening-up process, and we have witnessed the success as we benefited from its development," said Kirsch.
He added that Porsche's presence in China goes far beyond a sales unit, as China is also its innovation powerhouse, helping to set important trends with huge influence in the global economy.
"Since entering into the Chinese market, we have been growing together with its automotive industry … and we are very impressed by the great determination of China to transform and develop the automotive industry with electrification, intelligence and shared mobility," Kirsch said.
During its 25-year development in China, L'Oreal has not only witnessed the opening-up of local markets but also experienced constant growth, according to Fabrice Megarbane, president of L'Oreal's North Asia zone and CEO of L'Oreal China.
"We've been growing with and in China, and also building a lot of capability in the past few years," said Megarbane.
According to Megarbane, the company last year launched an investment in the intelligent fulfillment center in Suzhou of Jiangsu province, which will be inaugurated in September this year.
"We're extremely confident in building capability and being closer to consumers. We are very optimistic and also ambitious for the years to come," Megarbane said.
Among the first batch of multinationals entering the Chinese market after China's reform and opening-up in the 1980s, consumer goods company Unilever has so far invested more than $3 billion in the China market, and China has become one of the top three key growth markets for Unilever globally.
"This year marks the 100th anniversary of Unilever's first entry into the China market, and I hope we will grow vigorously together with China for another 100 years," said Zeng Xiwen, Unilever's vice-president for China corporate affairs.