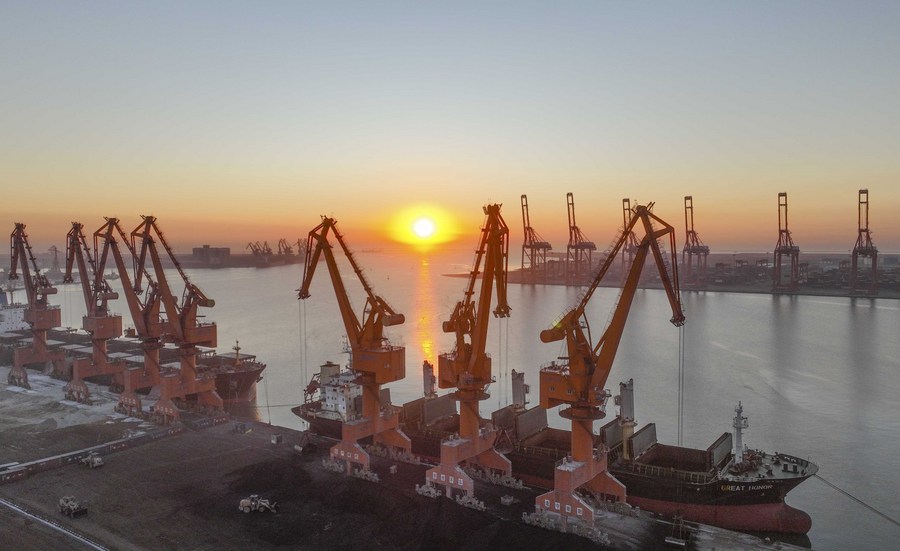 This aerial photo taken on Jan. 17, 2023 shows a morning view of Jingtang Port Area at Tangshan Port in Tangshan, north China's Hebei Province. [Photo/Xinhua]

China is confident of meeting its 2023 economic growth target through hard work, an official with the country's top economic planner said Monday.
The country aims to expand its economy by around 5 percent in 2023, according to a government work report submitted Sunday to the national legislature for deliberation.
"China is still a developing country, and development is the top priority," Zhao Chenxin, deputy head of the National Development and Reform Commission (NDRC), told a press conference.
The country needs to maintain reasonable economic growth to boost employment, improve people's livelihoods, and prevent and defuse risks, Zhao said.
The 5-percent growth target, which is conducive to accelerating the creation of a new development paradigm and promoting high-quality development, is in line with current economic momentum, and will guide all sectors to focus on improving the quality and efficiency of development, Zhao said.
The growth target is underpinned by the quick recovery of China's consumer market. Consumption of tourism, catering and other services has rebounded significantly since the Spring Festival holiday, getting the economy off to a strong start, he said.
With the changes in COVID-19 response policies, there has been a notable increase in the mobility of both people and goods, indicating a faster recovery. "China's economy is steadily improving," Zhao said, adding that the country is "full of confidence" in achieving the 2023 economic growth target.
Speaking about China's economic performance last year, Zhao said the country has made outstanding achievements in economic development.
In 2022, China's economy expanded by 3 percent, higher than the 2.1 percent growth of the United States and the growth seen in some other major economies.
China follows a win-win strategy of opening up, actively participates in economic globalization, and strives for the common development of all countries, he said. "China welcomes the people of other countries aboard the express train of the country's development."
With regard to foreign investment, Yang Yinkai, also deputy head of the NDRC, said China will continue to open up industries in sectors such as telecommunications, the internet, education, culture and medical care in an orderly manner.
China will also encourage more foreign investment in advanced manufacturing, modern service industries, energy conservation and environmental protection, and to the central and western regions and northeast China, Yang said.
As a steadfast proponent of high-level opening up, China will welcome foreign investment "in a more open and inclusive manner," Yang noted.