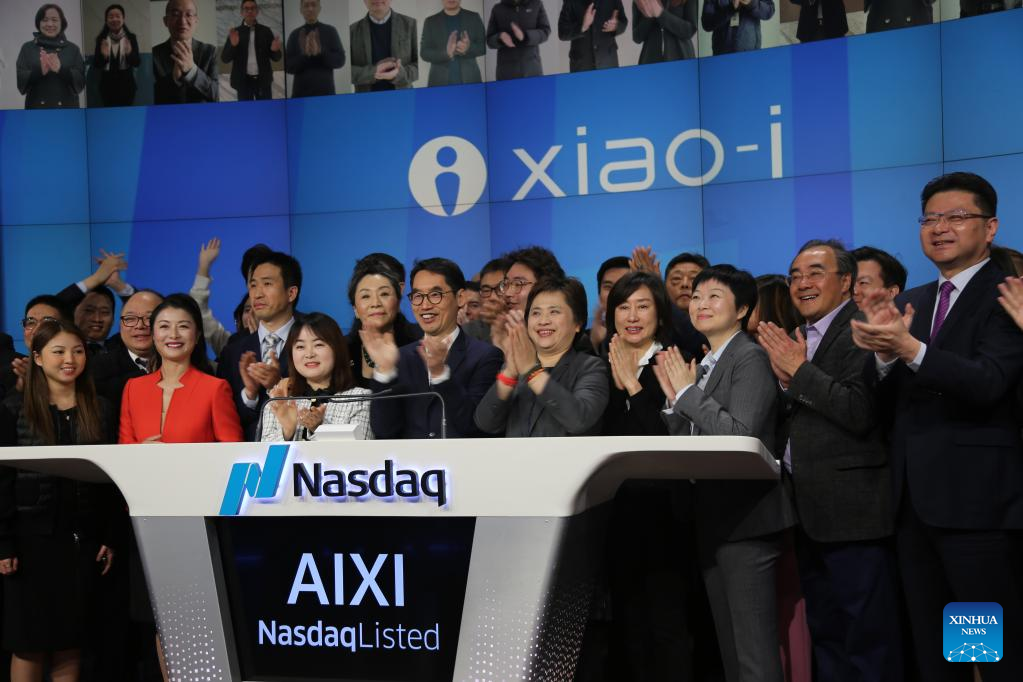 Management and guests of Xiao-I Corporation attend a ceremony to ring the opening bell at Nasdaq in New York City, the United States, on March 9, 2023. [Photo/Xinhua]

Xiao-I Corporation, a cognitive artificial intelligence (AI) enterprise from China, floated its shares Thursday on Nasdaq.
Based in east China's Shanghai, Xiao-I raised 38.76 million U.S. dollars by issuing 5.7 million American Depository Shares (ADSs) at the price of 6.8 dollars per ADS, according to a release by the company on Wednesday.
The initial public offering (IPO) is expected to close on Monday next week and underwriters have an option to purchase additional 855,000 ADS at the IPO price within a period of 45 days, said the release.
The shares of Xiao-I are traded on the Nasdaq Global Market under the ticker symbol "AIXI".
Xiao-I intended to issue 6 million ADSs with a price range of 6.8 dollars to 8.8 dollars per ADS, according to its preliminary prospectus dated March 6, 2023.
Incorporated in the Cayman Islands, Xiao-I acts as a holding company and conducts a substantial majority of operations through Shanghai Xiao-I Robot Technology Co., Ltd., said the prospectus.
Xiao-I posted 3.365 million dollars of net income in 2021 compared with net losses of 7.056 million dollars in 2020, according to a restatement provided in the prospectus.
Xiao-I intends to keep any future earnings to finance the expansion of its business, and it does not anticipate that any cash dividends will be paid, or any funds will be transferred from one entity to another, in the foreseeable future.
Yuan Hui, chairman and chief executive officer of Xiao-I, owned 14.72 percent of ordinary shares of the company prior to the IPO, according to the prospectus.
Speaking in an interview with Xinhua on Thursday, Yuan said Xiao-I rolled out its chatbot product as early as 2004 and the company has integrated technologies and commercial application scenarios in an organic way.
Yuan expected to see fast development of its business following the combination of technologies, capital and market, which was enabled by the IPO.
"We hope to become a world-class corporation and that's one important reason to float shares in the United States," said Yuan.
Xiao-I attaches strategic importance to cloud service, application of AI in hardware as well as internationalization of business, according to Yuan.
Xiao-I offers a diverse range of business solutions and services in artificial intelligence, covering natural language processing, voice and image recognition, machine learning and affective computing, said the company.