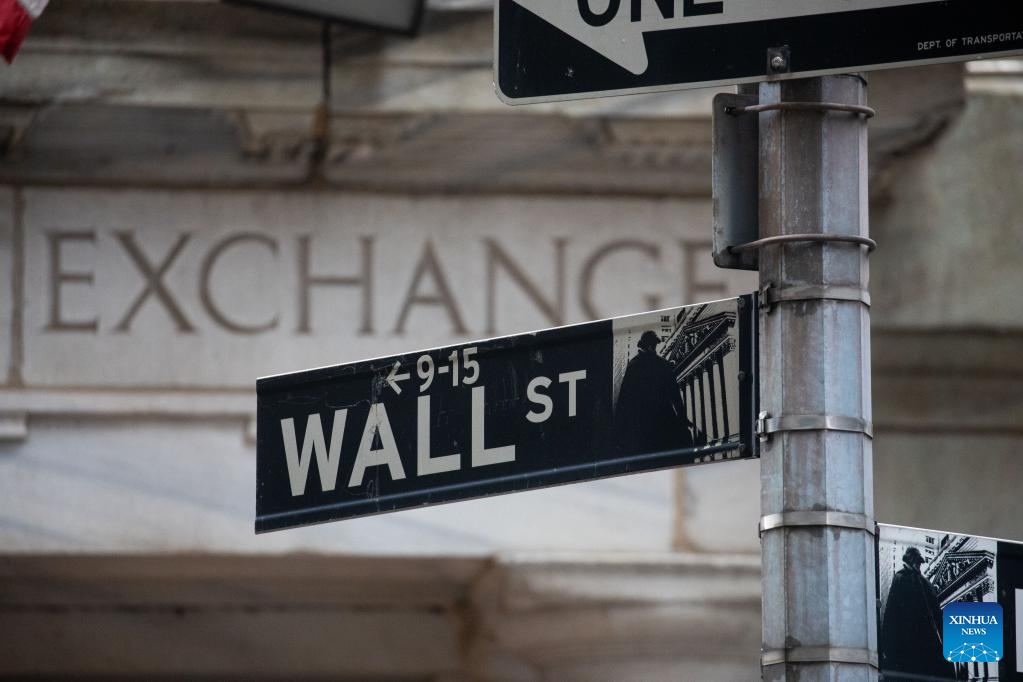 A Wall Street sign is seen in front of the New York Stock Exchange (NYSE) in New York, the United States, on March 13, 2023. [Photo/Xinhua]

Wall Street's major averages finished mixed on Monday as investors dumped financial shares after recent bank failures in the United States.
The Dow Jones Industrial Average fell 90.5 points, or 0.28 percent, to 31,819.14. The S&P 500 decreased 5.83 points, or 0.15 percent, to 3,855.76. The Nasdaq Composite Index rose 49.95 points, or 0.45 percent, to 11,188.84.
Seven of the 11 primary S&P 500 sectors ended in green, with real estate and utilities up 1.61 percent and 1.54 percent, respectively, outpacing the rest. Financials slumped 3.78 percent, the worst-performing group.
The above market reactions came as investors remained concerned about the health of the U.S. banking system.
U.S. regulators on Sunday closed New York-based Signature Bank, a key lender in the crypto industry, citing systemic risk.
The decision came two days after authorities closed California's Silicon Valley Bank (SVB) as the tech-focused lender reported huge losses from securities sales, triggering a run on the bank's deposits.
The failure of SVB and Signature Bank has raised concerns over potential losses on the bond holdings of other U.S. banks, many of which invested heavily in long-duration Treasuries following an influx of deposits during the pandemic. The value of these securities has fallen as the Federal Reserve has raised rates.
The U.S. Treasury Department, the Fed, and the Federal Deposit Insurance Corporation on Sunday announced joint action to stabilize the U.S. banking system.
"A crisis of confidence has arisen in the banking industry negatively impacting the sector and sparking broader market concerns," Chief Investment Officer Americas at UBS Global Wealth Management Solita Marcelli said in a note on Monday.
"Bank stock investors seem to be taking a sell first and ask questions later approach to the group, which will likely continue to weigh on bank shares for a while," Marcelli said.
For the week ending Friday, the Dow fell 4.44 percent, the S&P dropped 4.55 percent, and the tech-heavy Nasdaq lost 4.71 percent.