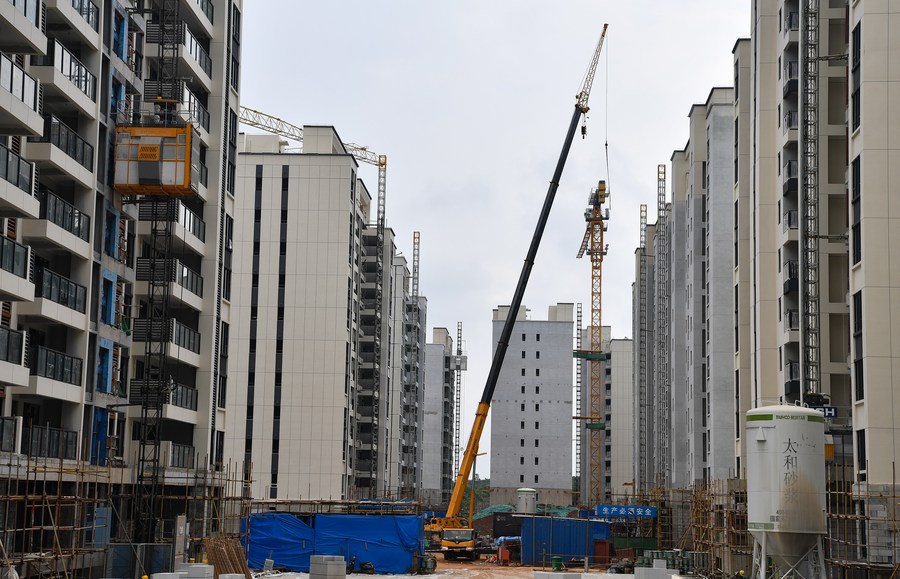 Photo taken on Sept. 2, 2022 shows the construction site of a residential area in Jiangdong New Area of Haikou, south China's Hainan Province. [Photo/Xinhua]

Property investment and sales data from the National Bureau of Statistics indicate that a real estate recovery is taking shape, boding well for further market stabilization and providing a confidence boost in the coming months, experts said.
"The greatest change for real estate in the first two months was the positive growth in floor space of completed construction, ending 11 consecutive months of declines, which reflects the efforts in ensuring real estate property deliveries for over a year have made promising progress," said Li Yujia, chief researcher at the Guangdong Planning Institute's residential policy research center.
The amount of real estate space completing construction reached 131.78 million square meters, up 8 percent year-on-year, among which 97.82 million sq m of residential space was finished during the January-February period, up 9.7 percent from a year ago, NBS data published on Wednesday showed.
From January to February, commercial housing sales fell 3.6 percent year-on-year in terms of floor area to 151.33 million sq m, edging down 0.1 percent to 1.55 trillion yuan in terms of value over the same period of the previous year, the NBS said.
The figures for residential real estate are more encouraging as housing sales saw a year-on-year growth of 3.5 percent in terms of value.
"This is the first time since last year that home sales saw a positive year-on-year growth, and the market recovery is a result of multiple efforts made, including ensuring residential project delivery, improving real estate developers' reasonable financing, lowering home purchase costs due to local policy optimization, as well as improved homebuying confidence," said Liu Lijie, a market analyst from Beike Research Institute.
The improved market liquidity at the beginning of the year has also helped eliminate risks for major property developers, Liu said.
China's investment in property development declined 5.7 percent year-on-year to 1.37 trillion yuan in the first two months, with investment in residential buildings falling 4.6 percent from a year ago to about 1.03 trillion yuan, the NBS said.
The real estate investment data showed investment momentum is rising after the year-on-year drop of 10 percent seen last year, showing the overall sector is recovering, said Yan Yuejin, director of the Shanghai-based E-house China Research and Development Institute.
Yan said that financial support measures are continuing to take effect, and homebuying activity is witnessing a clear improvement.
A variety of measures launched since November are being digested by the market of late. In the meantime, the optimized COVID-19 measures are creating additional support to help regain confidence, UBS Global Wealth Management's chief investment office said in a statement.
"Although it is unlikely there will be further large-scale stimulus policies, we believe the central government will continue its support for the sector by rolling out small financing and demand-boosting measures within the year. In our view, the stabilization of the property market is extremely important for China in achieving a GDP growth target of 5 percent in 2023, especially considering the vital role of a consumption recovery in the broad economy," UBS added.