Tencent Video, China's popular online video platform, promoted its diverse TV offerings, including the high-profile TV series "Three-Body," at the recently opened Hong Kong International Film and TV Market (Filmart) and promised to help more Chinese content reach global audiences.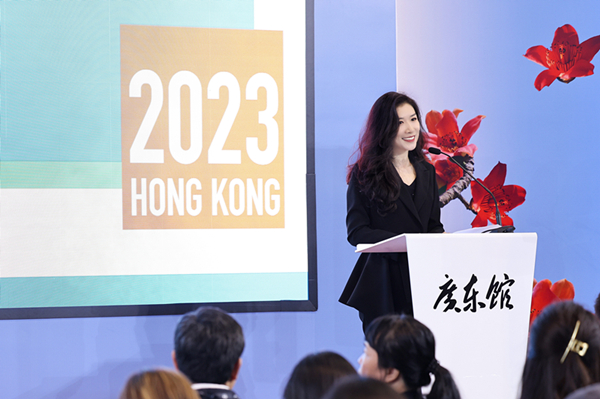 Li La, deputy general manager of Tencent's online video platform operation department, speaks at Filmart in Hong Kong, March 14, 2023. [Photo courtesy of Tencent Video]

During a content showcase event on March 14, Li La, deputy general manager of Tencent's online video platform operation department, highlighted the platform's recent achievements and reaffirmed its commitment to creating high-quality content and actively promoting Chinese-language works to global audiences.
"We firmly believe in the value of good content and will always make creating high-quality content our unwavering goal," Li said. "We will fully utilize our platform's creativity and aesthetic capabilities, while actively expanding the international space for the dissemination of our domestic-made content, allowing good Chinese stories to be spread farther and wider."
Among the TV series showcased by Tencent Video were "Where Dreams Begin," which tells the story of a group of youngsters in 1970s Beijing as they grow up and pursue their dreams; "Hao Shi Cheng Shuang," which shows the difficulties and transformation of a housewife returning to the workplace; "Fry Me to the Moon," a story of three women and their inheritance and guardianship of food; as well as adaptations of popular novels such as "West Out of the Yu Men," "The Longest Promise," "Amidst a Snowstorm of Love," and the prequel to the "Sword and Fairy" franchise, "Sword and Fairy 6."
The sci-fi TV series "Three-Body," adapted from Liu Cixin's award-winning novel, was also highlighted at the event. The series has been praised by audiences at home and abroad as a "new peak in Chinese sci-fi drama" and has set a new benchmark for domestic sci-fi dramas hoping to go global.
"Three-Body" has been released in many countries and regions beyond the Chinese mainland, attracting over 7 million views on YouTube, as well as topping the daily viewing charts on the North American version of Tencent Video's overseas platform WeTV.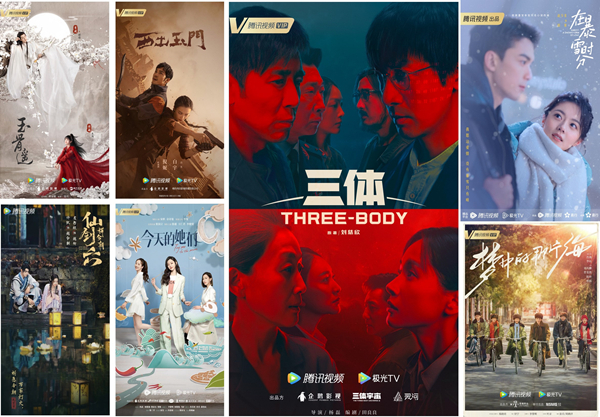 A composite of posters featuring several high-profile Tencent Video productions, including "Three-Body." [Photo courtesy of Tencent Video]

In addition to TV shows, a variety of high-quality content from Tencent Video was introduced, including animations, variety shows, documentaries and children's programs. The company's animated works covering various genres such as fantasy, martial arts and e-sports were showcased, including "Douluo Continent," adapted from the novel by popular writer Zhang Wei under the pen name Tang Jia San Shao; "The King's Avatar," adapted from the e-sports novel of the same name by Butterfly Blue; "Blades of the Guardians," which showcases the world of martial arts and swordsmanship; as well as original animations "Swallowed Star," "Ling Long," and the first domestic animation made entirely with Unreal Engine 5, "Shrouding the Heavens." Other high-quality content from the variety show, documentary and children's sections, such as "50 KM Taohuawu," "Rock & Roast 5," "The Potala Palace," "Once Upon a Bite 5" and "Monsters in the Forbidden City" were also highlighted, drawing much attention.
Tencent Video's efforts to expand its footprint in the global market have been reflected in its export of over 100 TV dramas, variety shows, documentaries and animations to more than 200 countries and regions since 2017.
Tencent Video executive Li La said that the company upholds the values of "high quality, positive energy, innovation and youthfulness," and actively responds to the ever-evolving needs of its audience.
"In addition to its domestic mission, Tencent Video also actively promotes international cooperation and carries the responsibility of cultural exchange," she said. "Through its own platform and various international collaborations, Tencent Video aims to tell the story of China, spread the voice of China, and has become a significant force in promoting Chinese culture on the international stage."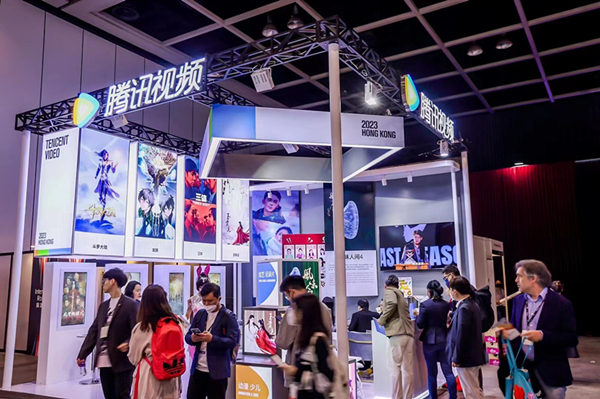 Visitors tour Tencent Video's booth at Filmart in Hong Kong, March 14, 2023. [Photo courtesy of Tencent Video]

Billed as the "largest film and television expo in Asia," Filmart is held in Hong Kong from March 13-16, attracting more than 700 exhibitors from over 30 countries and regions.