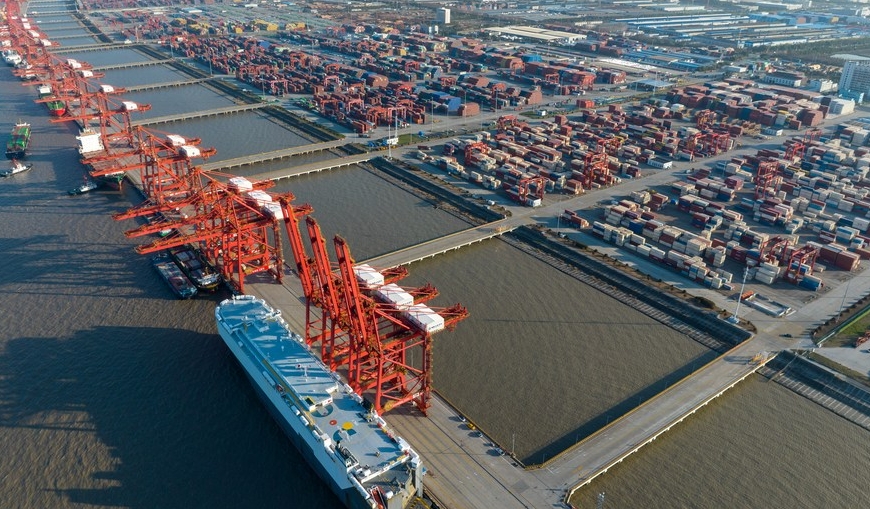 This aerial photo taken on March 13, 2023 shows a container terminal of Taicang Port, east China's Jiangsu Province. (Xinhua/Li Bo)

After a good start this year, the Chinese economy will buoy steady and sustained development, adding certainty to global growth clouded by upheavals, an official said on Saturday.
The country has hit the "fast-forward" button on its economic growth after it optimized the epidemic prevention and control measures, said Han Wenxiu, executive deputy director of the office of the Central Committee for Financial and Economic Affairs, at the economic summit of the ongoing China Development Forum 2023.
Passenger flows, logistics, and business trips in China are normalizing fast, while the domestic demand has recovered, said Han, citing major economic indicators in the first two months.
The country's retail sales, a gauge of consumption growth, increased 3.5 percent year on year in the January-February period, reversing declines seen in the previous three months.
In the period, China's value-added industrial output went up 2.4 percent year on year, while the index gauging the country's service industry output rose 5.5 percent.
With the accelerated implementation of supporting policies, the confidence of enterprises and investors is also on the mend, Han said.
He also noted that China's economic operation still faces challenges such as stagflation risks and spillover effects brought by the tightened monetary policies of developed economies, saying that the country's 2023 growth target is set after taking the above factors into consideration.
China aims to expand its economy by around 5 percent in 2023, according to its government work report.
"The current development momentum bodes a promising prospect for the full-year growth target," said Han, adding that China will remain a significant engine fueling global economic growth.
The contribution of China's economy to the world economic growth has exceeded 30 percent on average in the past decade, and the figure this year will surpass that in 2022, providing market demand and a strong impetus to the global recovery, he said.
Han also pointed out that China is proactive in stabilizing global industrial and supply chains, defusing financial risks, attracting foreign investments, and upholding multilateralism.
To further revive the economy, China will make more efforts in Chinese modernization to cultivate development in the medium and long term, said Han.
China will expand international innovation cooperation and achieve greater self-reliance and strength in science and technology, he said.
Han noted that the country would improve birth policies and the elderly care service system and stick to high-level opening up.
"The pursuit of Chinese modernization will surely inject vitality into the world's prosperity," he added.