Hainan's open economy is flourishing thanks to the synergistic effect of the Regional Comprehensive Economic Partnership (RCEP) agreement and the free trade port (FTP) policy, said Wang Bin, spokesperson for the Communist Party of China (CPC) Hainan Provincial Committee on Wednesday.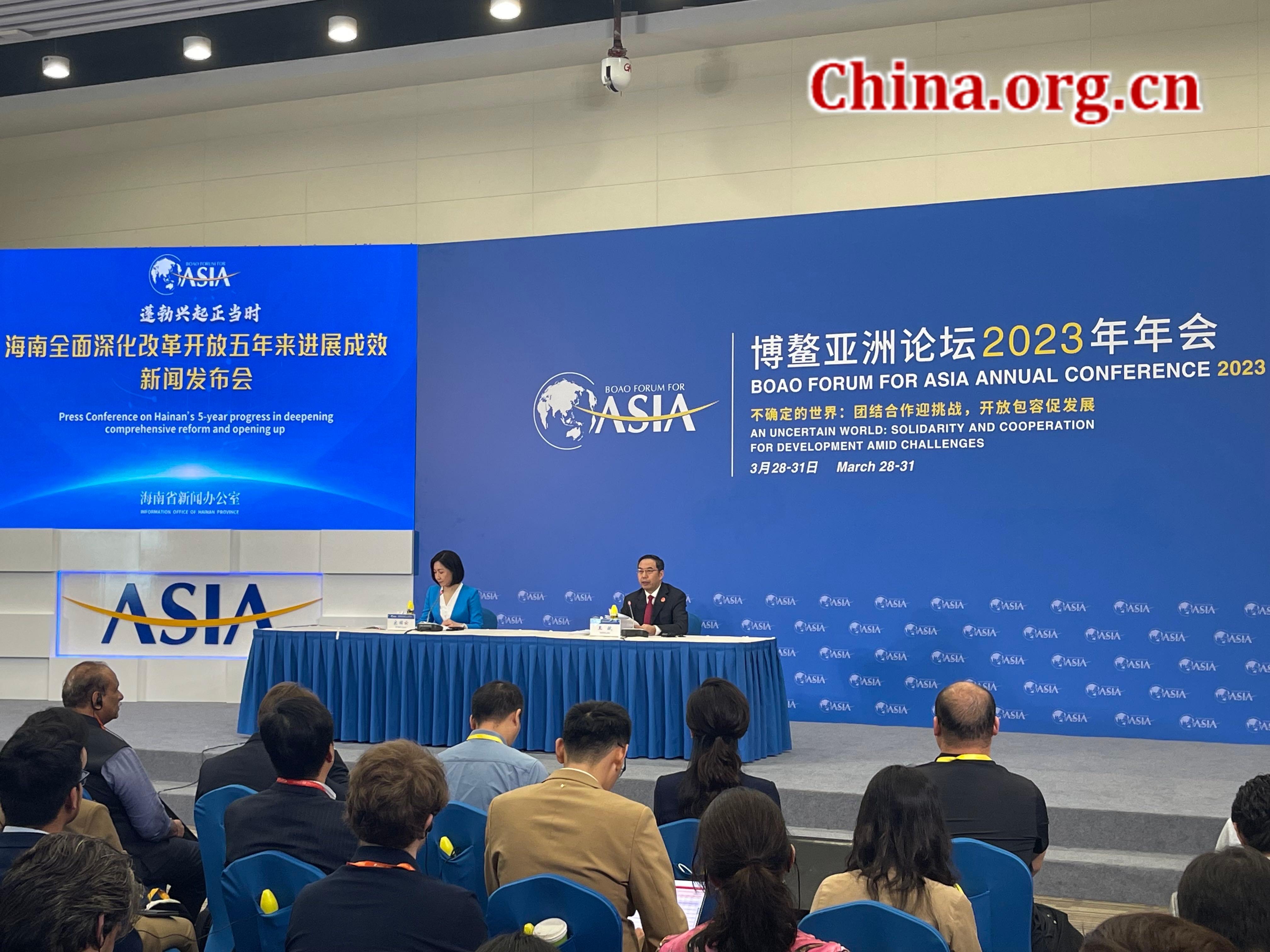 A press conference on Hainan's development is held during the Boao Forum for Asia Annual Conference 2023 in Boao, south China's Hainan province, March 29, 2023. [Photo by Zhang Liying/China.org.cn]

In 2022, Hainan's total goods trade reached 200.95 billion yuan ($29.14 billion), a year-on-year increase of 36.8%. Meanwhile, its total import and export of services amounted to 35.36 billion yuan, up 22.9% from the previous year, Wang said at a press conference during the ongoing Boao Forum for Asia Annual Conference 2023.
In 2020, China released a master plan to transform Hainan Island into a globally influential and high-level FTP by the middle of the century.
Since then, a series of favorable policies have been issued to support the development of the Hainan FTP, including zero tariffs and eased market and foreign investment access.
Wang said that as a key gateway to the Pacific Ocean and the Indian Ocean, the Hainan FTP connects the Chinese mainland and Southeast Asia, two of the most vibrant markets in the world, and boasts globally competitive policy advantages.
He said in 2022, Hainan's actual use of foreign capital exceeded $4 billion, a year-on-year increase of 15%, and its actual outbound investment doubled to $1.7 billion.
The RCEP pact, which came into force on Jan. 1, 2022, has enhanced trade and economic interactions between Hainan and member countries of the world's largest free trade agreement.
Hainan saw its trade with RCEP members grow 23.7% year on year to 71.18 billion yuan in 2022, according to Wang.
The island attracted 196 foreign-funded enterprises from RCEP member countries last year, said Wang. He added that investments from Japan surged by 565.9%, while those from South Korea increased by 548.6%, and those from Australia saw a growth of 86.9%.
Wang said Hainan will accelerate the establishment of corporate hubs that will facilitate Chinese enterprises entering Southeast Asia and other regions and allow enterprises from Southeast Asia and other regions to enter the Chinese market.
In early March, Hainan released the "Core Policy Measures to Support the Construction of 'Two Headquarters Bases'" for public consultation.
Wang said the 15 measures include a preferential corporate income tax rate, zero-tariff treatment on some imported commodities, and a tariff-free policy on value-added processing for foreign-funded enterprises from Southeast Asia and other regions.