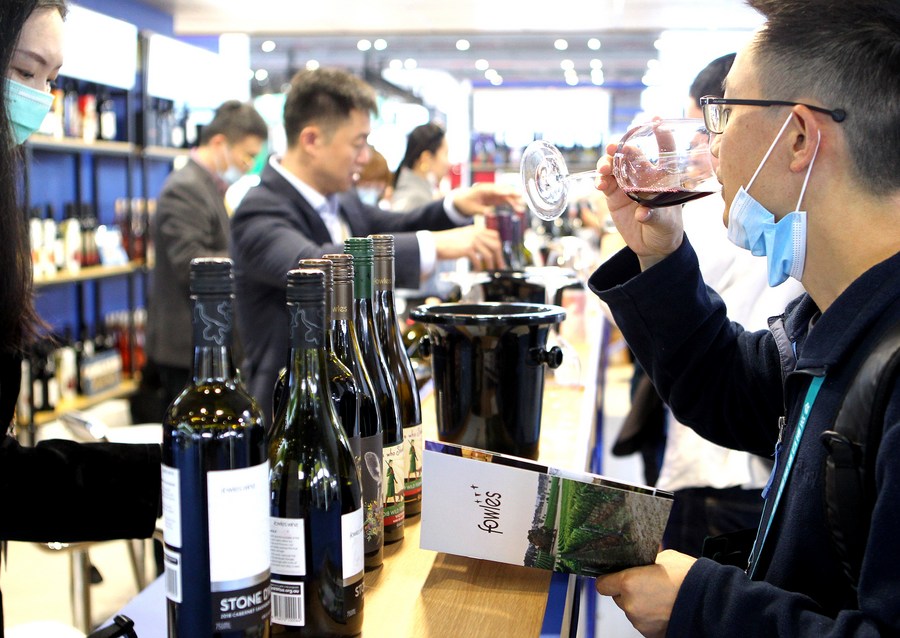 Visitors taste wine from France at the Food and Agricultural Products exhibition area during the third China International Import Expo (CIIE) in Shanghai, east China, Nov. 7, 2020. [Photo/Xinhua]

China and France, considered two major manufacturing powerhouses of the world, are expected to deepen their commercial relations in trade, investment and beyond to stimulate both the business vitality of the two sides and global economic recovery, said analysts and business leaders.
Encouraged by the tangible growth achieved under the framework of the Belt and Road Initiative, China's opening-up measures and the "France 2030" investment plan, the two countries will likely scale up trade and investment in fields like the digital economy, trade in services, new energy and high-end manufacturing, they said.
Unveiled by the French government in 2021, the "France 2030"investment plan aims to support the transformation of automotive, aerospace, digital, green, biotechnology, culture and healthcare industries. They are all considered fields where excellence has been pursued, achieved and needs to be sustained, according to Business France, a French government agency that promotes the country's exports and seeks to attract foreign investment.
Despite headwinds such as waning global demand and rising global trade protectionism in recent years, interdependence between China and France remains stable in bilateral trade across industries, said Cui Hongjian, director of European Studies at the Beijing-based China Institute of International Studies.
"With China undergoing a new round of industrial upgrading as well as green and low-carbon transformation, it will continue to export consumer goods and make use of France's environmental protection solutions and high-tech products, including electronic products, passenger aircraft, medical equipment and industrial parts," said Cui.
As both the Chinese and French economies have been disrupted by challenges ranging from the COVID-19 pandemic to geoeconomic fragmentation, their bilateral trade value dropped 4.4 percent year-on-year to $81.23 billion in 2022, data from China's General Administration of Customs showed.
In addition to passenger vehicles and aircraft, water treatment, chemical and pharmaceutical products, France's exports to China also include fashion, energy infrastructure and agricultural products. China exports mainly construction machinery, manufacturing equipment, steel, electronics, textiles, garments and household appliances to the European country.
Zhao Ping, vice-dean of the academy of Beijing-based China Council for the Promotion of International Trade, said China's ongoing consumption and industrial upgrade have attracted more French investment in many areas like high-end manufacturing and green development in recent years.
Echoing that sentiment, Yin Zheng, executive vice-president of Schneider Electric's China and East Asia operations, said that under the high-quality development goal, Chinese industries are accelerating their transformation toward digitalization and decarbonization. This, he said, provides more opportunities and growth spaces for French and European companies like Schneider Electric.
Operating in China for 36 years, the French multinational has grown from a joint venture factory to one with 29 factories and distribution centers in China today, with a more than 90 percent local purchase rate. China has become its second-largest market around the world.
Yin said Schneider Electric has established two research and development centers and one innovation lab for different business segments across China over the past four months.
"We are much more confident that 2023 will be a great year for growth, partnership and expansion, and China will continue to develop its economy in a positive way," said Christophe Lauras, president of the French Chamber of Commerce and Industry in China (CCI France Chine).
"Backed by China's optimized COVID-19 response and economic growth, we will see an improvement of business confidence and investment plans from many French companies this year," he said.
A survey conducted by CCI France Chine between Jan 31 and Feb 17 saw 305 companies participating. The chamber's members said they are more willing now than before to expand their activities in China over the next three years.
The survey findings showed that up to 47 percent of respondents are planning to increase their investment in China, which is a significant increase from the 23 percent reported in the chamber's previous survey in September 2022.