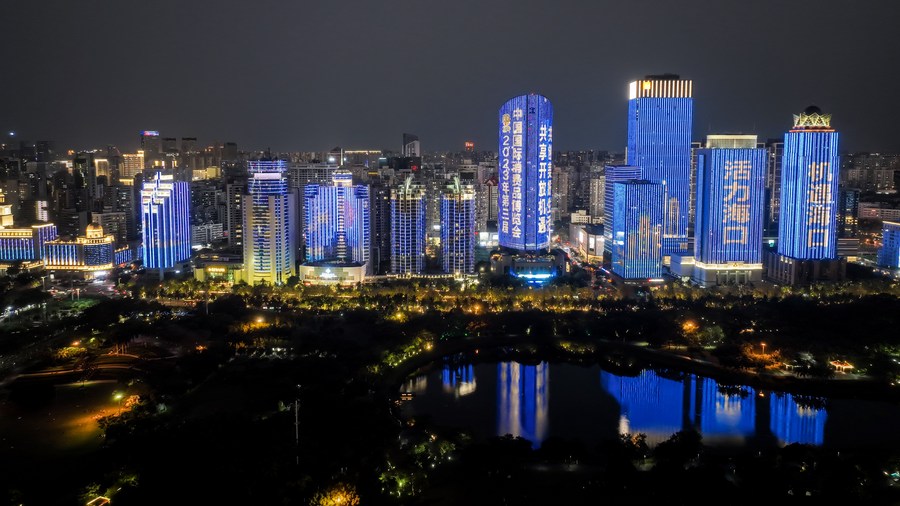 This aerial photo taken on April 5, 2023 shows a night view of Haikou, south China's Hainan Province. [Photo/Xinhua]

The sheer scale of China's consumer market is still a big appeal to multinationals, backed by buoyant economic figures and the Chinese government's commitment to higher level opening up, noted brand representatives who will be attending the upcoming third China International Consumer Products Expo (CICPE).
After participating in the first edition of CICPE, Tapestry, Inc., a New York-based company which owns the Coach, Kate Spade and Stuart Weitzman brands, decided to base its China travel retail headquarters in Haikou, Hainan's capital city, in April 2022.
Thus far the company has opened nine duty-free stores and four retail stores in Hainan.
"The expo is an important window for global high-end brands to accelerate their entry into and expansion in the Chinese market. It has also created new opportunities to boost the development of the global market," said Charlie Hou, senior director of travel retail at Tapestry (Hainan) Group Co., Ltd.
Hou added that Hainan's tourism retail market has huge potential and strong resilience, and Tapestry is full of confidence in its layout in Hainan's travel retail sector.
The optimistic view Tapestry has of its prospects in Hainan is a result of China's unremitting efforts in furthering higher level opening up.
In 2020, China released a master plan to build Hainan into a globally influential and high-level free trade port by the middle of the century. Since then, a slew of favorable policies have been issued to support the development of the Hainan Free Trade Port (FTP), including zero tariffs and easing market and foreign investment access.
The island province, which aims to become an international tourism and consumption center by 2025, and a globally influential tourism and consumption destination by 2035, is striving to boost consumer demand and raise its offshore duty-free sales to over 80 billion yuan (about 11.6 billion U.S. dollars) in 2023, according to the province's government work report.
Vigorous development, combined with a continuously optimized business environment in the province, have attracted and encouraged many multinationals like Tapestry to make great strides in Hainan.
"We plan to open more than 10 new retail and duty-free stores in the next three years," Hou said.
As a leading food and beverage enterprise in Indonesia, Kapal Api will make its debut at the CICPE this year.
The construction of the Hainan FTP provides a rare opportunity for Kapal Api to expand its business in China and Asia Pacific in the future, according to Indra Boedijono, a representative at Kapal Api Global.
Boedijono said he is very optimistic about future cooperation between Kapal Api and local authorities in Hainan in many fields, including the construction of a coffee factory in the province.
Over 3,300 brands from 65 countries and regions will partake in the third CICPE, slated to open on Monday. The exhibition area is set to increase by 20 percent over the previous edition, reaching 120,000 square meters, and the international exhibition section will reach 80,000 square meters.
Italy, the guest country of honor, will be represented by 147 brands at this year's CICPE, covering a total exhibition area of about 1,775 square meters.
Altagamma, an Italian foundation of luxury brands, has brought 75 of its members to the expo this year, including car manufacturers Maserati and Lamborghini, and coffee giant Illycaffe.
"The Hainan expo is really a huge opportunity for our brands, and we really want to use the occasion to illustrate the amazing beauty of our brands," said Stefani Lazzaroni, general manager of Altagamma.
According to Altagamma, China's luxury consumer base is growing and by 2030 its scale will exceed that of Europe and the United States to become the world's largest.
Data from Altagamma shows 33 percent of luxury products of its member brands were purchased by Chinese citizens who traveled abroad in 2019. During the COVID-19 pandemic, while the global luxury market shrunk, the Chinese mainland's share almost doubled, as Chinese consumers increasingly bought domestically.
"The growth that we saw in China is a unique opportunity that we don't see so far in other countries," Lazzaroni said, adding that "it will be tremendously important for our brands to start developing an even stronger relationship with China."