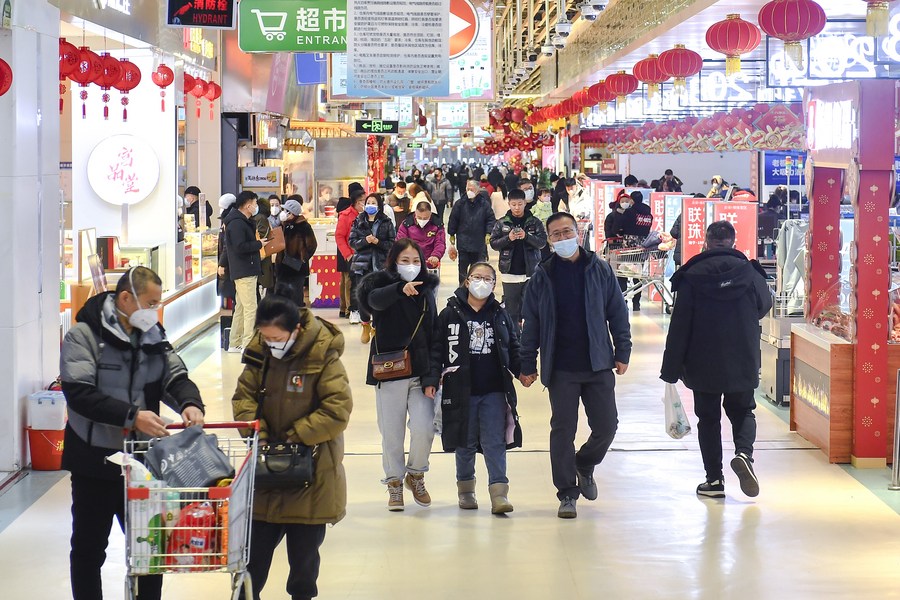 People shop at a shopping mall in Changchun, northeast China's Jilin Province, Jan. 23, 2023. [Photo/Xinhua]

China's consumer prices registered a mild growth in March, in sharp contrast to the persistent global inflation, official data showed.
The country's consumer price index (CPI), a main gauge of inflation, rose 0.7 percent year on year in March, the National Bureau of Statistics (NBS) said Tuesday.
The figure was lower than the 1-percent increase in February. On a monthly basis, consumer prices edged down 0.3 percent, narrowing 0.2 percentage points from the month-on-month decline in the previous month, stated the NBS.
Dong Lijuan, a statistician with the NBS, attributed the mild inflation largely to the ample supply in the consumer market as the social production and living order continued to recover in March.
Data showed that food prices played a major role in dragging down the overall price level and went down 1.4 percent month on month. Specifically, the prices of vegetables and pork, a staple meat, went down by 7.2 percent and 4.2 percent month on month, respectively.
Non-food prices remained flat in March, up from the 0.2-percent decline in February, buoyed by the growing demand for travel and increased clothing expenses.
The country's core CPI, deducting food and energy prices, climbed 0.7 percent from a year ago last month, up from 0.6 percent seen in February, Dong said.
The country targeted to keep the inflation rate or increase in CPI of around 3 percent for 2023. Its consumer prices grew 2 percent from a year earlier in 2022.
Tuesday's data also showed that China's producer price index, which measures costs for goods at the factory gate, went down 2.5 percent year on year in March.
The decrease expanded by 1.1 percentage points from that registered in February. On a monthly basis, China's PPI remained flat in March, according to the bureau.
"Due to a quicker recovery in domestic economic activities and price changes of some commodities in the international market, the PPI remained flat month on month," said Dong Lijuan. "But owing to a high comparison base in the same period last year, the year-on-year PPI declined."
Zhong Zhengsheng, chief economist with Pingan Securities, said that the core CPI is expected to lift in 2023, but the overall inflation would remain tame and mild.
Zhong also anticipated that the core inflation pressure will stay subdued in the first half of the year, which is conducive for government to maneuver easing monetary policy to stimulate domestic demand.