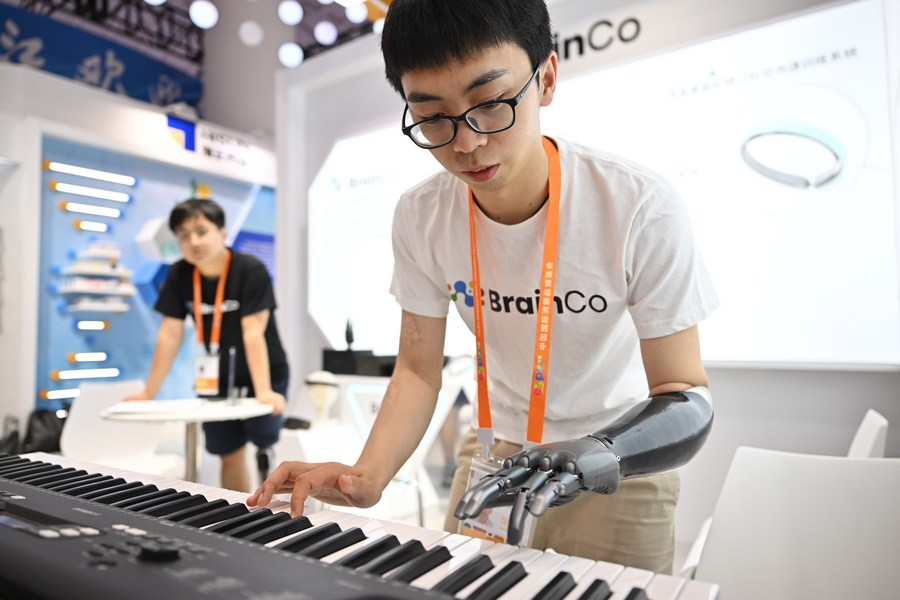 An exhibitor shows a bionic hand at the booth of east China's Zhejiang Province during the third China International Consumer Products Expo (CICPE) in Haikou, capital city of south China's Hainan Province, on April 10, 2023. [Photo/Xinhua]

China's consumer market has seen notable progress in scale and quality over the past decade, a Ministry of Commerce official said on Tuesday.
The country has become the world's second-largest consumer market. Retail sales of consumer goods in China exceeded 40 trillion yuan (about 5.81 trillion U.S. dollars) in 2019 and hit 44 trillion yuan in 2022, more than double the 2012 figure, said Xu Xingfeng, director of the Ministry of Commerce's consumption promotion department, at a global consumption innovation, duty free and travel retail conference being held as part of the ongoing third China International Consumer Products Expo.
The structure of the market has also been upgraded over the period, with residents more focused on the quality of their consumption. In 2022, the country's per capita expenditure on services accounted for 43.2 percent of the people's total consumption, Xu said.
Highlighting continuous innovations in consumption patterns, Xu said that new business forms, such as livestreaming, mobile payments and instant retail, have emerged in the market over the past decade.
In 2022, China's online retail sales totaled 13.8 trillion yuan, ranking first globally. The figure soared 9.5 times from 2012, Xu said.
Xu also stressed the importance of consumption in promoting economic development, noting that the annual contribution of final consumption expenditure to China's economic growth was 50.4 percent, 7.5 percentage points higher than that of investment.