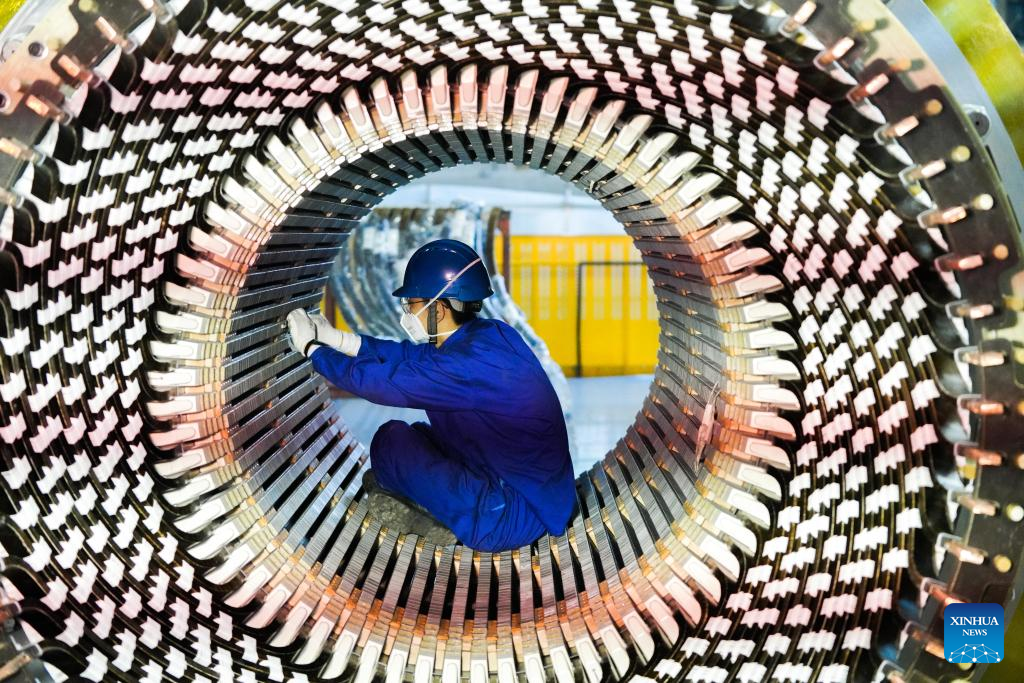 A worker works at a factory of Harbin Electric Machinery Company Ltd of Harbin Electric Corporation in Harbin, Northeast China's Heilongjiang province, Sept 3, 2022. [Photo/Xinhua]
Heilongjiang Province, an old industrial base in northeast China, has seen rapid development in high-tech manufacturing, thanks to its focus on innovation and new technologies.
The added value of the high-tech manufacturing industry in Heilongjiang grew by 24.6 percent year on year in the first quarter of 2023, said the provincial statistical bureau.
The output of high-tech manufacturing products such as industrial robots and proprietary Chinese medicines surged by 520 percent and 63.7 percent year on year in the same period, respectively.
Harbin Electric Corporation, for example, now uses a range of high-tech automatic equipment, including robotic laminating workstations, welding workstations, and industrial manipulators.
"Our robotic lamination workstation can replace the heavy, repetitive workload of five to six people, and it only requires one person to operate," said Wei Fangkai, deputy manager of the intelligent manufacturing process department of the corporation.
"These pieces of equipment have improved the efficiency and quality of our products while reducing production costs," Wei added.
Driven by the development in automation, the corporation achieved a 22.2 percent year-on-year increase in revenue and a 170 percent rise in total profit in the first quarter of 2023.
Based in the provincial capital of Harbin, Harbin AVR Technology Co., Ltd. is a specialized innovative firm focusing on virtual reality technology. Xiang Zheng, the company's board chairman, said it has seen a seven-fold increase in turnover in the past four years.
"With industrial policies supporting digital economy, we have great faith in developing a cluster of virtual reality industries and creating a new engine for Heilongjiang's economy," said Xiang.
The boom of high-tech manufacturing has also promoted the development of intelligent agriculture and service industries, attracting more investment in various sectors.
Investment in fixed assets in Heilongjiang grew by 8.4 percent year-on-year in the first quarter, while investment in the primary and tertiary industries surged by 27.1 percent and 14.9 percent, respectively.
"The Ningbo Chamber of Commerce in Heilongjiang has recruited more than 500 enterprises as its members and invested over 100 billion yuan (about 14 billion U.S. dollars) in Heilongjiang," said Yang Changren, president of the chamber.