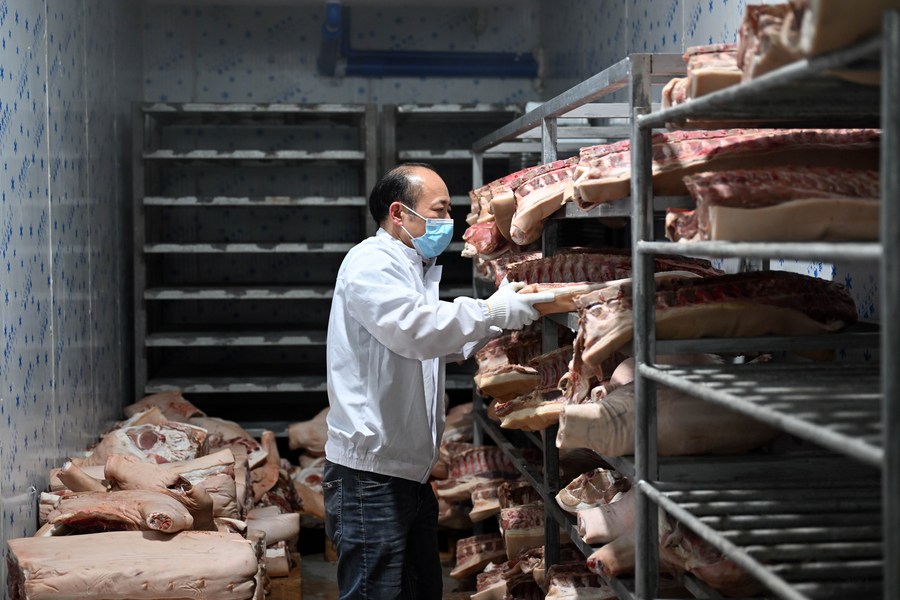 A staff member arranges frozen pork at a dispatch site of an on-line shopping service in Sanya, south China's Hainan Province, Aug. 13, 2022. [Photo/Xinhua]
China's top economic planner said Friday it will stockpile pork, the country's staple meat, to replenish central reserves, as an index monitoring pork prices has dropped to a warning level.
The index, the national average of pork prices against grain prices, came in at 5.21 to 1 between April 24 and April 28, falling within the second-highest warning level range of 5 to 1 and 6 to 1, said the National Development and Reform Commission.
It is the second batch of frozen pork this year to be purchased and stored in central reserves.
According to a work plan for stabilizing the pork market, China has introduced a three-level early-warning system to raise the alarm for excessive ups and downs in hog prices.
The commission said it would work with relevant departments to start the stockpiling work for state reserves in due time, to help hog prices return to a reasonable level as soon as possible.