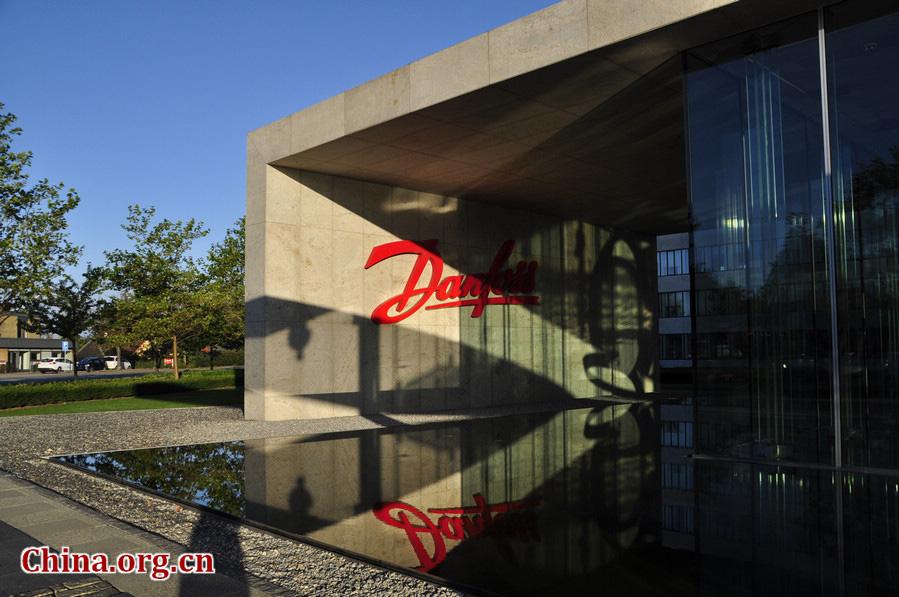 The headquarters of Danfoss, a global leader in energy-efficient solutions, is located in Nordborg, a small Danish town in Sonderborg. [Photo by Zhang Junmian/China.org.cn]

Global refrigeration industry giant Danfoss Group on Wednesday announced that its Global Green Refrigerants Compressors Laboratory has been put into operation in north China's Tianjin Municipality.
Covering an area of approximately 7,000 square meters, with a total investment of 140 million yuan (about 20 million U.S. dollars), this is Danfoss' largest capital increase in Tianjin since it settled in the city back in 1996.
As the company's most advanced and largest scroll compressor research and development (R&D) and testing center, the new laboratory is designed to focus on the research and testing of commercial compressors, especially variable frequency technology and its relevant application in heat pumps, as well as alternative green refrigerant solutions.
According to Kim Fausing, president and CEO of Danfoss Group, the technologies and solutions tested and proved in the laboratory will be widely used in air conditioning, heat pumps, data centers, cold chains and energy storage industries. This is expected to play a significant role in the global green transition, especially in reducing carbon dioxide emissions and in mitigating the effects of climate change.
Arthur Xu, president of Danfoss China, said the laboratory is an important practice for the group to move from "producing" in China to "creating" in China, which reflects the company's confidence in China's green development and the long-term prospects of the Chinese economy.
Driven by China's goals of peaking carbon dioxide emissions by 2030 and achieving carbon neutrality by 2060, greater market potential will be continuously unleashed for Danfoss' energy efficiency solutions. This makes the company even more confident about its future in China, according to Fausing.