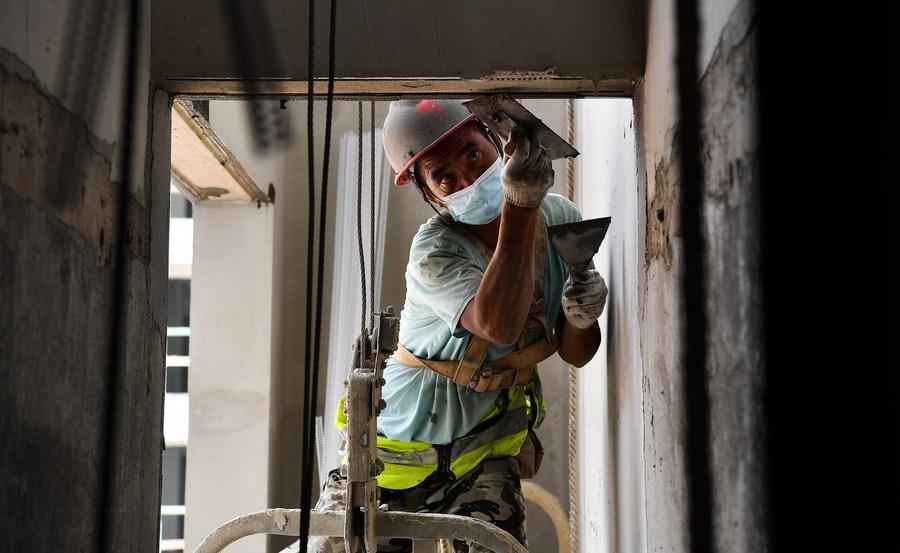 A worker works at the construction site of a residential area in Jiangdong New Area of Haikou, south China's Hainan Province, Sept. 2, 2022. [Photo/Xinhua]

China's housing market, buoyed by a flurry of supportive policies, has continued to stabilize in April, as evidenced by major cities logging sustained rise in home prices from the previous month, officials and analysts said on Wednesday.
While the property sector is on track toward a steady recovery, there is still uncertainty over whether it can sustain the strength of the momentum or not. Relevant policy steps should be fine-tuned and intensified to further bolster consumer sentiment and unlock housing demand, they said.
The latest official data showed that in April, 62 out of the 70 large and medium-sized cities tracked by the National Bureau of Statistics saw month-on-month increases in new home prices. The corresponding figure in March was a tad higher at 64.
First-tier cities reported a 0.4 percent increase on a monthly basis in their new home prices, NBS data showed. New housing in second- and third-tier cities saw prices rise 0.4 percent and 0.2 percent, respectively.
Overall, the month-on-month rise in new home prices in the 70 major cities, however, slowed a bit in April compared with March, said Sheng Guoqing, chief statistician of the NBS' urban division.
The average price of new homes in 70 major cities edged up 0.32 percent in April, down 0.12 percentage point from a month earlier, said Yan Yuejin, director of the Shanghai-based E-house China Research and Development Institution. The calculations were based on NBS data, he said.
The overall trend of stabilization and recovery in the housing market remains unchanged as favorable government policies restored confidence. The slow-paced recovery last month was mainly attributable to relatively weak willingness among prospective homebuyers to buy residential properties as the pent-up demand was mostly unleashed in the first quarter, Yan said.
Data from the People's Bank of China, the country's central bank, showed that household loans contracted by 241.1 billion yuan ($34.5 billion) in April compared with the same period last year while such loans rose by 1.24 trillion yuan in March over March 2022. Short-term loans to households dropped by 125.5 billion yuan in April from a year earlier, and medium- and long-term loans decreased by 115.6 billion yuan.
Chen Wenjing, director of research with the China Index Academy, said that market expectations are not fully established, and consumer sentiment still remains relatively weak as the property sector recovery faces uncertainty.
There is room for policy relaxation both on the supply and demand sides, and localities and departments concerned should optimize their real estate measures at a faster pace, she said, adding that new home sales in May are expected to maintain an appropriate scale and register a year-on-year increase.
The PBOC said on Monday in its first-quarter monetary policy report that the dynamic adjustment mechanism on mortgage rates for first-time homebuyers will be exercised on an ongoing basis in a bid to further support the property sector.
For cities where the selling prices of new homes fall month-on-month and year-on-year for three consecutive months, the floor on mortgage rates can be lowered or abolished for first-time homebuyers in phases.
Meanwhile, 36 out of the 70 major Chinese cities posted month-on-month increases in pre-owned home prices, down from 57 in March, NBS data showed. Pre-owned home prices in first-tier cities edged up 0.2 percent from a month ago, but stayed flat in second- and third-tier cities.
Sheng of the NBS said that pre-owned home prices also saw a slower month-on-month growth in April compared to March.
Yan of E-house said housing supply, especially in the pre-owned home segment, has been on the rise lately, which might stem a price rally. Proactive steps like lowering tax costs and brokerage fees should be taken to further vitalize the pre-owned home market and ensure its sound operation.