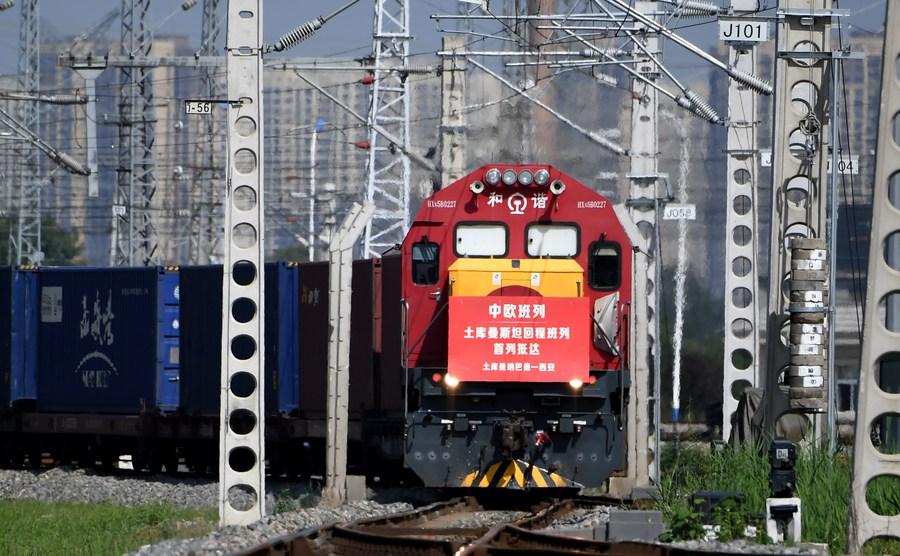 A China-Europe freight train loaded with raw materials of liquorice, a Chinese medicinal herb, which departed from Turkmenistan, arrives at Xi'an international port in Xi'an, northwest China's Shaanxi Province, Aug. 31, 2022. [Photo/Xinhua]

Ten years into Belt and Road cooperation, China and Central Asian countries have made historic achievements. With an upcoming milestone summit, they will strive for greater success and inject more impetus into global development.
China proposed the idea of building an "economic belt along the Silk Road" in Kazakhstan in 2013, which, combined with the proposal of the 21st Century Maritime Silk Road, eventually became the Belt and Road Initiative (BRI).
Over the past decade, Central Asian countries have become pioneers in promoting the BRI and have built the region into an example of high-quality BRI development. From fully loaded trains to humming production lines and natural gas pipelines, vigorous cooperation has resulted in common development.
As the China-Central Asia Summit is scheduled for May 18 and 19 in northwest China's Xi'an, the ancient Silk Road's starting point, experts believe the win-win cooperation between the two sides will open a new chapter.
Marking the BRI's 10th anniversary, a freight train left Xi'an on April 26 to carry more than 260 new energy vehicles to Tashkent, the capital of Uzbekistan, in 12 days. Currently, 17 railway routes connect Xi'an with Central Asian countries and many other Asian and European destinations, with more than 1,100 train trips made in the first quarter of this year.
Roaring trains are the epitome of closer economic ties between China and Central Asian countries. In 2022, trade volume hit a historic high of 70.2 billion U.S. dollars, an over 100-fold increase since diplomatic ties were established about three decades ago.
Central Asian quality agricultural products, such as wheat, soybeans, fruits, dried fruits, beef and mutton, have been exported to China, bringing tangible benefits to ordinary people.
Getting enough water for four hectares of farmland used to be a big problem for Kyrgyz farmer Evgeny Yakovlev living in a village called Kara-Oi. Thanks to China's support in reconstructing Kyrgyzstan's irrigation system, a new reservoir was built in the village by a Chinese company and the water supply was increased on an area of over 1,000 hectares.
A Chinese-built wind farm in Zhanatas, Kazakhstan, not only offered Maksat Abilgaziev, a 33-year-old local resident, a new job with more than doubled income but brought the run-down town back to life with green investment and technology.
A number of major projects have facilitated industrial upgrades and livelihood improvements in Central Asia, including the China-Central Asia natural gas pipeline, the China-Kyrgyzstan-Uzbekistan highway, the Pengsheng Industrial Park and the Qamchiq railway tunnel.
The success of such projects serves as a vivid demonstration of China's genuine support for the development of neighboring countries, said Ding Xiaoxing, director of the Institute of Eurasian Studies at China Institutes of Contemporary International Relations.
By the end of last year, China's direct investment stock in the five Central Asian countries reached nearly 15 billion U.S. dollars, covering various fields such as oil and gas exploration, processing and manufacturing, connectivity and digital technologies.
China will embrace the summit as an opportunity and work with the five Central Asian countries to push economic and trade cooperation to a new level, said Shu Jueting, spokesperson for the Ministry of Commerce.