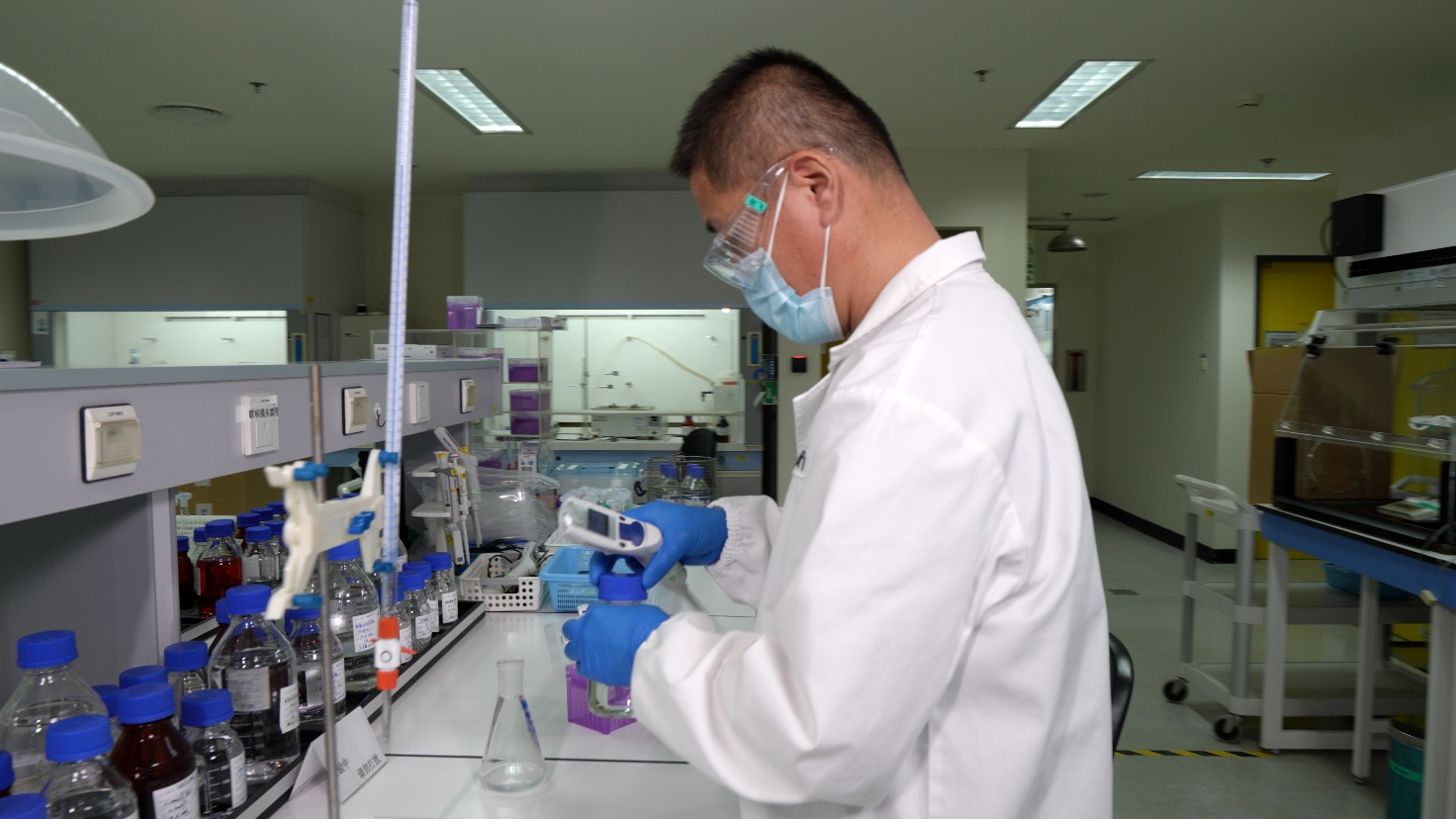 QC analyst performs testing at the chemical laboratory of Sanofi Beijing site. [Photo provided to China.org.cn]
French pharmaceutical firm Sanofi introduced its innovative anti-diabetic medicine, SOLIQUA, to the Chinese market on Friday. The new therapy is designed to help adult patients with insufficiently controlled type 2 diabetes mellitus to better control their blood glucose.
SOLIQUA, backed by results from multiple clinical studies, has demonstrated robust efficacy of reducing blood glucose levels, while mitigating risks associated with hypoglycemia and offering notable benefits in body weight control, according to a Sanofi press release on Friday.
Sanofi Greater China Country Lead Wayne Shi said the first batch of the product has completed local repackaging in Sanofi Beijing factory, and that there are plans to localize its production in the near future, thereby enhancing access to this medication.
He Guoling, the cluster head of manufacturing and supply and general medicine of Sanofi China, revealed that the Beijing factory possesses the state-of-the-art facilities, including sterile filling lines for insulin glargine injections, assembly lines for insulin glargine injection pens, capsule filling lines, fully enclosed granulation production lines, and fully automated solid packaging lines.
Sanofi (Beijing) Pharmaceutical has become the French firm's largest production base of injectant in the Asia-Pacific region.
In China, there are over 140 million diabetic patients. Data shows that currently the blood glucose control compliance rate among Chinese patients is less than 50%, highlighting the urgent need to improve blood glucose control.
"It is imperative to address the current challenges in blood glucose management, by empowering patients to attain blood glucose control, reducing the occurrence and progression of complications, and improving quality of life," said Professor Ji Linong, head of endocrinology at the Peking University People's Hospital.
According to the press release, SOLIQUA is a compound therapy that combines the benefits of insulin glargine (a basal insulin analogue) and lixisenatide (a GLP-1 RA*). Insulin glargine mimics the secretion of natural insulin in the body, helping to keep blood sugar levels throughout the day. Lixisenatide, on the other hand, stimulates insulin secretion when blood glucose levels rise during meals.
Professor Yang Wenying at China-Japan Friendship Hospital, who is the leading principal investigator of the phase III Lixilan-O-AP study of SOLIQUA in China, said the tailored solution specifically designed for Chinese patients will play a significant role in achieving high-quality blood glucose control precisely and efficiently.
She added that it offers a favourable administration approach and frequency, effectively addressing the issue of low compliance with insulin treatment in China.