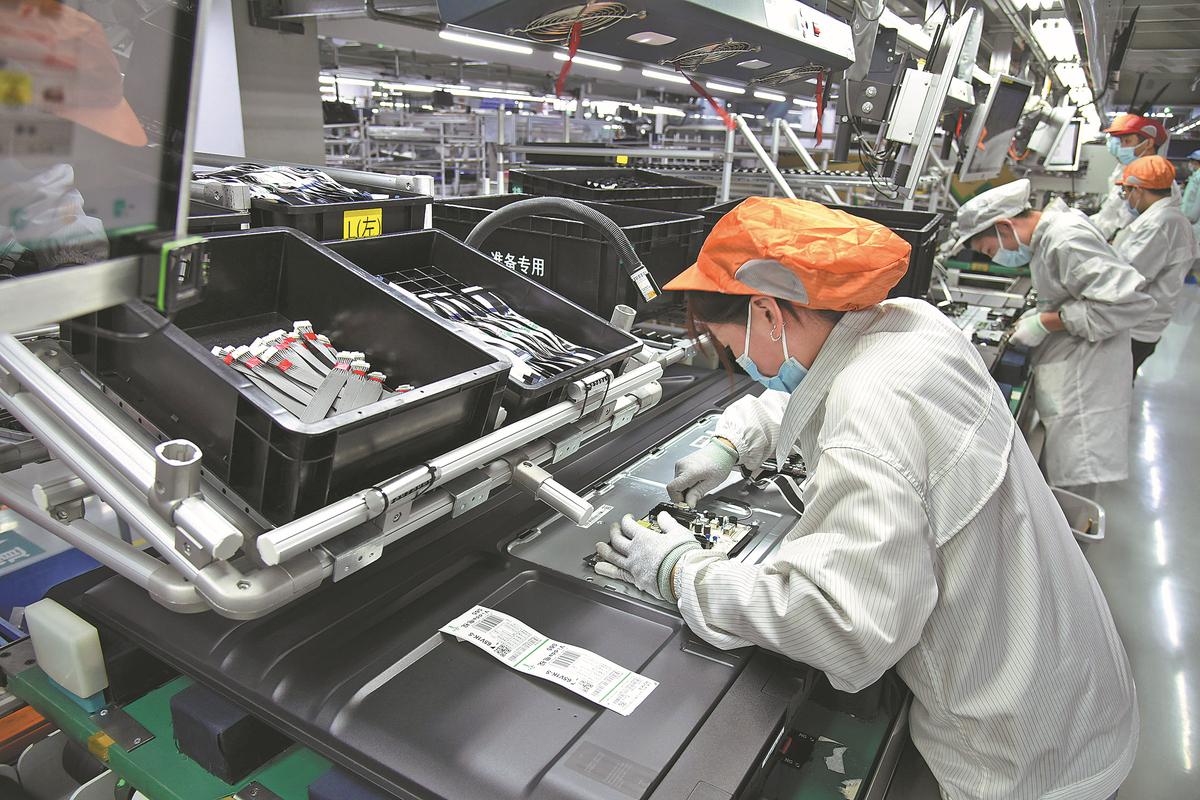 Employees work on the production line of a Hisense plant in Qingdao, Shandong province. [Photo/Xinhua]

China's efforts to speed up the construction of a modern industrial system underpinned by the real economy will help improve the resilience and security of its industrial and supply chains, and foster new growth drivers in strategically important sectors amid headwinds and external uncertainties, experts and business executives said.
The comments came after Premier Li Qiang stressed the need to vigorously develop advanced manufacturing clusters, make coordinated efforts to transform and upgrade traditional industries, and foster and expand strategic emerging industries, during a fact-finding trip to Shandong province last week.
"The advanced manufacturing industry is playing an increasingly vital role in motivating enterprises to bolster technological innovation, enhancing the country's core competitiveness globally, and promoting the development of other strategic emerging sectors," said Li Xianjun, a researcher at the Institute of Industrial Economics at the Chinese Academy of Social Sciences.
He said that China's emphasis on advancing industrial modernization and building up its strength in a modern industrial system will help make the country's economy more resilient, build a buffer against external risks and shocks, and make the country a manufacturing powerhouse.
More efforts should be made to tackle bottlenecks in core technologies in fields including basic materials and software, precision components, integrated circuits and high-end equipment, to enhance China's independent innovative capacity, he added.
China has maintained its position as the world's largest manufacturing hub for 13 straight years, accounting for nearly 30 percent of global manufacturing output in 2022, according to the Ministry of Industry and Information Technology.
During his visit to Chinese home appliance manufacturers Haier Group and Hisense Group, the premier expressed his desire for enterprises to cater to consumer needs, engage in personalized customization and create more competitive products. He also underlined the importance of promoting the development of industrial internet to empower small and medium-sized enterprises.
Zhou Yunjie, chairman and CEO of Haier Group, said manufacturing is the foundation of a country, and the high-quality development of China's manufacturing sector has entered the fast lane, buoyed by digital technologies like cloud computing, big data, the internet of things and blockchain.
"As the country is making efforts to build itself into a manufacturing powerhouse, more efforts are needed to promote innovative application of industrial internet and fully unleash the value of massive data resources, which is key to advancing new industrialization," Zhou said.
Haier has invested heavily in the industrial internet to develop COSMOPlat, which is designed for companies to customize products quickly by collecting and analyzing data from consumers, suppliers and factories, while boosting productivity and cutting costs.
In the face of fierce international competition, establishing a modern industrial system is of great significance in moving the country's manufacturing sector up to the medium-high end of the global value chain and injecting strong impetus into China's economic recovery, said Pan Helin, co-director of the Digital Economy and Financial Innovation Research Center at Zhejiang University's International Business School.
New-generation information technologies, such as artificial intelligence, 5G, big data and the internet of things, have found a wide range of applications in advanced manufacturing and accelerated integration with the real economy, he added.
Chen Duan, director of the Digital Economy Integration Innovation Development Center at the Central University of Finance and Economics, said greater efforts are needed to increase investment in frontier technologies and forward-looking fields, and expand international exchanges and cooperation in science and technology.