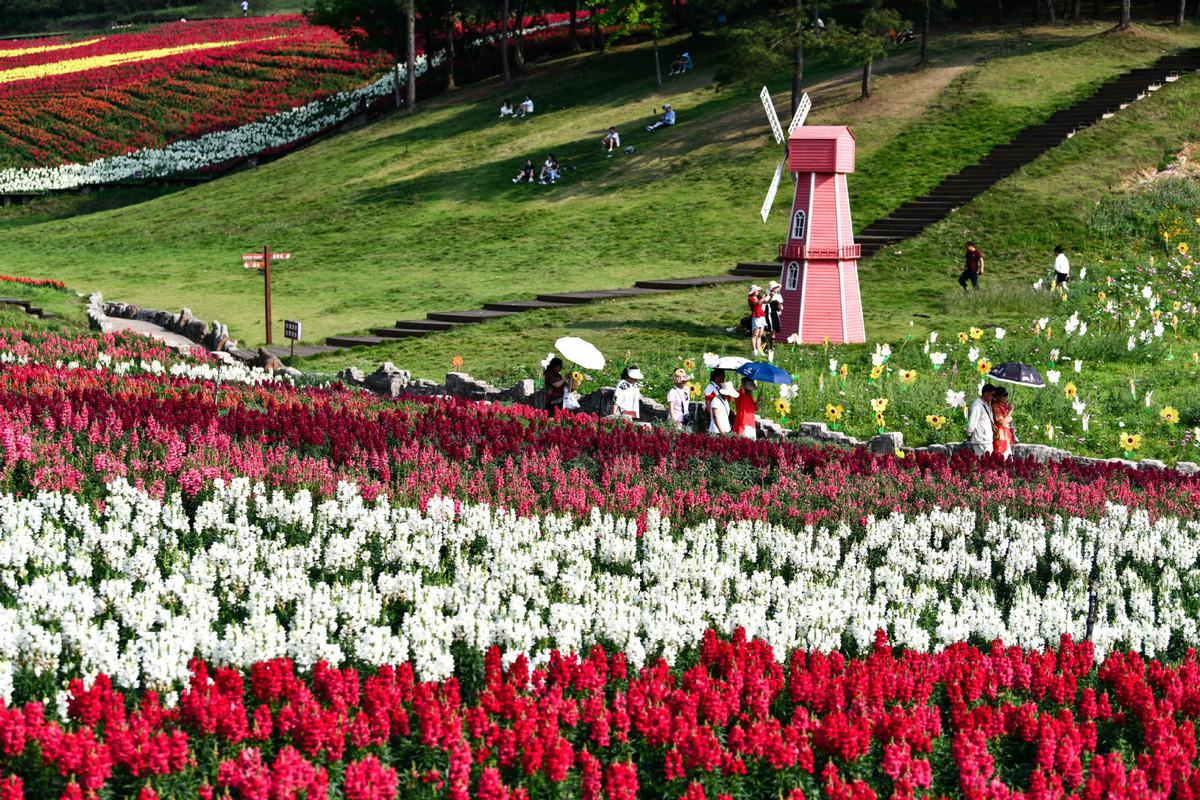 Tourists visit the flower fields in Xuanwei town of Majiang county, Guizhou province, May 17, 2023. [Photo/Xinhua]

Summer vacation is still a good six weeks away, but sales of travel products and services have already surpassed the levels seen in 2019 prior to the COVID-19 pandemic, industry observers said.
As of May 16, bookings for summer trips exceeded the pre-pandemic levels of 2019. With a reasonable sense of certainty returning to travel expectations, advance bookings are rising in China, said Trip.com Group, China's leading online travel agency.
This summer, the top domestic travel destinations are Beijing, Shanghai, Chengdu in Sichuan province, Xi'an in Shaanxi province and Urumqi in the Xinjiang Uygur autonomous region. Among outbound travel destinations, Hong Kong, Macao, Tokyo, Osaka, Singapore, Bangkok, Seoul, London and Paris are top attractions, Trip.com found.
With demand for flight tickets high and supply still recovering, prices edged up compared with the summer of 2019. The average price of a one-way domestic flight in the second half of June worked out at 1,012 yuan ($144), up 29 percent over 2019, Trip.com said.
Yet, the International Air Transport Association reported high levels of confidence among travelers. Travelers, the IATA said, are willing to go on trips this summer in the northern hemisphere. This preference was first noticed during this year's first quarter when advance bookings for the May-September period rose 35 percent year-on-year.
The IATA survey covered 4,700 travelers from 11 countries. It showed 79 percent of those surveyed said they were planning a trip in the June-August period this year, and 80 percent said they expected smooth travel as post-pandemic issues, in their view, have been resolved.
Data on advance bookings indicated the highest growth is expected in the Asia-Pacific region, the Middle East and Europe, respectively, the IATA said.
"Expectations are high for this year's peak northern hemisphere summer travel season. For many, this will be their first post-pandemic travel. While some disruptions can be expected, there is a clear expectation that the capacity ramping-up issues faced at some key airports in 2022 will have been resolved by now," said Nick Careen, senior vice-president of operations, safety and security at the IATA.
"To meet the strong demand, airlines are planning schedules based on the capacity that airports, border control, ground handlers and air navigation service providers have declared. Over the next few months, all industry players need to deliver," Careen said.
Haikou-based conglomerate HNA Group, which boasts more than 10 airline affiliates, has held more than 160 offline recruitment events so far this year to prepare for the recovery of the air travel market.
The newly filled positions include flight attendants, maintenance and safety personnel, ground service staff, customer service employees and marketing professionals. The overall recruitment scale has already reached the pre-pandemic level, HNA Group said.
Over the past three years, due to the challenges of the pandemic, many employees, including those in key positions, had left the industry. Last year alone, the number of flight attendants working in the domestic civil aviation sector shrank by about 3,000 compared to the level in 2021, according to the Civil Aviation Administration of China.
"Right after China optimized its COVID-19 response measures in December, we started hiring flight attendants as we needed to factor in the training period and prepare in advance," said Gao Xiaolong, general manager of human resources at HNA.
"In June, those newly recruited employees are expected to start working and constitute an important force to help meet the demand of the peak flying season this summer."