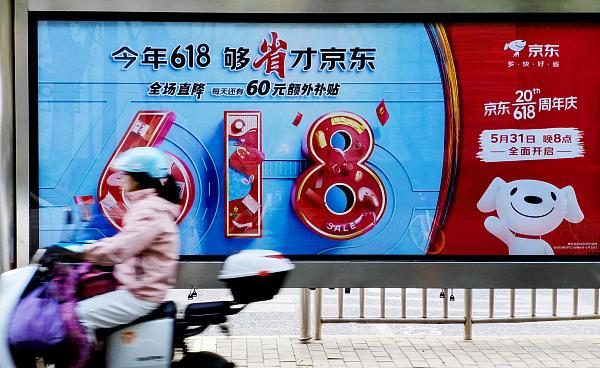 An advertising board in Beijing on May 23, 2023. [Photo/CFP]

China's major e-commerce platforms have begun presales for the annual June 18 shopping carnival online, with direct price cuts being a preferred strategy.
The promotional event is expected to drive consumption growth in the second quarter, experts said.
Domestic e-commerce platforms have already increased investment and effort to promote the shopping event.
Online retailers JD and Vipshop have started presales this week, while Taobao and Tmall will begin their presales from Friday, the experts said.
A record high number of merchants are expected to participate in JD's promotional event this year.
Earlier this year, global luxury brands such as Tiffany & Co and Bottega Veneta, as well as new energy vehicles maker Tesla, launched their online stores on JD, and they will join the June 18 event.
According to JD, apart from direct price reduction of products, consumers will stand to gain three coupons every day. Each of these coupons will reduce prices by 20 yuan if they buy products worth more than 200 yuan, barring some exceptions.
"This year, JD has issued more subsidies for the June 18 shopping festival compared with previous years, and we will launch more products and provide easier and more convenient shopping experiences for consumers," said Xin Lijun, CEO of JD retail, the retail unit of JD.
Taobao and Tmall, both e-commerce platforms of the Alibaba Group, said they will invest the highest amounts on record this year and help merchants attract a huge number of customers for the June 18 event. In March, both these e-commerce platforms saw strong revenue growth in the clothing and health products categories, according to the financial report of Alibaba Group.
Meanwhile, online retailer Vipshop said it will directly reduce prices of various products, and consumers would not have to buy several products at the same time to reach a certain value and get discounts. The platform will also select some 100 bestselling products daily during the period around June 18 and offer more discounts on those products.
The e-commerce unit of short-video platform Douyin also said it would adopt a strategy of cross-store purchasing discounts and reduce 25 yuan on each purchase worth 150 yuan, besides launching presale events. Douyin said the platform will help drive huge traffic for June 18.
"This year, e-commerce platforms have launched greater promotional events and given more subsidies directly, and their promotional methods have become simpler. Buyers don't have to calculate the prices and combine multiple orders to get the discounts," said Mo Daiqing, a senior analyst at domestic consultancy Internet Economy Institute.
"In addition, livestreaming sessions remain a key part of this year's June 18 shopping festival. Short-video platforms such as Douyin and Kuaishou have increased subsidies and aim to attract more traffic to compete with e-commerce shopping platforms," Mo said.