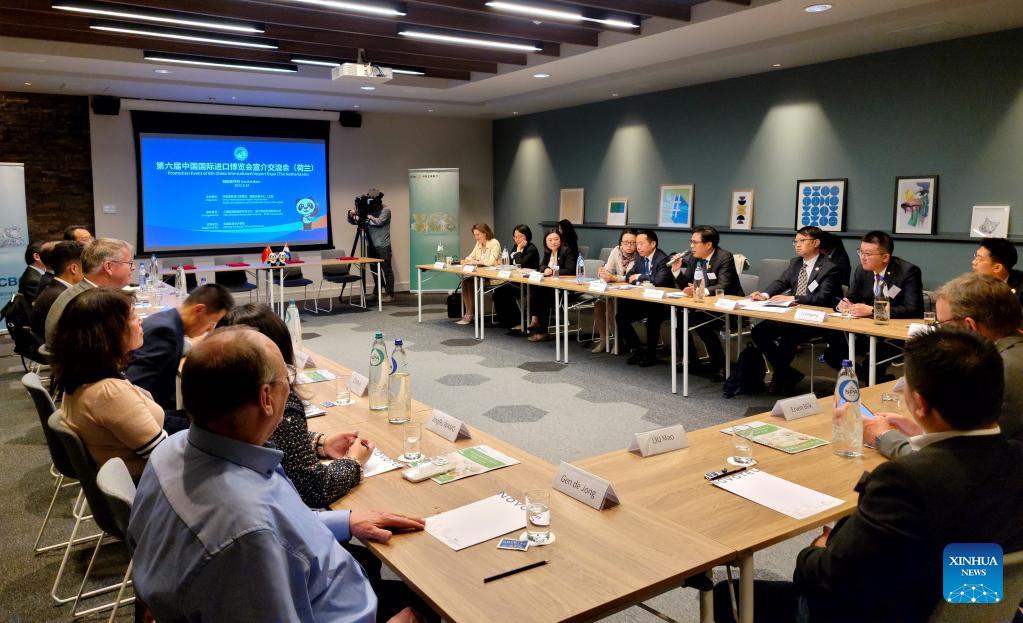 This photo taken on May 24, 2023 shows the site of the Promotion Event of 6th China International Import Expo (The Netherlands) held in Amsterdam, the Netherlands. [Photo/Xinhua]
Dutch and Chinese business representatives signed a memorandum of cooperation on matters related to the China International Import Expo (CIIE) in Amsterdam on Wednesday.
The memorandum was signed by representatives from the CIIE Bureau and Dutch institutions and enterprises during a promotional event for the sixth CIIE, scheduled for Shanghai from Nov. 5 to Nov. 10.
Jin Yuan, Economic and Commercial Counselor at the Chinese Embassy to the Netherlands, delivered a keynote speech emphasizing China's position as the world's second-largest import market.
He noted that China's import volume in 2022 reached 2.7 trillion U.S. dollars, which showed the country's immense market potential.
The CIIE, the world's first import expo held at a national level, provides an excellent platform for large and small Dutch enterprises to showcase and promote their products, he said.
Jin urged Dutch businesses to take an active role in the expo, explore potential collaborations with their Chinese counterparts and reap the significant benefits of the Chinese market.
Shi Huangjun, vice president of the National Exhibition and Convention Center (Shanghai), said that Dutch companies have always been important players at the CIIE.
He commended Dutch companies for their enthusiastic participation, noting the considerable benefits they have achieved.
The expo attracts not only large multinational corporations but also a multitude of innovative and potentially high-growth small- and medium-sized enterprises from the Netherlands, he said.
The event included a screening of a promotional video for the sixth CIIE. Organizers shared information on the expo's preparations and detailed insights into the exhibition areas. They also addressed various inquiries raised by Dutch representatives.