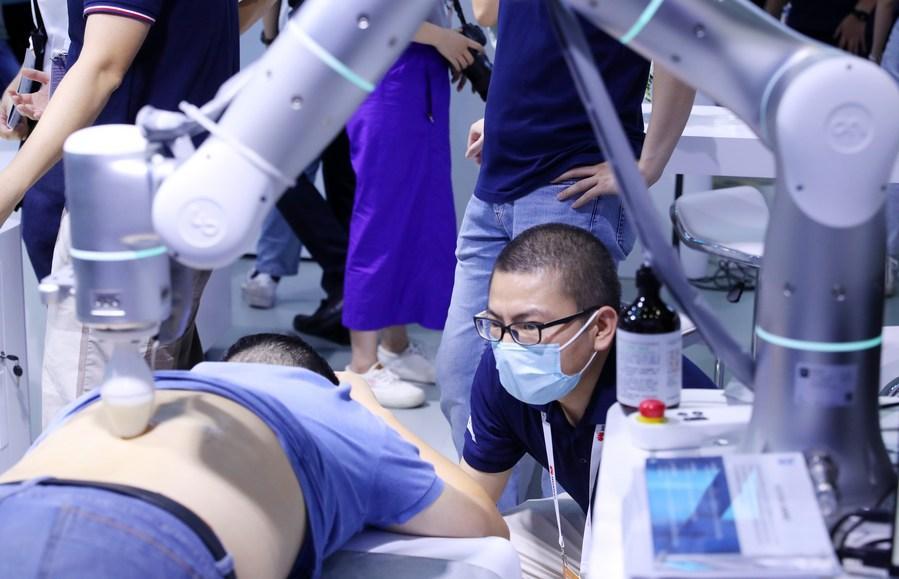 A visitor experiences a massage robot at the 2022 World Artificial Intelligence Conference (WAIC) in east China's Shanghai, Sept. 1, 2022. [Photo/Xinhua]
From delivering food at the doorstep to picking tea, China has witnessed a remarkable expansion in the utilization of robots across diverse settings, transforming industries and people's daily life.

At the seventh World Intelligence Congress held from May 18 to 21 in the northern Chinese city of Tianjin, a robot shaped like a mantis climbing up and down caught the attention of visitors.
It's the first intelligent tower robot to be rolled out by the State Grid Tianjin Electric Power Company.
Guided by a skilled staff member, the tower robot adeptly maneuvers its eight claws. Even when faced with obstacles like nails or tilted timber, the robot effortlessly traverses them. Upon reaching its assigned position, it deftly secures the bolts and nuts, showcasing its exceptional precision and agility.
Powered by a built-in lithium battery, the robot can work for more than 10 hours. "The assembly of transmission tower is risky. The robot integrates bionic climbing, intelligent perception, human-computer interaction, and other technologies, which can effectively reduce the risk for on-site workers," said Ma Jun, who works at the State Grid Tianjin Electric Power Company.
Today, the use of robots in China has expanded across various sectors, including agriculture, logistics, education and healthcare.
An impressive example of this technological advancement was seen in Hangzhou's West Lake scenic spot, located in east China's Zhejiang Province. Here, a tea-picking robot equipped with a sun hat made of solar panels maneuvers through rows of renowned Longjing tea bushes using its agile mechanical arms and caterpillar wheels.
The introduction of the 550-kg robot tea picker has been a boon for local tea planters, who have been facing a significant shortage of labor lately.
In southwest China's Guizhou Province, robots are used to conduct routine inspections at power substations in remote mountainous areas.
So far, 13 robots have been deployed at 10 power substations in the city of Tongren, where they can conduct automatic inspection patrols, according to the Guizhou branch of the China Southern Power Grid.
Equipped with high-precision sensors and high-definition cameras, the robots can complete a routine patrol in 50 minutes, compared with 12 hours by humans, who must also spend another 40 minutes traveling to the substation, said Zhou Jingyu, head of the Taiping Power Substation in Tongren.
Earlier this year, China said it will strive to double its manufacturing robot density by 2025 compared with that of 2020, according to an action plan issued by the Ministry of Industry and Information Technology and 16 other government departments.
The use of service and special robots will be significantly increased by 2025, with the capability of the country's robotics industry to promote high-quality economic and social development markedly improved, the plan stated.
As for the future application of robots, Hu Yuchen, co-founder of Shanghai Dajie Robot Co., Ltd., said that flexible manufacturing has not been realized in many factories at this stage.
"We hope that industrial robots have eyes and also a brain with flexible control to help some heavy and high-polluting industries facilitate machines replacing humans," Hu said.