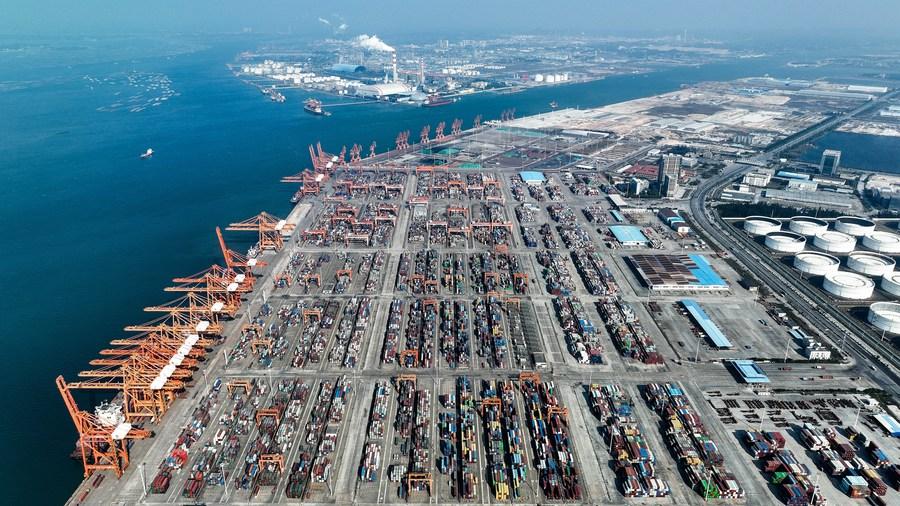 This aerial photo taken on Feb. 25, 2023 shows the container terminal at Qinzhou Port in South China's Guangxi Zhuang autonomous region. [Photo/Xinhua]

China's foreign trade grew at a much slower pace than expected in May amid multiple headwinds, such as intensifying geopolitical tensions and a sagging world economy, which subdued global demand, prompting experts to call for greater policy support to stabilize the country's export growth.
As the global economic outlook is forecast to remain gloomy and external demand is expected to weaken, China's foreign trade will face some pressure. Stronger government support should be provided on an ongoing basis to help address concerns of businesses and sustain stable growth, experts said on Wednesday.
In May, China's foreign trade expanded 0.5 percent to 3.45 trillion yuan ($485 billion). Exports witnessed a 0.8 year-on-year decrease to 1.95 trillion yuan while import climbed 2.3 percent to 1.5 trillion yuan, according to data from the General Administration of Customs.
Zhou Maohua, an analyst at China Everbright Bank, said the country's exports logged a modest drop in May, partly due to a relatively high base figure recorded in the same period last year. Also, as domestic exporters fulfilled a backlog of orders in the past few months that had been disrupted by the pandemic, inadequate market demand caused the decline.
Weighed down by the effects of the Russia-Ukraine conflict, a stubbornly high inflation and tighter monetary policy, the world economy and global trade have been in the doldrums. Shrinking external demand will be a major drag on China's foreign trade for some time, Zhou said.
The foundation for recovery of the country's foreign trade is not yet fully established. Further supportive policies should be provided to help tackle various challenges and ensure stable growth, he added.
Xu Hongcai, deputy director of the China Association of Policy Science's economic policy committee, said that diversification of international markets must be better leveraged to cushion dampening demand from countries such as the United States and Japan.
Between January and May, China's total imports and exports grew 4.7 percent year-on-year to 16.77 trillion yuan, with the Association of Southeast Asian Nations remaining the country's largest trading partner, according to the administration.
China's trade with ASEAN member states amounted to 2.59 trillion yuan, up 9.9 percent year-on-year, while the nation's trade with countries and regions involved in the Belt and Road Initiative expanded 13.2 percent year-on-year to 5.78 trillion yuan, data from the administration showed.
Countries and regions involved in the BRI and ASEAN member states are becoming new growth engines of China's foreign trade. Further steps should be employed to tap into their trade potential, Xu said, adding that the Regional Comprehensive Economic Partnership, which has been fully enforced for all its 15 members, should be better harnessed to expand the market in Southeast Asia with preferential tax rates.
Zhou from China's Everbright Bank said the exports from high-end manufacturing industries, as highlighted by automobile exports, should play a bigger role in facilitating the stable growth of China's foreign trade.
Between January and May, China's mechanical and electrical product exports grew 9.5 percent year-on-year to 5.57 trillion yuan. In particular, automobile exports amounted to 266.78 billion yuan, up 124.1 percent year-on-year, data from the administration showed.
Domestic manufacturers should stay abreast of shifting demand in the global market and invest more in innovation and production capacity, in order to provide global buyers with higher value-added products and secure more orders, Zhou said.
Zhang Jianping, head of the Center for Regional Economic Cooperation at the Chinese Academy of International Trade and Economic Cooperation, said that policies to enable greater foreign trade facilitation should be improved to lower the overall costs of businesses and enhance their competitiveness.
Better inclusive financing services should be provided and deeper tax and fee cuts introduced to lighten the burden on foreign trade enterprises. The coverage of export credit insurance should also be expanded. Industry associations and chambers of commerce should play a key role in helping firms secure more orders, he added.