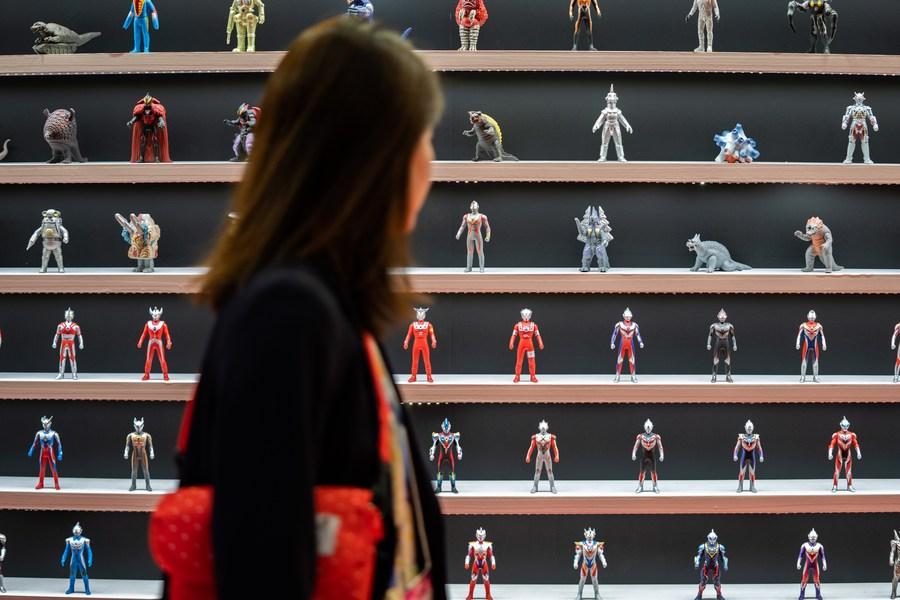 A visitor looks at toys exhibited at the International Tokyo Toy Show in Tokyo, Japan, June 8, 2023. [Photo/Xinhua]
From intricate miniature houses to a variety of musical educational devices, Chinese toymakers showcased their best-selling products at the International Tokyo Toy Show on Thursday as they sought to expand their presence in the Japanese market.
The exhibition booth of Robotime Technology (Suzhou) Co., Ltd., a Chinese toy company that designs and produces 3D wooden puzzles and miniature houses, featured a variety of delicately crafted miniature houses in different scenarios and beautifully designed music boxes, which attracted the attention of potential buyers.
The toymaker made a foray into the Japanese market in 2018, and this was its third display at the Tokyo Toy Show.
"We had a good start in the Japanese market, but our progress stagnated because of the COVID-19 pandemic. Hopefully, this year's toy show will help us get a breakthrough in the Japanese market," the company's sales manager Juidy Dong told Xinhua.
The International Tokyo Toy Show, which runs from Thursday to Sunday, is expected to bring together 156 firms worldwide to exhibit their latest products to an estimated 90,000 visitors.
Many Chinese exhibitors came from China's "toy capital," the Chenghai District of Shantou, home to over 10,000 toy companies, in south China's Guangdong province.
Shantou-based Guangdong Baoli Cultural Development Co., LTD., producing music educational toys for infants, had participated in the Tokyo Toy Show for years as the Japanese toy market was too big to ignore.
"We want to expand our presence in Japan as it is a mature and big market," said Lisa Chen, head of the company.
According to data from the Japan Toy Association, the country's toy market size went up 106.7 percent year-on-year to 952.5 billion yen (about 6.8 billion U.S. dollars) for Japan's 2022-23 fiscal year from April 1, 2022 to March 31, 2023.
"As users of long-selling brands span over two or three generations, the adult market of toys sees an increasing outspread. We believe the toy market has the potential for further expansion despite the declining birth rate," noted the report by the association.
The Japanese toy market is strict when it comes to quality and preference for local brands, making it a challenging market to enter.
Through the market entry and expansion in Japan, the Chinese toymaker could learn and grow along the process as the market emphasis on quality will make their products better and more competitive in the global market, noted Chen.
Although Japan's toy market is highly competitive, Dong said Robotime remained confident in its ability to thrive in the country due to its commitment to originality, a strong research and development team and a continuous stream of new products.