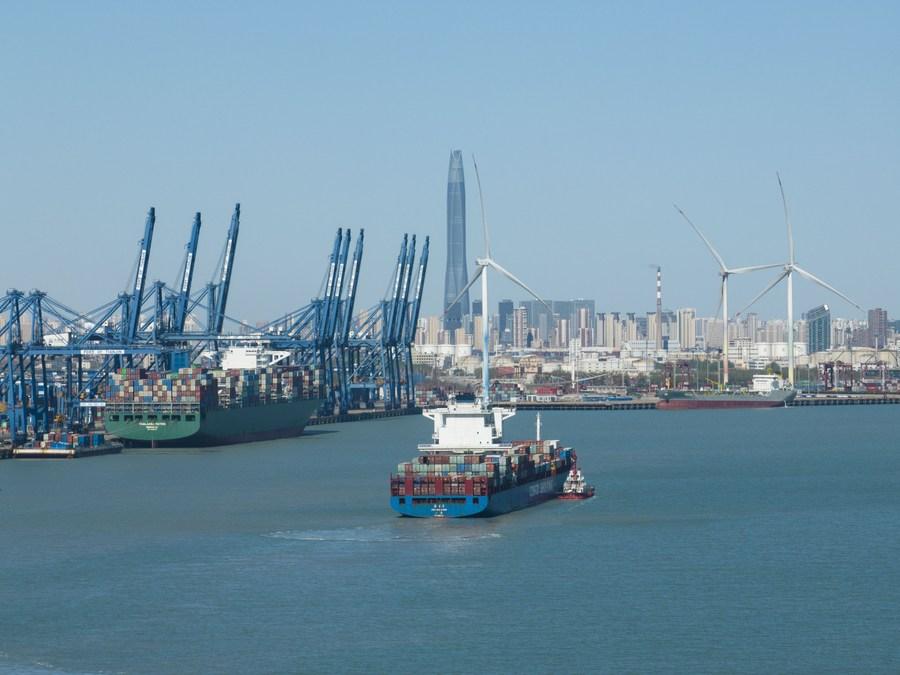 This aerial photo taken on April 7, 2023 shows a container ship sailing at Tianjin Port in north China's Tianjin. [Photo/Xinhua]
North China's Tianjin Municipality has received approval from the State Council, or China's cabinet, to set up a new comprehensive bonded zone, adding a new engine to the city's high-level opening-up.
With a planned area of 5.56 square km, Tianjin Lingang Comprehensive Bonded Zone will focus on developing industry chains such as the marine economy and hydrogen energy, and provide support for its competitive industries such as marine engineering equipment and grain and oil processing, according to the municipal bureau of commerce.
Comprehensive bonded zones are special commercial zones that enjoy favorable taxation policies and are managed by customs officials.
Now, Tianjin has five comprehensive bonded zones, focusing on multiple fields and industrial clusters, including aviation manufacturing and maintenance, oil processing and production, aircraft and marine platform financing leasing, parallel auto imports, cross-border e-commerce, large-scale mechanical equipment manufacturing, and bulk commodity bonded warehousing.
Comprehensive bonded zones play a key role in foreign trade.
Total imports and exports by comprehensive bonded zones across Tianjin reached 268.71 billion yuan (about 37.6 billion U.S. dollars) in 2022, up 5.9 percent year on year, contributing nearly one-third to the city's foreign trade.