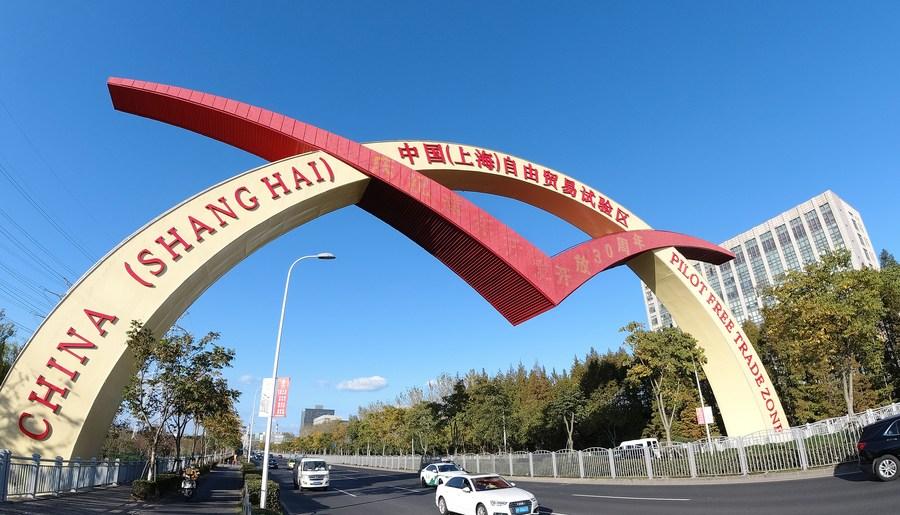 Photo taken on Nov. 11, 2020 shows a view of the China (Shanghai) Pilot Free Trade Zone at Pudong New Area in Shanghai, east China. [Photo/Xinhua]
China has submitted the documents for joining the Comprehensive and Progressive Agreement for Trans-Pacific Partnership, which if successful is expected to bring tangible economic benefits to participating countries and further bolster economic integration of the Asia-Pacific region, an expert said.
China is advancing the process, and the country has both the willingness and capability to join the pact, Vice-Commerce Minister Wang Shouwen said during the Asia-Pacific Economic Cooperation China CEO Forum held in Beijing on Saturday.
"The government has conducted in-depth research and evaluation of more than 2,300 articles of the CPTPP, and sorted out the reform measures and laws and regulations that need to be modified for China's accession to the CPTPP," Wang said.
The CPTPP is a free trade agreement involving 11 countries — Australia, Brunei, Canada, Chile, Japan, Malaysia, Mexico, New Zealand, Peru, Singapore and Vietnam — which came into effect in December 2018. China joining the pact would result in a tripling of the consumer base and a 1.5-fold expansion of the combined GDP of the partnership.
China has taken the initiative to align with the high standards of the CPTPP, and also implemented a pioneering approach of reform and opening-up in related fields. China's accession to the partnership would bring benefits to all members of the CPTPP and add new impetus to trade and investment liberalization in the Asia-Pacific region, said the Ministry of Commerce.
Wang said that China would continue to open its doors for development and actively promote high-level opening-up. China has relaxed the access of foreign investment in the manufacturing industry and is comprehensively opening up its service sector in an orderly manner, Wang added.
China will also reasonably reduce the negative list of foreign investment access, and introduce negative lists for cross-border trade in services in free trade zones as well as nationwide, Wang said.
Zhang Jianping, head of the Center for Regional Economic Cooperation at the Beijing-based Chinese Academy of International Trade and Economic Cooperation, said, "China's potential accession to the CPTPP would bring tangible economic benefits to the participating countries and further bolster economic integration of the Asia-Pacific region."
"Besides benefiting from China's technological advancements, many global companies see China as a gateway to the broader Asia-Pacific region and consider investing in China as a means of gaining access to the country's vast network of supply chains and distribution channels," Zhang said.
Novozymes, a Danish provider of biological products, said it welcomes China's signals that it will continue to encourage and support the development of the private sector and increase efforts to attract more foreign investments.
"We are eager to capture the opportunities in China by intensifying our focus on innovation and offering localized biotech solutions," said Tina Sejersgard Fano, executive vice-president of Novozymes.
As China introduces policies that support the development of foreign trade and cross-border e-commerce, United States-based delivery services provider FedEx has enhanced its international delivery services with practical solutions connecting the Asia-Pacific region with 170 markets worldwide.
"With a new FedEx South China operation center set up in Guangzhou, Guangdong province, we will further increase the capacity and efficiency for the shipments between China and other trading partners. We have introduced autonomous delivery vehicles and AI-powered sorting robots in the China market," said Eddy Chan, senior vice-president of FedEx and president of FedEx China.