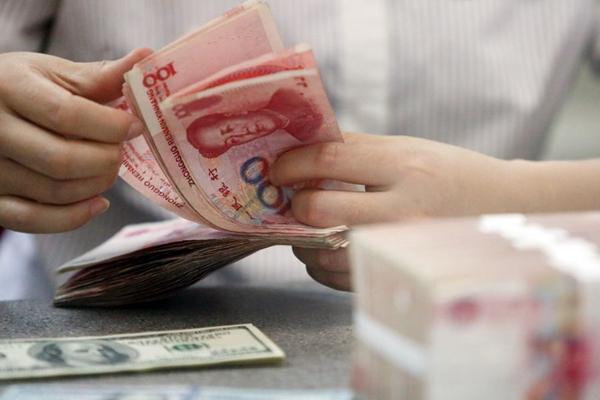 A worker counts Chinese currency renminbi at a bank in Linyi, East China's Shandong province. [Photo/Xinhua]
The internationalization of the renminbi is gathering momentum, and such a trend will help facilitate China's further opening-up and encourage the country's global trade and investment, scholars and analysts said.
Their remarks came after global financial messaging platform Swift announced on Thursday that the RMB's share in global payments had increased for five consecutive months to 2.77 percent in June, the highest level since January 2022 when the share was 3.2 percent.
The RMB's share stood at 2.54 percent in May, Swift said, adding that the Chinese currency has retained its position as the fifth most active currency for global payments by value.
As of the end of 2022, the Renminbi Internationalization Index increased by 18.08 percent from the previous year and is maintaining a long-term upward trend, a research report released on Saturday by the International Monetary Institute at the Renmin University of China showed.
Speaking on Saturday at a forum held in Beijing, Chen Yulu, president of Nankai University, said the RMB is gaining momentum in its level of internationalization, and "is expected to become the most dynamic and promising global high-quality public product".
Noting that the RMB has become one of the major international currencies, Chen said that efforts are necessary on three fronts to strengthen its globalization further.
A modern industrial system that is underpinned by the real economy should be completed, he said.
"Progress is also needed in deepening financial market reforms and in the establishment of infrastructure for RMB globalization. In addition, there must be a high level of balance between the institutional opening-up of China's financial system and its risk control," he said.
Global challenges, such as the impact of the pandemic and geopolitical conflicts, have made the problem of insufficient international currency supply more urgent, Chen said.
"The internationalization of the RMB offers emerging markets and developing economies a new option, and also drives the international monetary system toward a direction of diversified competition. This will, in turn, enhance global economic stability," he said.
On Thursday, the People's Bank of China, the nation's central bank, adjusted several rules to allow businesses to borrow more overseas, opening up the door for more foreign capital inflow.
The macro-prudential adjustment parameter — a multiplier that decides the upper limit of outstanding cross-border financing available to corporates and financial institutions — was revised from 1.25 to 1.5, effective immediately, according to the PBOC.
Wang Fang, deputy dean of the School of Finance at Renmin University of China, said that global trade and investment cooperation is a viable way for RMB internationalization.
She suggested that RMB internationalization be steadily promoted via various levels of economic and trade cooperation, such as the Regional Comprehensive Economic Partnership agreement, and that conditions for RMB transaction be promptly improved.
Eddie Yue, chief executive of the Hong Kong Monetary Authority, said that currently, businesses across the world are seeking risk diversification in a highly uncertain macroeconomic environment, which might boost demand for the renminbi.
Also, while central banks in major economies have significantly raised interest rates, China's comparatively low interest rates have bolstered the RMB's attractiveness as an international financing currency, he said.
On Friday, the central parity rate of the RMB strengthened 10 pips to 7.1456 against the dollar, according to the China Foreign Exchange Trade System.