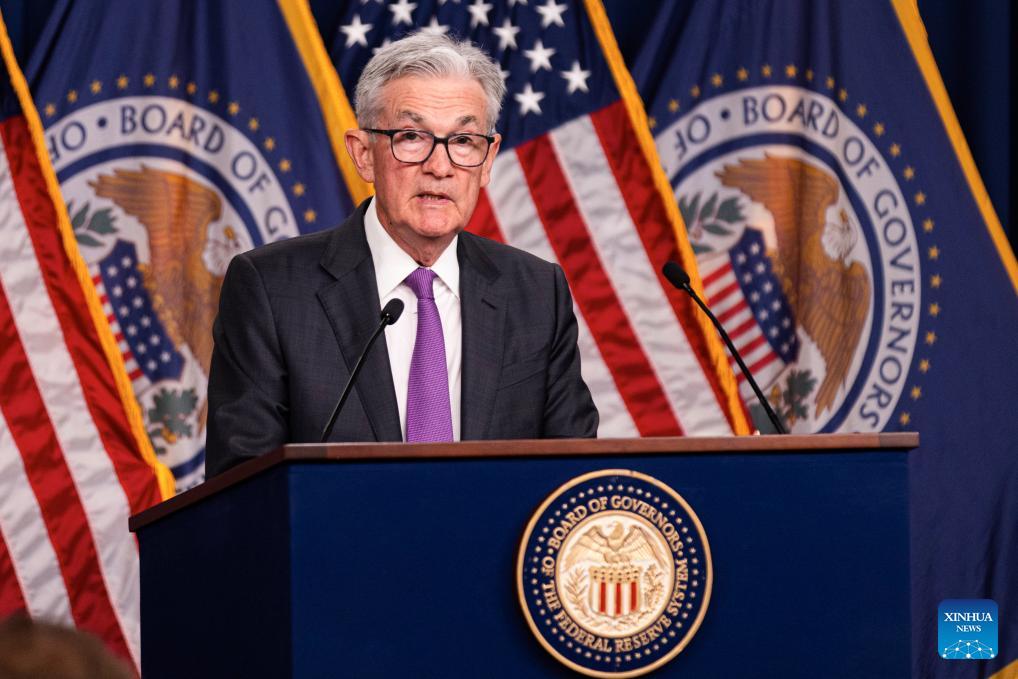 U.S. Federal Reserve Chair Jerome Powell attends a press conference in Washington, D.C., the United States, on July 26, 2023. [Photo/Xinhua]

The U.S. Federal Reserve on Wednesday raised its benchmark interest rates by 25 basis points to the range of 5.25 to 5.5 percent, the highest level in over two decades, as it continues to ramp up its fight against inflation.
It is the 11th interest rate increase since the Fed began its aggressive rate hiking campaign in March 2022, taking the federal funds rate to its highest level since early 2001.
"Recent indicators suggest that economic activity has been expanding at a moderate pace. Job gains have been robust in recent months, and the unemployment rate has remained low. Inflation remains elevated," the Federal Open Market Committee (FOMC), the Fed's policy-setting body, said in a statement on Wednesday afternoon, after a two-day policy meeting.
The FOMC "seeks to achieve maximum employment and inflation at the rate of 2 percent over the longer run. In support of these goals, the committee decided to raise the target range for the federal funds rate to 5.25-5.5 percent," it said.
The latest economic indicator showed that the U.S. consumer price index slowed down to 3 percent year on year in June, the lowest since March 2021, but still above the central bank's target range of 2 percent, suggesting more policy action may be needed.
"Inflation has moderated somewhat since the middle of last year. Nonetheless, the process of getting inflation back down to 2 percent has a long way to go," Fed Chair Jerome Powell said at a press conference Wednesday afternoon.
Powell stressed that inflation remains well above the Fed's longer-run goal of 2 percent, citing a string of economic data.
Over the 12 months ending in May, total personal consumption expenditures (PCE) prices rose 3.8 percent. Core PCE, which excludes the volatile food and energy categories, rose 4.6 percent from a year earlier.
"It will take time, however, for the full effects of our ongoing monetary restraint to be realized, especially on inflation," he told reporters.
The Fed chair also admitted that the U.S. economy is facing headwinds from tighter credit conditions for households and businesses, which are likely to weigh on economic activity, hiring, and inflation.
Nevertheless, Powell pledged that the Fed "remains committed to bringing inflation back to our 2 percent goal and to keeping longer-term inflation expectations well anchored."
In the statement, the U.S. central bank said it will "continue to assess additional information and its implications for monetary policy," looking at a range of data points "in determining the extent of additional policy firming."
In addition, the Fed said that it will continue reducing its holdings of Treasury securities and agency debt and agency mortgage-backed securities, as described in its previously announced plans.
The Fed paused its rate hikes at last month's policy meeting, after a slew of ten consecutive increases since March 2022.
In reaction to the Fed's decision, Diane Swonk, KPMG U.S. chief economist, wrote that "the Fed will stand its ground and hold rates high well into 2024, barring a more pronounced slowdown in the economy and rise in unemployment."
"The goal is to defeat, not just cool, inflation," she said in a note, adding that KPMG expects another rate hike in November, "given the time needed to assess how rapidly the economy is actually cooling and the risk of noise due to strikes."