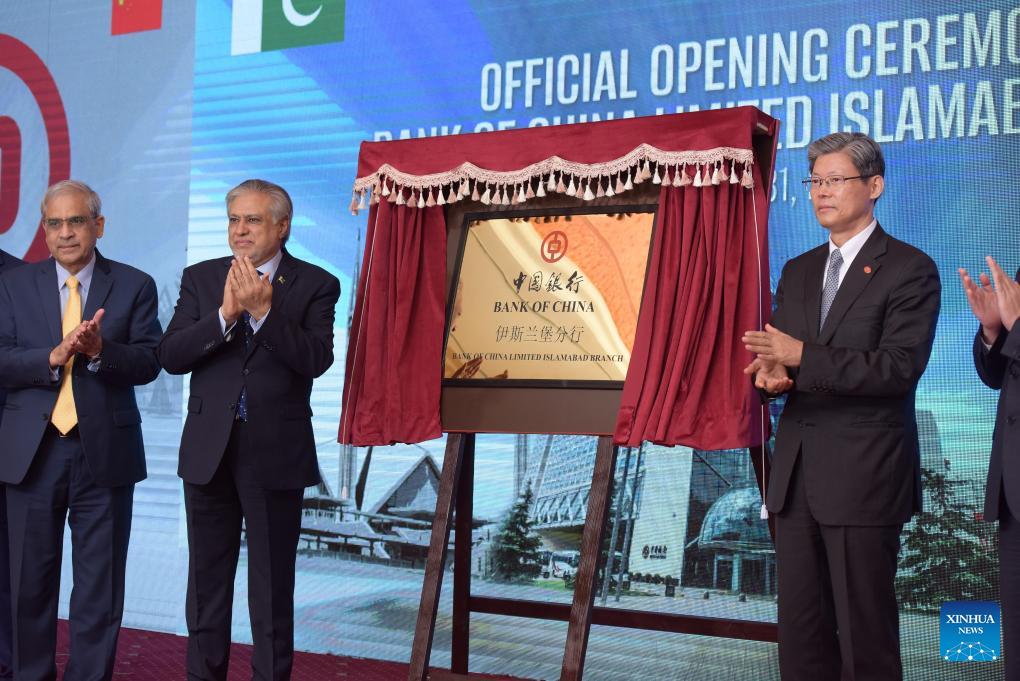 Pakistan's Federal Minister for Finance Ishaq Dar (C) and Deputy Governor of the People's Bank of China (BOC) Xuan Changneng (R) attend the opening ceremony of the BOC Limited Islamabad Branch in Islamabad, Pakistan, July 31, 2023. [BOC/Handout via Xinhua]
The Bank of China (BOC) opened its branch in Pakistan's federal capital Islamabad on Monday to further expand its business network in the South Asian country.

Addressing the inauguration ceremony, Pakistan's Federal Minister for Finance Ishaq Dar said that the opening of the branch is another milestone in the deepening financial and economic cooperation between Pakistan and China, and is of great significance to expanding bilateral economic and trade cooperation.
"The Pakistani side will push forward the development of Pakistan-China cooperation with stronger determination and more effective measures, and will continue to consolidate and deepen the Pakistan-China all-weather strategic cooperative partnership," the minister added.
Speaking on the occasion, Deputy Governor of the People's Bank of China Xuan Changneng said that on the 10th anniversary of the launch of the China-Pakistan Economic Corridor (CPEC), the opening of another branch of BOC is a positive practice to strengthen the financial ties and deepen the financial cooperation between the two countries.
Liu Jin, president of the BOC, said that the bank would continue to give full play to its advantages in globalization, actively promote high-quality joint construction of the Belt and Road Initiative, and play a bigger role in supporting Pakistan's infrastructure construction and industrialization.
This is the second branch of the BOC to open in Pakistan. The first one was opened in the southern port city of Karachi in 2017.