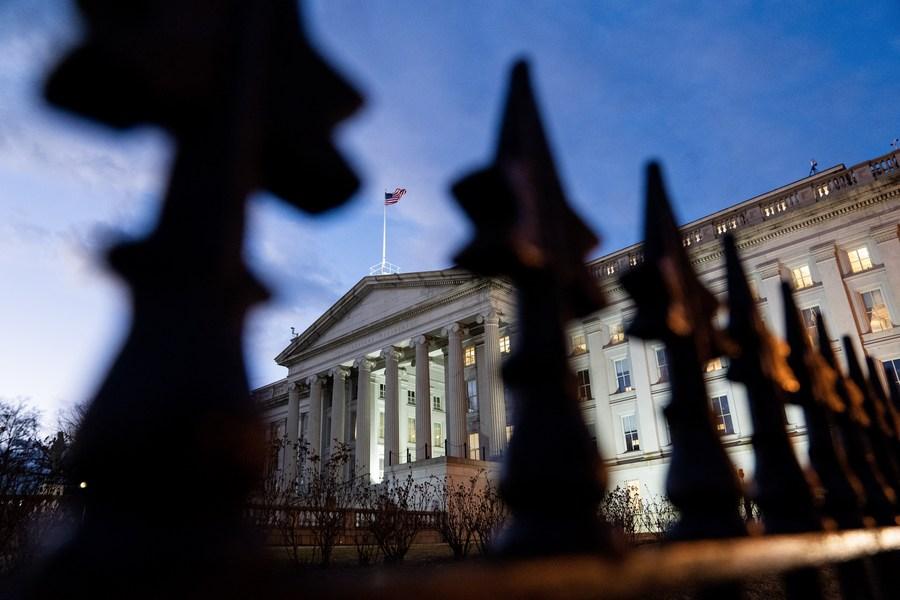 This photo taken on Jan. 20, 2023 shows the U.S. Department of the Treasury in Washington, D.C., the United States. [Photo/Xinhua]
Credit ratings agency Fitch on Tuesday downgraded the U.S. government's credit rating over concerns about "growing debt burden" and "an erosion of governance."
Fitch, one of three major independent agencies that assess creditworthiness, lowered the U.S. credit rating from the top-notch AAA to AA+.
"The rating downgrade of the United States reflects the expected fiscal deterioration over the next three years, a high and growing general government debt burden, and the erosion of governance" relative to peers, Fitch said in a statement.
"In Fitch's view, there has been a steady deterioration in standards of governance over the last 20 years, including on fiscal and debt matters, notwithstanding the June bipartisan agreement to suspend the debt limit until January 2025," the ratings agency said.
In response, Treasury Secretary Janet Yellen said in a separate statement that she "strongly" disagreed with the downgrade, calling it "arbitrary and based on outdated data."
In May, Fitch placed U.S. credit on negative watch, which, the agency said, "reflects increased political partisanship that is hindering reaching a resolution to raise or suspend the debt limit" ahead of a looming deadline.
The downgrade, the first by a major ratings company in more than a decade, came after a debt ceiling bipartisan agreement reached in June that followed months of political brinkmanship.
After lawmakers reached a bipartisan agreement to avert a catastrophic default, Fitch kept the country on "negative watch" in June.