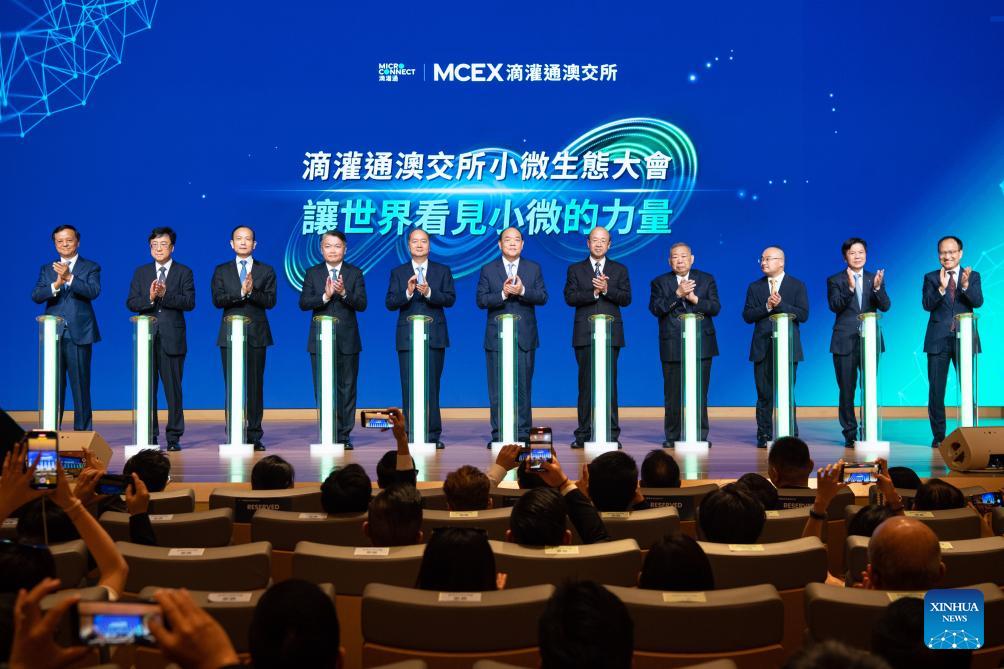 Guests attend the launching ceremony of the Micro Connect Macao Financial Assets Exchange (MCEX) in Macao, south China, Aug. 3, 2023. [Photo/Xinhua]
The Micro Connect Macao Financial Assets Exchange (MCEX) officially started operation on Thursday in China's Macao Special Administrative Region (SAR), becoming the world's first Daily Revenue Obligations (DRO) financial market.
The exchange, launched by Micro Connect, an investment platform founded two years ago that now invests on over 9,300 small and micro firms in the Chinese mainland, allows investors to directly invest on the large number of mainland small and micro firms through DRO and generate diversified steady returns.
The exchange aims to channel global capital to help China's economic development while also help with Macao's industrial upgrading and economic diversification by building financial infrastructure as well as developing innovative and sci-tech industries in the city.
Lei Wai Nong, secretary for economy and finance of the Macao SAR government, said that the exchange can leverage Macao's institutional advantages and open financial system to attract international capital and enable mainland small and micro firms, contributing to Macao's appropriate economic diversification.
Senior officials including Chief Executive of the Macao SAR Ho Iat Seng, together with nearly 600 representatives of investors, mainland small and micro firms, financial institutions and media organizations, attended the ceremony.