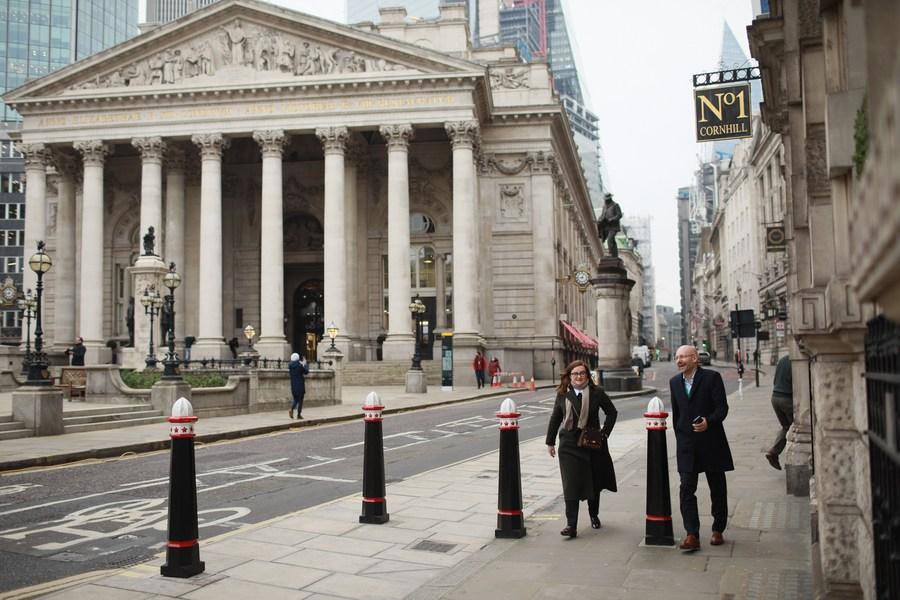 People walk by the Bank of England in London, Britain on Jan. 24, 2022. [Photo/Xinhua]
The Bank of England (BoE) has raised its benchmark interest rate by 0.25 percentage points to 5.25 percent, the United Kingdom's (UK) central bank said in a statement on Thursday.
At its meeting ending on Wednesday, the BoE's Monetary Policy Committee (MPC) voted by a majority of six to three in favor of the decision, the statement added.
It came as the 14th consecutive rate hike since December 2021 as the central bank has battled against stubbornly high inflation, bringing the interest rate to the highest since 2008.
The UK has been in the grip of high inflation for more than a year. Its Consumer Price Index (CPI) rose by 7.9 percent in the 12 months to June. Core CPI, excluding energy, food, alcohol, and tobacco, rose by 6.9 percent.
Households have felt the squeeze amid a worsening cost-of-living crisis. Widespread strikes broke out during the summer of 2022, and pay disputes are ongoing.
Still well above the 2-percent target, the UK inflation rate is expected to fall significantly further, to around 5 percent by the end of the year, accounted for by lower energy, and to a lesser degree, food and core goods price inflation, the BoE said in the statement.
Services price inflation, however, is projected to remain elevated at close to its current rate in the near term, it added.
The central bank also noted that annual private sector regular pay growth increased to 7.7 percent in the three months to May, materially above expectations, at the time of its May report.
Earnings growth is nevertheless expected to decline in coming quarters, to around 6 percent by the end of this year, although there is uncertainty around this near-term outlook, it added.
"If there were to be evidence of more persistent pressures, then further tightening in monetary policy would be required," the BoE said, noting that it will ensure the interest rate "is sufficiently restrictive for sufficiently long to return inflation to the 2-percent target sustainably in the medium term."
The BoE's new forecasts broadly endorse market expectations for a further increase in the benchmark interest rate over the coming months, Samuel Tombs, Chief UK Economist at Pantheon Macroeconomics consultancy, said.
Amid rising rates, concerns have mounted over a possible economic downturn.
"There is now a real danger that the economy could be pushed into recession as it takes 18 months for changes in interest rate rises to filter through," said Vicky Pryce, Economic Advisory Council member at the British Chambers of Commerce.
"With all the cumulative pressure of past rises yet to come, business will be watching closely for any further indications on the Bank's plans," Pryce added.
The S&P Global / CIPS UK Manufacturing Purchasing Managers' Index (PMI) fell to 45.3 in July, its lowest reading in the year so far. The PMI has remained at a sub-50.0 level in each of the past 12 months.
Higher interest rates have dealt a blow to the UK housing markets as well. The country's average house price dropped 3.8 percent in July from one year earlier, the weakest outturn since July 2009, mortgage lender Nationwide Building Society said.
As longer-term interest rates remain elevated, housing affordability remains stretched for those looking to buy a home with a mortgage, and it helps to explain why housing market activity has been subdued in recent months, Nationwide's Chief Economist Robert Gardner said.