China's gross domestic product (GDP) registered positive growth in the first half of this year, with production and consumption recovering steadily, Zhang Xiaoyan, associate dean of the PBC School of Finance at Tsinghua University, noted in an exclusive interview with China.org.cn.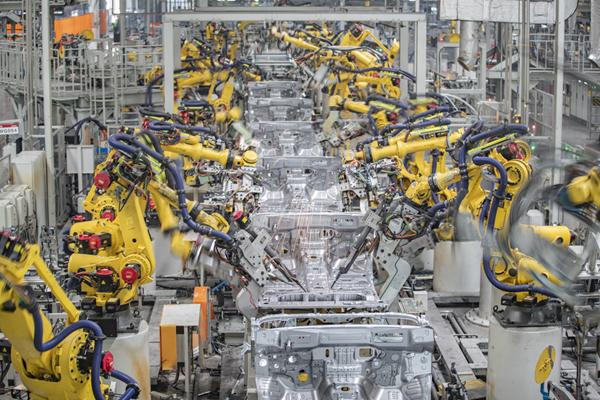 This photo taken on March 1, 2023 shows an intelligent production base of the Great Wall Motors (GWM) in Yongchuan District of Chongqing, southwest China. [Photo/Xinhua]
However, there have been some voices saying that the consumption recovery was mild, and the economic recuperation lacked momentum. The International Monetary Fund predicted in its World Economic Outlook, updated in July, that global growth is projected to fall from an estimated 3.5% in 2022 to 3% in both 2023 and 2024.
Considering this, Zhang offered four suggestions to improve market expectations for the second half of the year. The first is to introduce prudent and proactive policies to increase urban and rural incomes, stabilize spending on big-ticket items, and promote the recovery of consumption of lifestyle services.
Second, Zhang believes that macro-regulation authorities should guide market expectations through more effective communication. She also pointed out that the rule of law and related policies should work to consolidate investor and consumer confidence.
Finally, Zhang noted that in the face of adjustments in the global supply chain, high-level opening-up should be promoted to bolster international capital confidence in China. More specifically, efforts should be made to steadily expand institutional opening up by proactively adopting relevant rules, regulations, management, and standards.
Speaking of the finance industry's contribution to the real economy, Zhang underscored that finance should support effective investment, production, supply and growth, strive to avoid repeated investment, production and construction, and prevent overcapacity, excess inventory and resource waste. As for private enterprises, they should be provided with targeted financial services, and the provision of inclusive loans to micro and small businesses should be ensured, Zhang added.
Given the market's sensitivity to exchange rates and the recent depreciation of the RMB, Zhang responded that China's foreign exchange market is performing stably and is expected to sustain its stability, with neither speculation nor manipulation of the exchange rate.
In addition, as a large open economy with independent monetary sovereignty, China has multiple options in its policy toolkit to regulate the RMB exchange rate and keep it generally stable at an adaptive, balanced level, Zhang noted.