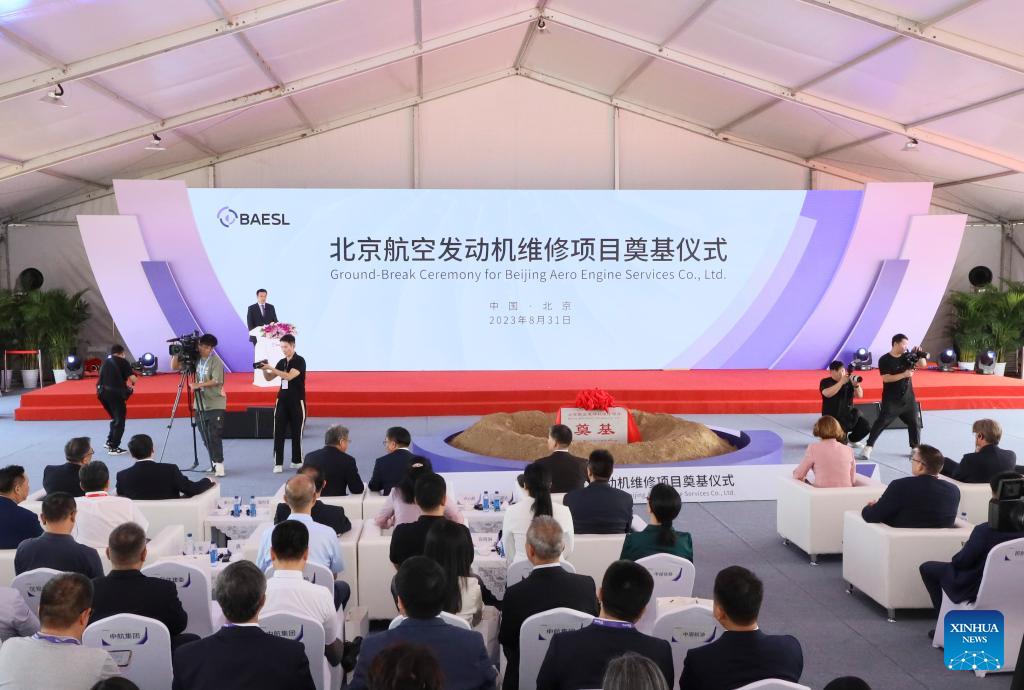 This photo taken on Aug. 31, 2023 shows the ground-breaking ceremony for Beijing Aero Engine Services Company Limited in Beijing, capital of China. [Air China/Handout via Xinhua]
Air China and the British engineering giant Rolls-Royce on Thursday broke ground on their joint venture of an aero-engine maintenance, repair and overhaul (MRO) facility in Beijing.
The new joint venture, Beijing Aero Engine Services Company Limited (BAESL), will provide MRO services on Rolls-Royce Trent 700, Trent XWB-84 and Trent 1000 aero engines to both Chinese and international airline customers.
Air China and Rolls-Royce each hold 50 percent of the shares in this joint venture, which is located adjacent to Beijing International Airport. It will support both parent companies' sustainability goals by reducing the long-distance transportation of aero engines for MRO services.
"BAESL will boost the development of Air China's high-thrust engine maintenance segment and further ensure the flight safety of our fleet. It will also leverage resources from shareholders and local advantages to bring better value for our global customers," said Ni Jiliang, senior vice president of China National Aviation Holding Corporation Limited and Air China Limited.
BAESL is scheduled to launch operations in 2026. It will be able to serve up to 250 shop visits per year at full capacity, which it is expected to reach in the mid-2030s.
Both sides are committed to collaborating in making this joint venture into a world-leading aero-engine MRO enterprise, highlighting efficiency and sustainability.
"China is now our third largest single-country market, also an important part of our global supply chain. Breaking ground on BAESL is a significant milestone for our strategically important joint venture in the Chinese mainland," said Rob Watson, president of civil aerospace for Rolls-Royce.
"BAESL is the first Rolls-Royce MRO joint venture in the Chinese mainland, and the fourth in our global MRO network. It is important for our future footprint in the Chinese market and will drive our global network capabilities," he added.
Rolls-Royce powers more than half of China's widebody aircraft fleet, powering close to 600 aircraft in service or on order, according to the company.