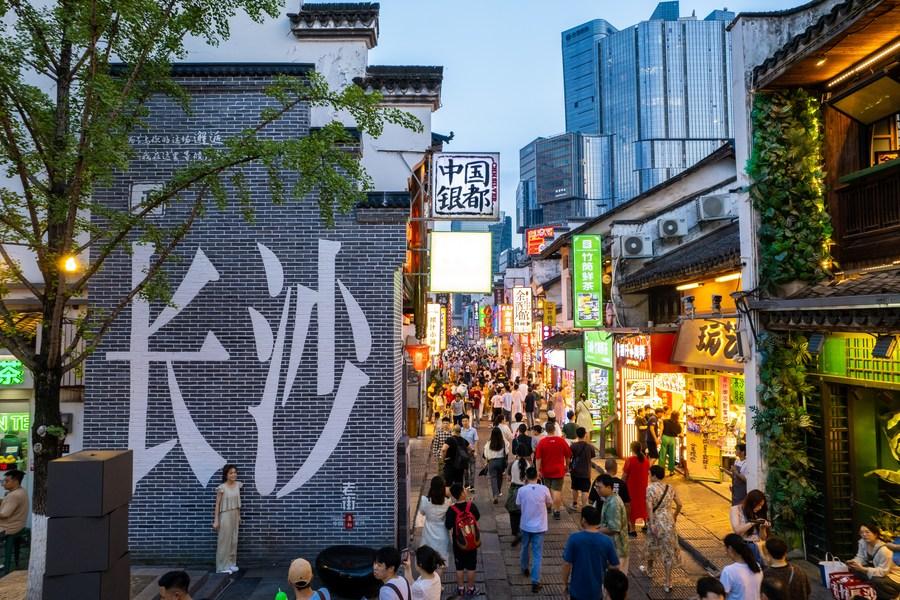 This aerial photo taken on June 7, 2023 shows tourists visiting the Taiping old street in Changsha, central China's Hunan Province. [Photo/Xinhua]
City walks, or exploring a city on foot, have become the trendiest pastime for residents this summer, after the craze of playing with flying disks, camping and paddle boarding. In fact, city walks are generating new business growth points for beverage makers.
Between January and July, a search of the hashtag "city walk" on lifestyle platform Xiaohongshu (Little Red Book) surged over 30-fold.
Posts related to city walks have been trending, especially among the younger generation. Incomplete statistics from Xiaohongshu show that China's city walkers have in the past year traveled over 320,000 kilometers, or the equivalent of eight times around the earth.
Market-savvy merchants have been quick to sense the resultant business opportunity.
In July, Guangzhou-based LINLEE, a brand that focuses on tea-based lemon drinks, launched city walk-themed Crocs-style sandals — plastic-like clogs punched with holes. For 48.8 yuan ($6.7), consumers can get a bottle of hand-squeezed lemon tea as well as a pair of shiny green sandals and a toy duck. LINLEE's marketing strategy has proven to be a success. Within three days of launch, orders for the city walk-themed sandals surpassed 300,000 pairs, generating revenue of over 12 million yuan.
Cumulative views of the hashtag "LINLEE city walk clogs" on Xiaohongshu reached 1.58 million times, while it exceeded 38 million times on short-video platform Douyin.
"July and August are the peak tourism season. City walk, as a lightweight travel experience and lifestyle, has become a buzzword on social media," said Su Chang, marketing manager of LINLEE. "According to our observation, among city walk-related posts, consumers care most about where to go and what to wear during city walks. Taking what to wear as an entry point, we launched thematic clogs, encouraging consumers to wear a comfortable pair of shoes, buy a bottle of lemon tea, and go for a city walk."
The company originally planned to promote the activity only in South China, where people are used to wearing sandals or slippers all the time. However, once the product was launched, the topic "LINLEE city walk clogs" went viral and the company soon decided to promote it nationwide.
Hi Five, a Zhengzhou, Henan province-based coffee chain store, likewise launched a "drinking while city-walking" promotional activity. It said that between July 8 and Aug 8, consumers could take a city walk to Hi Five, and get a stamp for every purchase.
A complete collection of six stamps collected from its six branches in the city made consumers eligible for a quarterly coffee coupon card worth 399 yuan, which they could use to get around 25 cups of free coffee.
"The popularity of the event was much better than we expected. Some customers finished the collection in a single day. They also brought their family and friends to our stores. We ran out of the 500 stamp collection cards and 100 quarterly coffee coupon cards we originally prepared, in just one week, and had to increase the supply of cards," a spokesperson of Hi Five said. During the event period, sales revenue surged by around 20 percent in a single day, the company said.
Apart from its regular coffee, newly launched products have also received wide popularity. Data from the company showed that the city walk-themed marketing event has not only brought in new consumers to its stores, but also enhanced the loyalty of regular customers.
"Regional coffee brands have close bonds with local consumers. Taking good use of a city walk boosts stickiness between brands and users, offering regional coffee brands more defenses against price shocks by major coffee chain brands," Kamen Club, a Beijing-based beverage industry tracker, said in a report.