A report entitled "China's Service Sector Opening-up in Dynamic World" was released on Sunday at a session of the Forum on Development of Trade in Services during the ongoing China International Fair for Trade in Services (CIFTIS). The document reveals a marked uptick in China's global openness in the service sector over the last half-decade.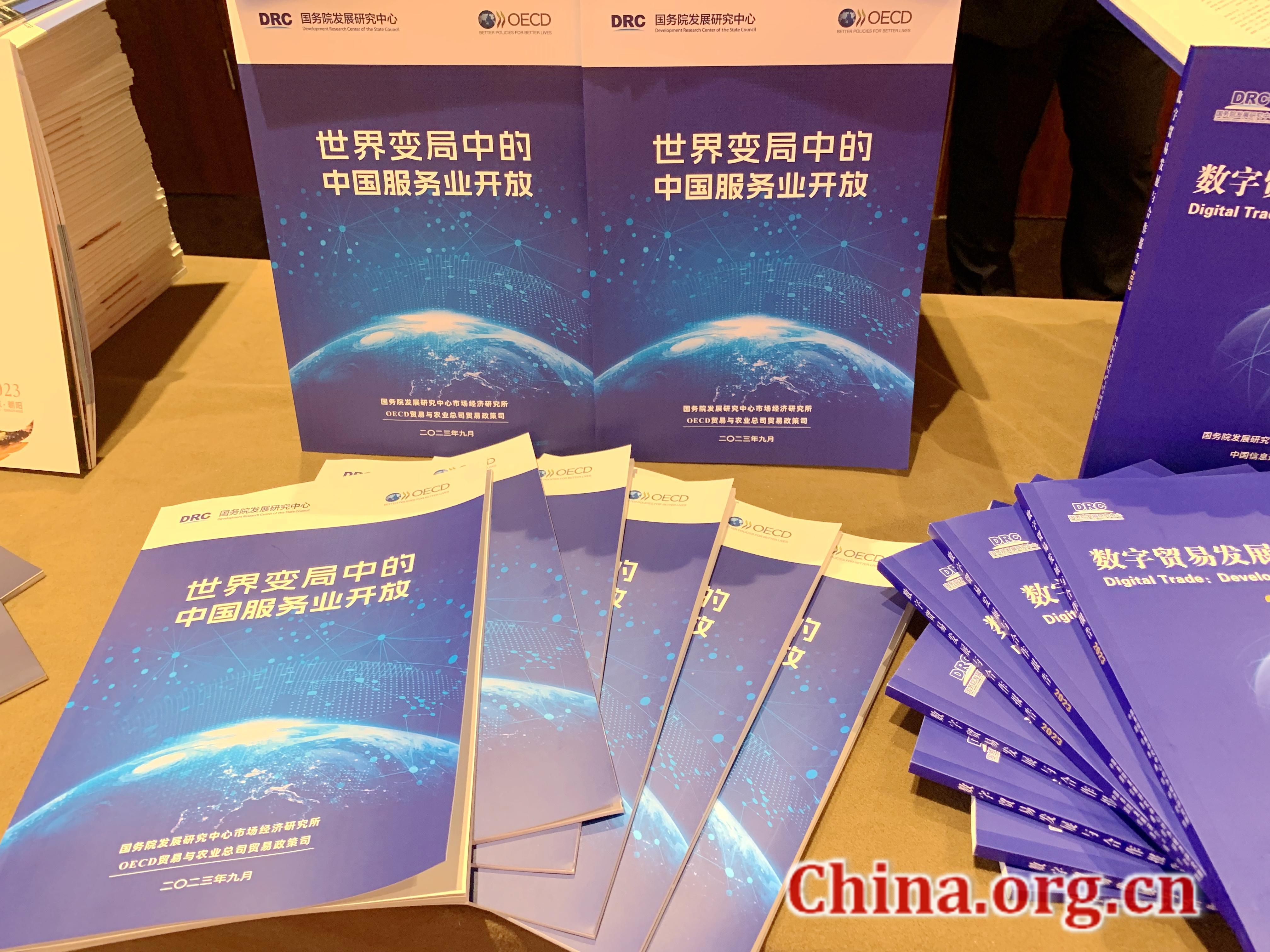 A report entitled "China's Service Sector Opening-up in Dynamic World" is released at a session of the Forum on Development of Trade in Services during the ongoing China International Fair for Trade in Services on Sept. 3, 2023. [Photo by Cui Can/China.org.cn]

The comprehensive study, examining the service sector openness of 50 global economies from 2018 to 2022, revealed that China's openness index rose to 62.3 in 2022 — a 3% climb from 2018.
"China is actively promoting high-quality development through high-level opening-up," Wang Shouwen, vice minister of commerce, said at the forum. "In developing the services sector and trade in services, China will work with all countries and parties to advance inclusive development through openness, including easing market entry and accelerating negotiations on the negative list for trade in services and investment."
For the first half of this year, the service sector constituted 56% of China's GDP and drew in 70% of foreign investments, Wang added. He went on to detail that future approaches will concentrate on solidifying existing policies while bringing in inventive methods to motivate foreign investment. Sectors of focus will be modern services, energy conservation, environmental safeguarding, and advanced R&D.
Over the previous five years, China's service industry openness index grew by 1.8. This rate surpassed the average growth of Organization for Economic Co-operation and Development (OECD) member countries by 2.3 and exceeded the mean growth of 11 other emergent and developing countries by 1.7, according to the report.
China's service sector, a pillar of its economy, is now central to its high-level opening-up strategies. Numerous policies — from optimizing the business environment and liberalizing foreign investment to championing fair competition — have been implemented to intensify the industry's openness. Every sub-sector within the service industry, especially transportation and finance, has experienced growth, the report noted.
For instance, the enactment of the Foreign Investment Law in 2020 catalyzed a 2.9% to 15.8% surge in the openness index for foreign investment access across 17 sectors within the service industry. Additionally, the national treatment openness index for 21 service sectors surged between 25.2% and 120% year on year.
The global trend of unilateralism and protectionism has hampered economic globalization, leading the service sector's average openness index of 50 countries to dip to 74.5 in 2020 due to pandemic consequences. Though a minor rebound to 74.6 was seen in 2022, it hasn't reached pre-pandemic standards, the report stated.
Steven Barnett, the IMF's senior resident representative in China, underlined the essentiality of trade integration for economic growth, especially in times of tepid expansion and rising inflation. He pointed out that economic amalgamation has uplifted countless lives, making them richer, healthier, and better educated.
He said, "Fragmentation is not an answer to slow global growth or spreading the benefits of globalization. Economic integration has helped billions of people become wealthier, healthier, and better educated."
He also advocated for governmental interventions aimed at reducing trade costs and fostering trade liberalization and digitalization to invigorate the global economy and elevate living standards.
In 2022, the openness index of the service industry in primary emerging markets and developing nations hit 65.0, closing in on the OECD nations. This displayed a 5.7% reduction in the disparity between the two categories since 2018.
Albert Park, chief economist of the Asian Development Bank, commended China's influential role in molding regional and bilateral trade agreements, highlighting recent pacts with nations like Cambodia. He remarked that China's promises of service sector liberalization, under the China-ASEAN FTA, have substantially broadened — from covering 22% of service sub-sectors in 2007 to 74% in 2022.
"This evolution reflects both the growing importance of services in trade negotiations today and China's commitment to narrow its restrictions on service trade," he said.
Compiled by the Research Institute of Market Economy of the Development Research Center of the State Council and the Trade and Agriculture Directorate of the OECD, the report offers an exhaustive analysis of service industry openness in 50 nations, including 38 OECD members and 12 leading emerging markets. Together, these countries represent over 80% of the global service trade, emphasizing the report's broad relevance.