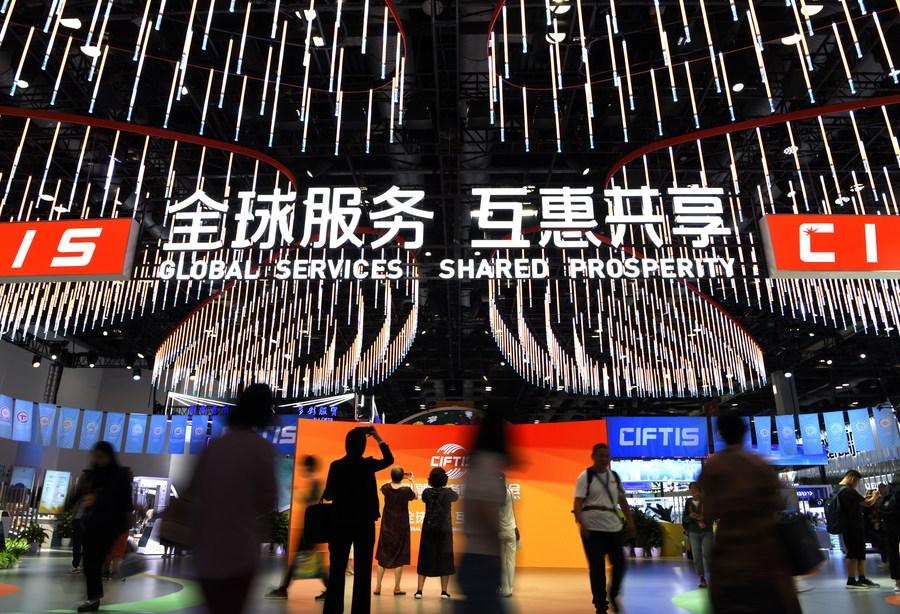 People visit the 2023 China International Fair for Trade in Services (CIFTIS) at China National Convention Center in Beijing, capital of China, Sept. 4, 2023. [Photo/Xinhua]
Calling the 2023 China International Fair for Trade in Services (CIFTIS) a high-level platform for China's opening-up, Saudi private firm Ajlan & Bros expected the event to deepen mutual understanding with their Chinese partners and lay a solid ground for future cooperation.
The ongoing annual event is witnessing China's ratcheted-up endeavors to continuously invigorate global services trade and further open up its services sector, which buoyed international businesses with vigor and confidence.
Boost synergy in global services trade
To foster more growth for global services trade and cooperation, Chinese President Xi Jinping promised during the 2023 CIFTIS to enhance synergy with development strategies and cooperation initiatives of various countries, and deepen cooperation on services trade and digital trade with Belt and Road partner countries.
The pledge made Mohammed Al Ajlan, chairman of the Saudi-Chinese Business Council, look forward to more services cooperation with China under the framework of the Belt and Road Initiative (BRI).
"China's pursuit of high-quality development is in line with Saudi Arabia's 'Vision 2030' economic transformation goals," said Ajlan, who is also deputy chairman of Ajlan & Bros Holding Group.
"As the synergy between Saudi Arabia's 'Vision 2030' and China's Belt and Road Initiative continues to deepen, China's 5G, artificial intelligence, big data, financial technology and other emerging fields of technology are gradually moving to the Saudi market," he said, stressing that economic complementarity and cooperation potential of the two countries are obvious.
"Undoubtedly, this will attract more Middle Eastern companies to strengthen cooperation and exchanges with Chinese enterprises, further promoting bilateral trade between China and Saudi Arabia, and contributing to China's high-level opening-up for new opportunities in global economic growth," he added.
China had expanded its share of global commercial services exports from 3 percent in 2005 to 5.4 percent in 2022, according to a report titled Trade in Services for Development, which was jointly released by the World Bank Group and the World Trade Organization in July.
In the first seven months of this year, China's services trade value grew 8.1 percent year on year to reach 3.67 trillion yuan (about 511.2 billion U.S. dollars), data from the Ministry of Commerce showed.
The China-proposed BRI is closely linked to Egypt's Vision 2030 development strategy, as the two countries have conducted full-fledged cooperation in the fields of industry, energy, communications and infrastructure, said Abu Bakr al-Deeb, an advisor to the Cairo-based Arab Center for Research and Studies.
Financing is one of the basic factors that enhance development in countries benefiting from the BRI, and has greatly helped Egypt develop its services sector, al-Deeb said.
"China has already started cooperation with Egypt in many areas of the services sector, mainly in the maritime and transportation ones, investing billions of U.S. dollars in the maritime industry in recent years, especially in the Suez Canal, which is a vital component of China's Maritime Silk Road," he noted.
Ghulam Qadir, trade and investment counsellor of the Embassy of Pakistan in China, said that China puts much emphasis on the new growth momentum that the world needs for trade liberalization, adding that "the hard-won and hard-fought" trade liberalization across the world must be maintained and improved.
"This shows that how China is moving forward and offering its (development) space to other countries," Qadir said, stressing that there should be greater synergies among the development strategies of all countries, especially the developing countries.
Institutional opening-up of services sector
As China has been committed to setting up a high-standard opening-up system for the services sector, this year's CIFTIS represents an epitome of the country's step forward to widen access to the booming sector and to expand institutional opening-up in pursuit of high-quality development.
British company Schroders recently became one of the first global asset managers to operate in the Chinese market, as China has accelerated the opening-up of its financial services sector to facilitate international participation.
The asset management company was awarded a license in June to operate a public fund business in China. "With our wholly-owned fund management company, we're going to have a broad suite of capabilities," said Sebastian Wood, chairman of China Affairs with Schroders.
Wood described the 2023 CIFTIS as a springboard for Schroders' ambitious plans in the region. "The fair gives us a platform and an opportunity to network, and it will bring into focus our ambitions for the Chinese market."
"China is modernizing and developing its investment market rapidly," said Wood, who was British ambassador to China between 2010 and 2015. "It's right to be very aware of that strategic opportunity in the historic development of the market here."
"We see it as a long-term strategic commitment which we have to this market. We want our services to be available to a range of clients in China, including larger Chinese financial institutions and intermediaries down to retail clients as well," he added.
China is further opening up to global businesses, particularly in the services sector, said Gianpaolo Bruno, trade commissioner of Italian Trade Agency (ITA) Beijing Office and coordinator of ITA Offices in China and Mongolia, suggesting that's the main message China wants to deliver through this year's CIFTIS.
The Italian official highlighted a series of policy measures that China has carried out, from intellectual property rights (IPR) protection to foreign direct investment (FDI) incentives.
In particular, he talked of China's stepped-up efforts to grant foreign companies equal access to government procurement activities.
"They are also very good signals that we really appreciate. We hope that the Italian business community could take advantage of these opportunities," he added.
In August, China's State Council released 24 suggestions for attracting foreign investments, ranging from improving IPR protection to facilitating cross-border data flows.
Authorities should guarantee that foreign-invested enterprises (FIEs) can participate in government procurements in accordance with the law, and support FIEs in innovating and developing world-leading products through measures such as first-order purchases, said the document.
"We would like to express our sincere appreciation for the efforts undertaken by the Chinese government to create a level playing field for everybody to access the services sector in this country," Bruno said.
Georgian businessman Giorgi Rtveladze also held that doing business in China is quite convenient and profitable, thanks to the country's major international expos like CIFTIS and the authorities' favorable policies such as tax exemption in free trade zones.
It is the first time that Rtveladze, a representative of Georgian wine company Rtvelisi, participated in the 2023 CIFTIS, after exporting Georgian wine to China for five years. "The Chinese market is good for us. It welcomes foreigners to come and do business. We are happy to be here, and our business is growing," he said.
At present, Rtveladze is pursuing his PhD in south China's Hainan University. Looking to the future, he said he hopes to do business in more areas in the country and export more products to its enormous market.