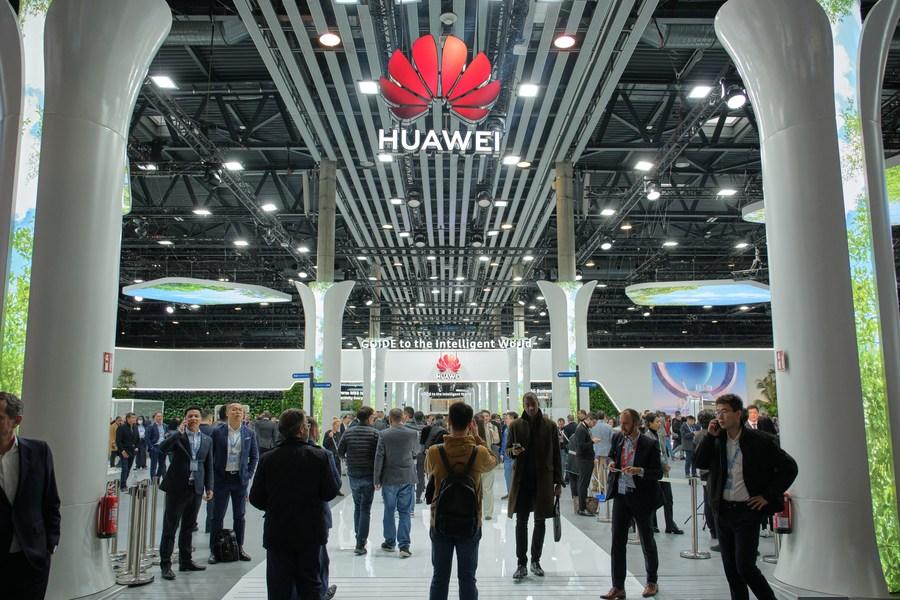 This photo taken on Feb. 27, 2023 shows the booth of Huawei at the 2023 Mobile World Congress (MWC) in Barcelona, Spain. [Photo/Xinhua]
Share prices of Chinese semiconductor companies surged on Wednesday as a chip breakthrough in Huawei Technologies' new phone demonstrated the homegrown industry's resilience and innovation prowess amid restrictions by the United States government, experts said.
Though hurdles remain in the path to catching up with advanced foreign counterparts, Huawei's feat has given its domestic peers the confidence to tackle technological bottlenecks and the US' curbs targeting China will fail eventually, the experts added.
On Wednesday, 69 chip-concept stocks rose by more than 5 percent, according to Shanghai-based market tracker Wind Info. For instance, Foshan Blue Rocket Electronics, a chip packaging company listed in Shenzhen, saw its shares rise by the maximum daily limit of 10 percent for the second consecutive day.
Share prices of companies connected to Huawei's supply chains have also skyrocketed. The Shen­zhen-listed company Dongguan Chitwing Technology saw its shares surge by the daily limit of 10 percent for the sixth consecutive day on Wednesday. The company reportedly works with Huawei in the precision machining sector.
The rise came after Huawei's latest phone — the Mate 60 Pro — triggered heated discussions worldwide after its launch last week. In China, consumers are waiting in line to buy the latest smartphone from Huawei's offline stores.
TechInsights, an Ottawa-based information platform on the semiconductor industry, said in a report that it had analyzed the new phone and found evidence of a made-in-China design and the use of a 7-nanometer technology that is a milestone for the Chinese chip industry.
Huawei has not disclosed any technical details about the chip used in its new phone, and it is not immediately clear which company manufactured the chip for Huawei.
Since 2019, the US government has restricted Huawei's access to chip-making tools essential for producing the most advanced mobile handset models.
Dan Hutcheson, vice-chair of TechInsights, said the discovery shows the technical progress China's semiconductor industry has made despite US-led chip export controls.
"The difficulty of this achievement also shows the resilience of the country's chip-related technological ability. At the same time, it is a great geopolitical challenge to the countries who have sought to restrict its access to critical manufacturing technologies," Hutcheson said.
Lyu Tingjie, a professor at the Beijing University of Posts and Telecommunication, said from all the videos and analysis of Huawei's new phones, it can be seen that the new chip's design, manufacturing, testing and packaging have almost entirely been done by Chinese mainland companies, which is a breakthrough for the industry. "It is a step from zero to one," Lyu added.
However, there is still a big gap between Chinese companies and their advanced foreign counterparts. Apple's new phone iPhone 15, which is scheduled to be released next week, will reportedly feature 3-nanometer chips, which is about two generations ahead of Huawei's 7-nanometer chip, he added.
"It is worth noting that Huawei has made significant progress in controlling the quality of advanced manufacturing processes. If the rate of non-conforming products is too high, the cost will be too big to really commercialize the technology and put it in many phones, " Lyu said.
Xiang Ligang, director-general of the Information Consumption Alliance, a telecom industry association, said that the breakthrough, which comes amid Washington's increasingly tighter chip export controls against China, has given the domestic chip industry a shot in the arm.
"It will motivate Chinese companies to double down on indigenous innovation and pool more resources into R&D," Xiang said.
He added that the US curbs targeting China's technology development will fail in the long term and backfire.
According to media outlet wallstreetcn.com, citing sources from the supply chain, Huawei has raised the shipment target for Mate 60 Pro phones to about 15 to 17 million units. Huawei did not reply to media requests for comments on the report.
Pan Helin, co-director of the Digital Economy and Financial Innovation Research Center at Zhejiang University's International Business School, said that consumers' enthusiasm toward the phone showed their high expectations of the Chinese chip industry.