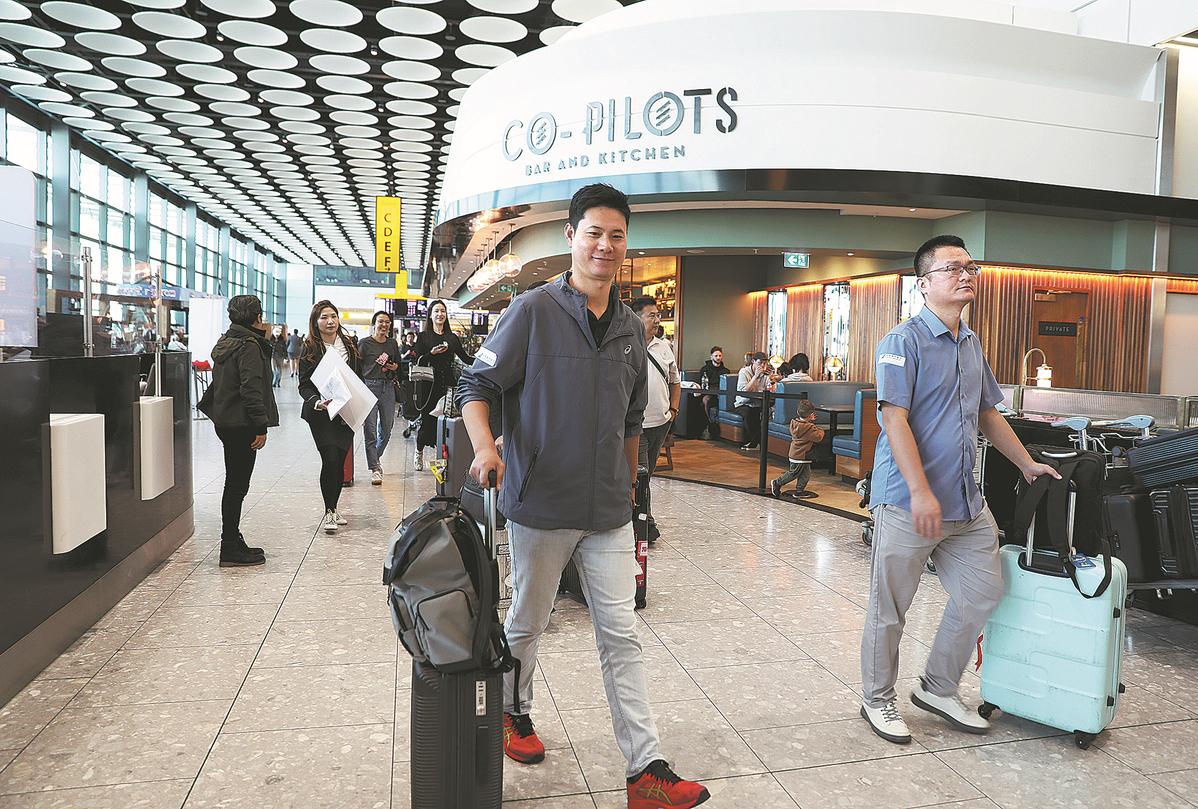 Passengers of China Southern Airlines' first flight from Beijing Daxing International Airport to London's Heathrow Airport arrive in London in June since a resumption of international air travel. [Photo/Xinhua]
The upcoming Mid-Autumn Festival and National Day holiday are expected to witness a surge in the number of Chinese tourists traveling abroad, fueled by continuously rising demand and favorable policies, industry observers said.
The holidays, which fall together this year, form an eight-day period that runs from Sept 29 to Oct 6. In mid-August, the number of Chinese consumers who booked international flights for the National Day holiday jumped more than 30 percent over the previous week, domestic online travel agencies found.
On Aug 10, China announced the resumption of group tours to an additional 78 countries and regions, bringing the total number to 138. The latest list includes popular destinations such as South Korea, Japan, the United States, the United Kingdom and Australia.
"The release of the latest list indicates that China's outbound tourism market is on track of full recovery, and signals that we are about to embrace a peak of outbound tourism during the Mid-Autumn Festival and the National Day holiday," said Dai Bin, president of the China Tourism Academy.
"This also means that while boosting consumer confidence, it is expected to help significantly promote the recovery and growth of the Chinese economy, and global tourism and economic development," Dai said.
Before the pandemic, China had become the world's largest outbound tourism market for many years, according to the World Tourism Organization. Chinese tourists played a crucial role in boosting the development of the tourism markets in overseas countries and regions and promoting global economic recovery.
Since China optimized its COVID-19 response measures and began quarantine-free international travel in January, Chinese consumers have shown great enthusiasm for international travel. In July, the number of outbound travel orders Trip.com Group received jumped 44 percent over June, according to the company, China's leading online travel agency based in Shanghai.
"The expansion of the list will directly promote travel enterprises to accelerate research and development and launch more related group tour products, further enriching options for travelers, thus promoting the accelerated recovery of both supply and demand. The National Day holiday will become a key observation period of travel market performance," said Xie Xiaoqing, a senior researcher at Trip.com's research institute.
Tuniu Corp, a Nanjing, Jiangsu province-based online travel agency, said it has witnessed a significant increase in the search volumes of those newly listed overseas destinations. Particularly, the search volume growth of Germany, Australia, the United States, the United Kingdom, the Netherlands and Turkey has been more apparent.
The company said it is actively preparing group tour products for those newly listed countries and will launch the products continuously. With Chinese consumers' eager demand for traveling abroad, Tuniu will focus on upgrading its supply chain and products to help accelerate the rapid recovery of the outbound travel market to relevant destinations.
"We will actively seek cooperation with overseas hotels and local travel agencies to enrich our product portfolio. We will first resume some classic group tour products, such as trips to Australia and New Zealand, and group tours to Austria, Hungary and the Czech Republic," said Li Peng, director of long-haul outbound tourism at Tuniu.
For short-haul group tours, Tuniu said it would first develop products to popular destinations and launch small premium group tours to cater to consumers' high-quality demand. Also, with rising demand for parent-child research trips, Tuniu plans to launch more in-depth and experiential study trips to destinations such as the UK.
Meanwhile, Norwegian cruise line operator Viking Cruises said as Chinese consumers show rising demand for outbound travel, it became the first cruise company in China to announce the resumption of China's outbound European river cruise tours.
Viking Cruises announced earlier this year the re-launch of its European river cruise operations targeting the Chinese market. This year, it took the lead by introducing an 11-day itinerary on the Rhine River. The cruise tour goes by 10 cities in four European countries and began operating in June. Multiple voyages have been or are nearly sold out.
"We are delighted to once again welcome Chinese guests aboard as we set sail after three years. This journey holds great significance for us," said Brendan Tansey, managing director of Viking Cruises China.
"Since this year's deployment, we have heard the eager voices of many Viking guests who can't wait to revisit Europe with us. This demonstrates that the demand for European outbound travel from Chinese guests remains strong," Tansey said.
With sustained and stable positive signals continuing for China's outbound tourism market, Tansey said Viking Cruises is full of confidence in the growth prospect of China's tourism market.
The company announced in mid-August the return of its voyage on the Danube River that crosses Central and Eastern European countries such as Austria, the Czech Republic and Hungary. The itinerary will start in 2024 to cater to the growing demand of Chinese travelers.
In the meantime, Qunar, a Beijing-based online travel agency, found that Chinese tourists' booking volumes for traveling abroad have resumed to more than 50 percent of the pre-pandemic level. Some hot destinations include Bangkok, Thailand; Seoul, South Korea; Tokyo and Osaka, Japan; Kuala Lumpur, Malaysia; and Singapore.
The availability of international flights has a certain impact on the popularity and prices of traveling abroad. This summer, the number of flights from China to Southeast Asian countries, South Korea and Japan has been abundant, Qunar said.
"Some carriers have launched special prices for flights to Southeast Asian countries, and prices of flights this summer have been lower than the same period of 2019, before the pandemic," said Xiao Peng, a researcher at the big data research institute of Qunar.
In late August, with the approaching new semester, the number of people who took trips dropped compared with earlier this summer and the prices of flights also declined. Those who still want to travel should take the opportunity to set out, Qunar said.
For the upcoming Golden Week holiday, driven by strong travel demand, the average price of an international flight is expected to exceed the prices over the summer.
For international flights that depart on Sept 29, the average price of a one-way flight stands at 6,696 yuan ($916), excluding tax — 72 percent higher than the average price in summer. Starting from Sept 25, international flight fares will increase significantly, according to Tongcheng Travel, a Suzhou, Jiangsu province-based online travel agency.
"The recovery of the outbound tourism market following COVID-19 is expected to embrace its first milestone during this year's National Day holiday," said Cheng Chaogong, a senior researcher with the research institute of Tongcheng Travel.
"Short-distance destinations such as South Korea are likely to witness strong travel demand. Long-distance trips to Europe and the US will also see good performances and drive local demand for accommodations," Cheng said.
He added that the domestic long-distance travel market is expected to continue its heat and some popular destinations are set to welcome higher passenger traffic compared with the same period before the pandemic.